Q3 was a busy time for us here at QuestionPro, we have created incredible new products and features across our Survey platform. New feature and enhancements include Facebook Authentication for Surveys, Extended Insights into Email Delivery, Respondent Anonymity Assurance – Location Data. Take a look at how this can improve the quality of your data intelligence and improve the way you distribute surveys.
Facebook Survey Authentication
Now we've had Facebook authentication for surveys for quite some time, bet you didn't know that! But the true value is that it allows survey respondents to authenticate via Facebook survey even before taking a survey.

What this means to you as you collect information;
Higher Data Quality

– Facebook has done an amazing job recently in reducing fake profiles. The Facebook Authentication module allows you to piggyback on this identity infrastructure and make sure respondents who are taking your survey authenticate and login via Facebook beforehand.

Respondent Uniqueness

– Since Facebook has a unique identifier for each profile, it's almost impossible to take a survey multiple times. That is unless users want to go through the hassle of creating and maintaining multiple Facebook profiles.

Additional Metadata

– Facebook make available profile fields such as Gender, Date of Birth etc. – This metadata can then be used to validate respondent choices and segment users by audience type.
As part of the expansion of this feature, we've given you the option to "Skip" or "Require" Facebook authentication. This gives you more control on how you want to deploy your survey or poll.
Here's how Facebook Survey Authentication works:
Step 1: Within the "Settings" tab in the QuestionPro Survey Platform, select "Security" in the dropdown.
Step 2: In the "Survey Authentication" dropdown, select "Facebook Connect."
Step 3: Connect your Facebook account with your QuestionPro account, and then select "Allow Skip Authentication"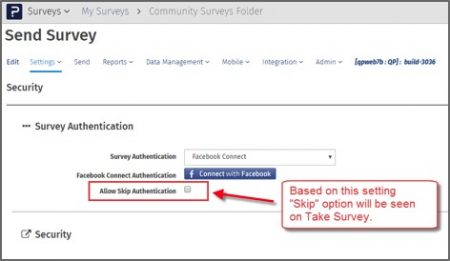 Step 4: Once Facebook Authentication is enabled, QuestionPro automatically imports key fields as part of the response viewer.

Help Center & Knowledgebase Article:
To learn more about how our Facebook Authentication works, check out the help file at: https://www.questionpro.com/help/546.html
Email Delivery – Bounce & View Rates
We are constantly communicating with our customer community, and one of our loudest feature request is understanding our bounce rate. So we added a reporting tool that will show you the bounce rate. This was an oversight on our part and we've added additional metrics that include bounced/error emails. For those of you who do not know, these are email addresses that have failed to deliver for a particular email list.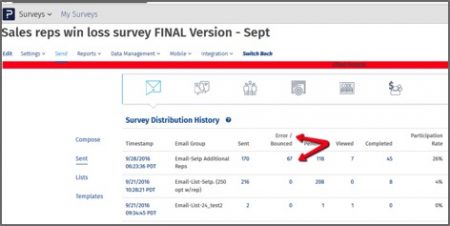 With an eye on the Future:
As part of our continuous improvement strategy, we plan on adding some more easy-to-read/use metrics. This includes;
Bounce Rates

Open Rates

Participation Rate (Open to Start Rates)
Respondent Anonymity Assurance – Respondent Location Data Masking
The Respondent Anonymity Assurance program is intended for researchers to validate and instill confidence with their respondents. Respondents will have total anonymity when answering surveys, so there is no chance of retribution. QuestionPro acts as a third-party and independent technology provider to guarantee that researchers will not have access to the individual's identifiable information, such as an IP address or email-address.
We've also added Location Data based on the region and country to the the list of fields that are masked when Respondent Anonymity Assurance is enabled.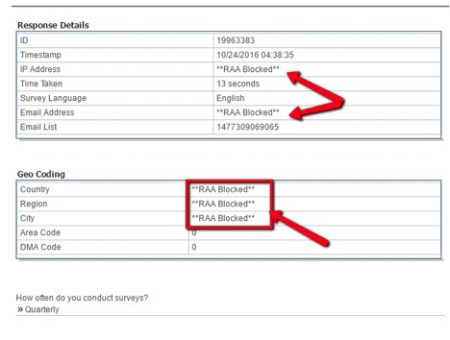 Got an idea on how we can we make this feature even better? Post it on QuestionPro Ideas! – http://ideas.questionpro.com/a/shIdea/20654-385