Monsoons visited early showering festive offers on Indian consumers. Even before the western countries start preparing for the 'Black Friday sale', Indians experience a cool drizzle of discounts in the form of mid-year and festive sales. With retail and e- commerce giants announcing early August sales this year, well in advance to the traditional Diwali sale, the race for the big win in India has gotten more intense. This is just the beginning of the great festive season that brings bigger and better offers. Every retail and e-com company is advertising about their offers both digitally and physically. But, are your marketing campaigns reaching the right audience? Are your customers aware of the buffet spread of offers you have for them? You can find out using the best available online survey software tools from QuestionPro.
Why use Multimedia in Surveys?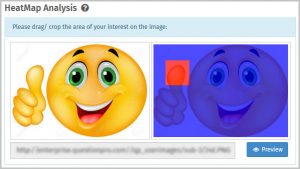 To reach out to a varied clientele, a business or brand cannot confine to a single medium of advertising, like a TV commercial. Keeping tabs on the outcome of each such effort in order to control and optimize budget and human effort that goes into marketing. To measure the reach of an advertisement, you will need to design questions that include multimedia options so that the survey responders can tell you which poster, bill board or YouTube advertisement they have seen or listened to. QuestionPro has the perfect online survey software tools that help you design a poll with multimedia options. You can include Images and Videos in your questions and get your audience's opinion about them. You can be as thorough as you wish to be while surveying opinions of your customers.
QuestionPro's Multimedia options for your Surveys

A question can be designed about a poster or digital image used for promotions by uploading the image file. You can also create a hotspot or heat map for your image and ask your customers to rate that specific part of the image or collect their detailed feedback on the same. We have options to collect feedback on your video content too. You can include a link to your advertisement or promotional video in your survey question.
There is one more remarkable feature for opinion polls on video content. QuetionPro's comprehensive online survey software tools come with a remarkable feature called TubePulseTM. TubePulseTM enables you to collect feedback on specific durations of the video content in real time. So that, you can identify which part of the entire video clip engaged your audience and which part did not.
Your efforts for reaching out to your clients and customers with promotional emails, online and offline advertisements, in-store promotions cost a lot. Make sure that the advertising money is actually working for your brand. Our Insights platform is what you need to understand how well your marketing efforts are doing in the cut throat festive season. Do not speculate. Identify the marketing efforts that are keeping your brand visible, conduct a simple poll via QuestionPro's online survey software tools.