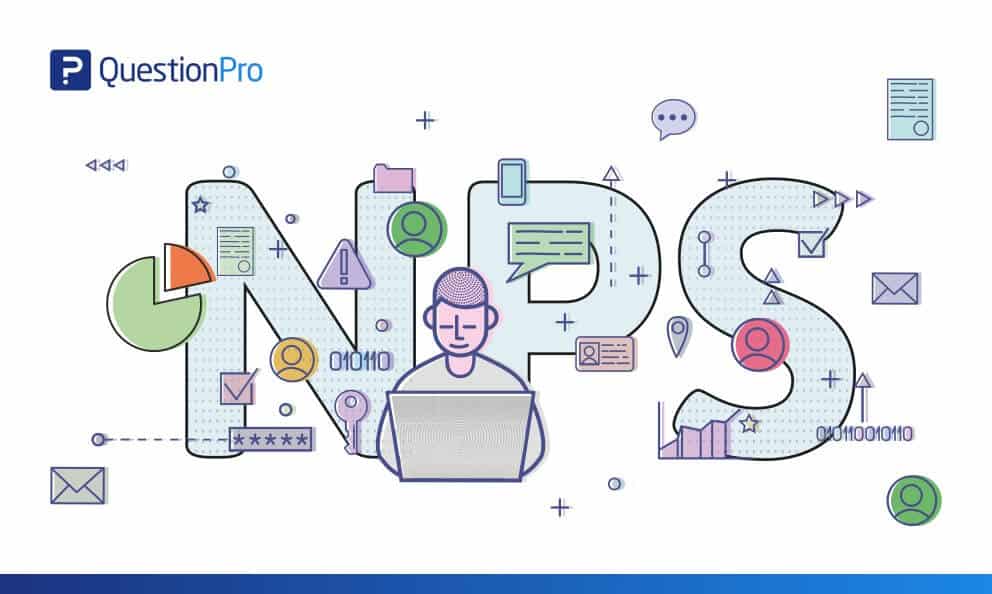 NPS tool lets you measure the Net Promoter Score of your business, analyze data, and discover the improvement areas.
NPS is a customer loyalty metric and helps you quantify your customers' likelihood of recommending your products and services to others. The higher the NPS score, the more it implies your customers are happy and satisfied, and they might share their positive customer experience with their friends and family.
Use the NPS tool to go beyond numbers
Is your organization interested in measuring and monitoring the overall customer experience? Are you interested in getting real-time customer engagement feedback? NPS survey is the best option – it holds a substantial predictive value for the future.
Companies with a higher NPS will have higher revenue and lower cost than the companies with a lower NPS. Some of the benefits that an organization with a good NPS score enjoys are:
The customers are five times more likely to repeat their purchase

The customers are seven times more likely to forgive the company for their errors.

The customers are nine times more likely to buy new products or services.
So, now that you have decided to invest in NPS software, how should you select an NPS tool from the many options available?
4 Must-have features in an NPS Tool
Customer sentiment is never constant; it frequently changes in correlation with product evolution. It is the reason every business needs to measure the NPS regularly. If you miss the opportunities to gauge customer sentiments, it means missing opportunities to engage customers based on the changes in their feedback. NPS tool lets you run an NPS campaign effortlessly. You can import contacts, create surveys, customize the look and feel, analyze data, and generate reports.
1. Flexibility in survey campaigns
Make sure that the online NPS tool is flexible enough to conduct multiple and simultaneous campaigns where each campaign has a different goal. The tool must have comprehensive notification management features to get the best results out of the effective feedback loop. Judge the capability of the tool by understanding how the tool can be used to conduct parallel campaigns to convert detractors and passives into promoters.
The NPS tool's flexibility is also determined by the capability to optimize the survey URL and allow respondents to take the survey in any language they like. A multilingual survey is definitely an added benefit to reach the masses on a global scale. Additionally, the ability to customize the survey to meet brand guidelines and send respondents to a thank you page is another scale to measure the NPS tool's flexibility and effectiveness.
2. Seamless integration
Select the NPS software that can evolve together with your company's growth. Integration with other CMS and third-party tools plays a vital role in enhancing the capability of the evolving platform. Make sure that the NPS software you select gives you a free hand to integrate with different third-party tools and existing CMS's in your organization.

Consider if the executive team is interested in receiving the updates or notifications when a specific scenario is met. Integrating the NPS tool with internal communication software like Slack or Gmail makes it possible. Apart from that, allowing smooth integration with social media channels makes it easier for merchants to monitor customer happiness or customer satisfaction. Synchronizing NPS results with existing CRM's like SalesForce or Marketo helps update and segregate new and old feedback data in real-time.

3. Overall optimization
The NPS tool allows sending regular feedback and NPS surveys through different communication channels. Choose an NPS tool having an online/offline mobile app that will enable you to create mobile-optimized surveys. An NPS tool must be versatile. By versatility means, you can utilize it to build brand awareness. Moreover, it can be used to share NPS results on social media.
An NPS tool must offer the flexibility to create an effective NPS campaign by leveraging appropriate NPS questions. Additionally, ensure that these questions are optimized to run properly on handheld devices. Moreover, you need to test the NPS survey on all screens, including tablets, iPad, mobile phones, laptops, and desktops. These days you even need the NPS campaigns to run seamlessly on the Kiosks. Therefore, check the feasibility of the tool if it runs well on kiosks or not. Make sure that the color scheme is appropriate and the text is readable even on the smallest screen. Make sure that the color scheme is appropriate and the text is readable even on the smallest screen.

4. Real-time dashboard and analytics
The ability to interpret and analyze the received NPS data makes the NPS tool worth the investment. Every NPS tool is developed to calculate the number of passives, detractors, and promoters. However, selecting a tool that lets you analyze both quantitative as well as qualitative data.
Remember, the actual NPS survey data is easy enough to analyze. However, when the data is coming through different channels and campaigns, analyzing all data becomes tedious and prone to mistakes. The NPS tool makes it easier to interpret and analyze open-ended feedback. As most of the data acquired through feedback campaigns are in text format, a good text analysis feature integrated into the tool helps translate the inputted human language into a readable format.
Conclusion:
NPS tool checks for customer satisfaction based on different aspects and different phases of the customer life cycle. Select NPS software that has the above-mentioned features and meets your objective. There are many good NPS tools in the market, having all the features you need. However, it is up to you to utilize these tools to their fullest potential and according to your requirements.
If you have any questions regarding the NPS tool or how it works, you can contact us anytime, and we will be happy to help you.
At QuestionPro, we work on what we believe in. Schedule a demo with Ken and discover how to boost customer loyalty and collect valuable consumer insights through our CX survey and analytics management platform.