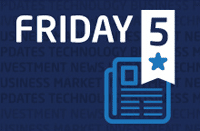 Here's something to end your week with – the #FridayFive! As you know, every week we select 5 relevant articles from around the web that relate to small business, marketing, & market research. Enjoy!
Joseph Pisani of the Associated Press writes about the small businesses that have not setup websites for their company, and explains some of the side effects of neglecting to do so.
Will The Real Content Marketing Please Stand Up? – Business2Community
Business2Community takes a look at content marketing, identifies a few misconceptions about it and offers a few points of clarification.

Educating the Market Researcher of Tomorrow – GreenBook
What will the Market Researcher of tomorrow look like? Gregg Archibald writing for GreenBook explains some of the current practices and how those will have to alter for future researchers.
Are you making these 3 common marketing mistakes? Seth Dotterer goes over 3 areas of marketing that you may not want to set your focus on.
Proof That Twitter Is A Terrible Market Research Tool – Forbes
Are you using Twitter solely for Market research? Dan Matthews writing for Forbes explains how that might not be the best of ideas.