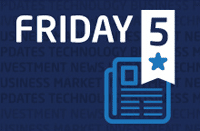 Can you believe it's already Friday again? Neither can we. Looks like change is in the air this week! We look at holographic computing, how to make our respondents' experience better; the benefit of a retail store remodel; lessons on automated social media posts; and what to include in your next employee feedback survey! That's this week's #FridayFive!
Microsoft Hololens is a World-Changing Mixed-Reality Product – The Forrester Blog
If you haven't heard about Microsoft's Hololens and the move into holographic computing, check this out. It's big, and it's a game-changer!
How Should We Improve the Research Participant Experience – NewMR
Ever wonder what respondents think of those conducting surveys? Check out the presentation and consider how you can improve your next research project for your respondents.
Transforming outdated stores: a strategic marketing investment – Quirk's Market Research blog
For those of you with retail environments, one study showed that sales to new customers increased by nearly 50% after a remodel!
Lessons from Automating Social Media Monitoring – GreenBook Blog
Are you thinking about automating social media posts? Do you already automate posts? Check out Jeffrey Henning's lessons learned from his own experience with automation.
Employee Feedback Survey Questions – Small Business Trends
Have you heard about employee feedback and how important it is, but been stuck on what exactly to even ask? Check out this list of 10 questions to include for a kickstart to your own employee feedback study!