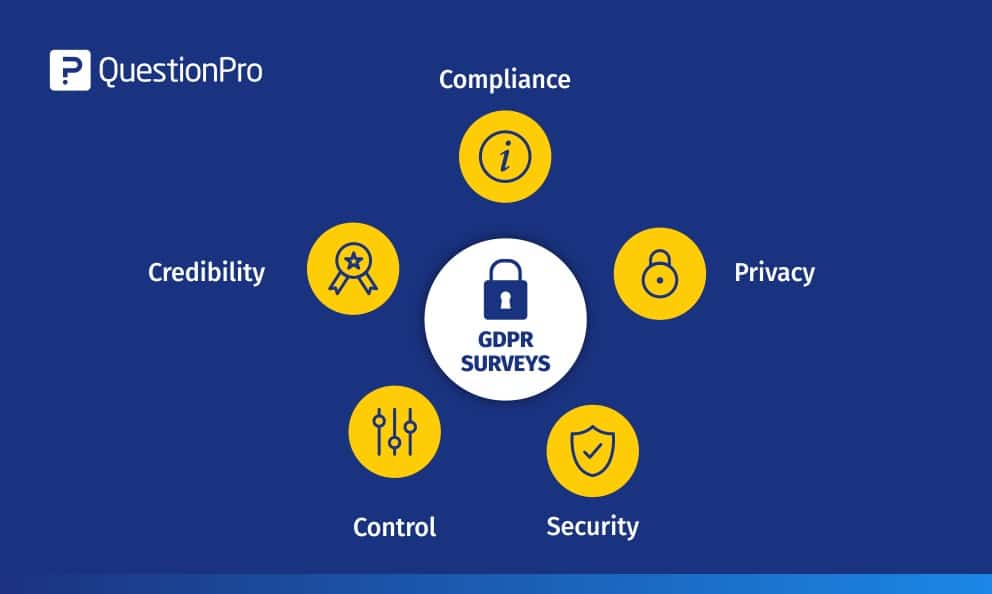 The General Data Protection Regulation (GDPR) is into effect since May 25th, 2018. It laid down a law by which the online privacy of any individual residing in the EU will be protected. It means anybody dealing with EU nationals will have to make sure that if they collect any data about them, it doesn't reveal their identity at the time of collection, storage or processing of data. The regulation has changed the way how personal data is handled while doing market research. 
Whom do GDPR regulations affect?
These regulations affect all companies that conduct any kind of survey that collects data by which it would be possible to identify an individual residing in the EU. If you conduct a customer or employee survey anonymously i.e. without collecting personal data, it does not apply. 
However, even if you do not collect personal details of the participants such as their name, address, email, contact number, etc, it does not mean the survey is absolutely anonymous. If in any way it can be traced to find out who is the survey respondent, it can lead to a violation. Hence, a GDPR survey can collect data that is not specific to respondents but must be truly anonymous in terms of their identity.

Here's why you need GDPR compliant surveys:
Compliance
You don't have any other option but to comply with the law of the land. It is mandatory for all companies in the EU or if they are collecting any kind of personal data of EU nationals. Even if a combination of data collected through surveys can reveal the respondent's identity, it can lead to legal trouble. 
Privacy
A compliant survey will ensure the users' privacy and keep them safe from their personal identity being misused for spam marketing emails. Such surveys help respondents feel safe about how their details will be used and who will be using them.
Security
When you don't collect any sensitive data, there is no headache to store it safely. You need not worry about data theft or maintaining it securely. This means you can focus on your goal of conducting a survey to gain insights into your customers and employees preferences, opinions, and experiences. 
Control
Earlier, it was difficult to keep a check on how data collected by organizations were being used. It serves as an extra layer of security and control due to which companies are now more cautious and vigilant about how data is being collected, saved and processed. 
Credibility
When you assure your users that their data is stored securely, you send out a message that you care for their privacy and identity. When customers trust any business, they tend to be loyal. Thus, over a period of time, running GDPR compliant survey can help to create a strong brand and in turn, gain you more customers.
Tips to create GDPR compliant surveys
Take consent of the survey respondents
Make sure you let your survey respondents know that you need their personal data. While doing this, convey the purpose behind collecting their data. It will help in gaining the trust of your respondents and you will also stay away from legal trouble. The important thing to keep in mind here is to get their consent before the data is collected.
Ask questions to get high-level feedback
Phrase a question such that your products and services are the centers of thought and the answers will not sound person-specific. Minimize asking open-ended questions, because in such cases, a survey respondent may accidentally reveal his/her identity. The onus of storing compliant data safely relies on the survey taker. Hence, you might need to modify such responses before saving them in your servers. This is against ethics as you will need to modify the survey response. So, it is better to ask objective questions that focus on your core deliveries.
Mention what will the data stored in cookies be used for
Cookies are text files stored on the visitor's computer to track sessions and preferences as you browse the website. These files can give a great deal of insight into your activity and can be used to identify a person without his/her consent. This can be a major threat to one's online privacy. Cookies used for marketing, analytics, surveys, and chat tools can identify users. Mention the purpose of collecting the cookies while you ask for their consent to store cookies on their machines.
Use ready-made survey templates
If you are not confident of creating a compliant survey questionnaire, explore this free GDPR compliant survey template. 
How to find a reliable survey service provider that provides GDPR compliant survey?
Do your research online and look for survey software companies that have considerable experience in the survey business. Look for market players that have been in the industry for a reasonably long time and have worked with reputed organizations. Check their current and past clientele and online reviews of their survey software.
Companies are allowed to appoint an external survey service providers that conduct surveys and collect and process data. Make sure they collect regulated personal data and comply with your organization and industry's security policies. However, the buying company still being the survey host will be held responsible for all data processing conducted by the survey services provider.
The best way to be compliant with the regulation is to let your respondents know what is being registered, for what purpose, who is tracking them, where is the data saved, and for how long. In case you face any challenge in creating a GDPR compliant survey, feel free to connect with our customer support or drop us an email at [email protected].