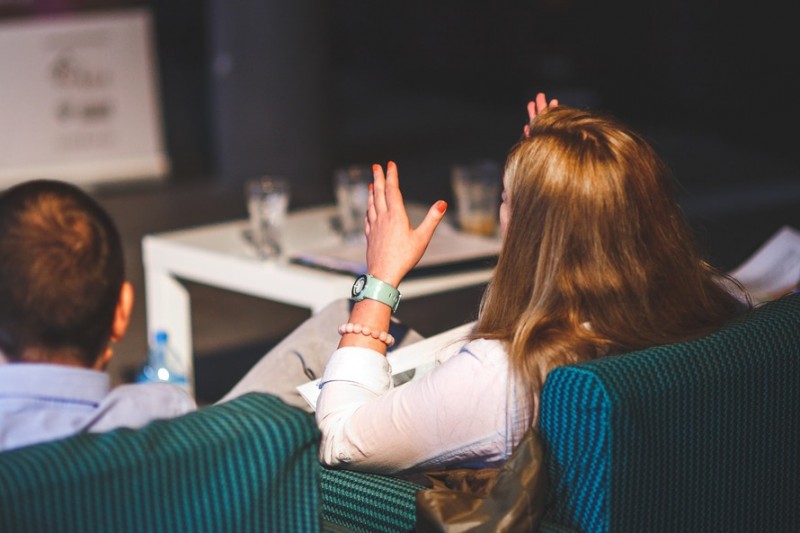 You've created your survey – now it's time to get people to take it! While distributing via an email campaign is the traditional way to get your survey visible, it's is far from the only way to increase your survey's visibility. You can easily combine some survey distribution best practices with QuestionPro's capabilities to get your survey in front of as many users as possible.
Once your survey is created, go to "Send Survey." You should see a screen like the one shown below. Included are a whopping 15 options for sharing your survey right from QuestionPro! Let's walk through each option and how you can apply them.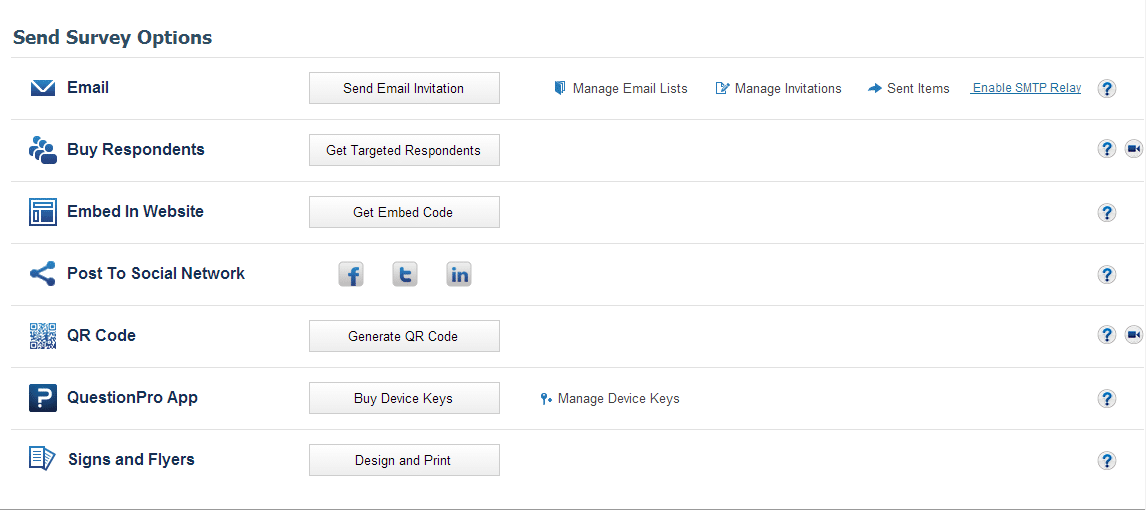 Email. Email is the most common form of promoting a survey. From QuestionPro, you can immediately send an email invitation to your list of respondents. However, let's look beyond the email invite.
Newsletter. Include a link in your email newsletter that routinely goes to your customers. Be sure to place this link higher in your newsletter to get higher visibility and increase the likelihood of respondents clicking on the link.
Receipt. By emailing your receipt, you save your customer the step of typing in a URL like they would on a traditional print receipt. By saving this step for your respondents, you've already increased the likelihood of responses coming in because it's easier for your customers to access the survey.
Follow-up sales email. Let's say a customer has visited your site or has come into your store, and you're going to follow up with them via email. Include the link to your survey in that email to ask them about their experience.
Buy Respondents. If you're looking to target a particular audience, this is a great option for getting your survey to the right group. You tell us the details of who you want to target, and we will get you a price for getting the panel you need.
Embed in Website. Embedding your survey on your website helps you capture feedback while the respondent is still on your site or as the visitor is just leaving your site! Get the feedback while their experience is fresh! There are four options for embedding your survey from QuestionPro.

Embed in Website: integrate the survey right on your webpage!
Popup – Page Overlay: keep your website in the background when users click the link to take the survey!
Popup – New Window: let your respondents answer the survey or fill out the form in a new window that they can manage.
Exit Survey: catch your visitors on their way out!
Post to Social Network. Right from QuestionPro, you have three social media options: Facebook, Twitter, and LinkedIn – and all you have to do is push the button and type the message you want to show!

QR Code. From QuestionPro, you can create your QR code, then use that code on any media. A respondent then snaps the code using their mobile device and directly accesses the survey on their device.
QuestionPro App. Mobile is a mega-trend as reported by Edward Appleton, Senior European Consumer Insights Manager at Avery Dennison, so let's go mobile with your survey!
Offline. The QuestionPro app allows you to keep your survey handy and collect information while offline. Once you're online again, your data will automatically sync to your account.
Online. Make your survey mobile-friendly and let users navigate to it from your website where you embedded the survey!
Signs and Flyers. From right within QuestionPro, you can design and print a business card, a 6"x4" (152mm x 102 mm) card, a table tent, or a wall sign (or all four) that can all contain your logo, a QR code that will take users directly to your survey, and an optional link that users can type in when they reach their computer or mobile device.