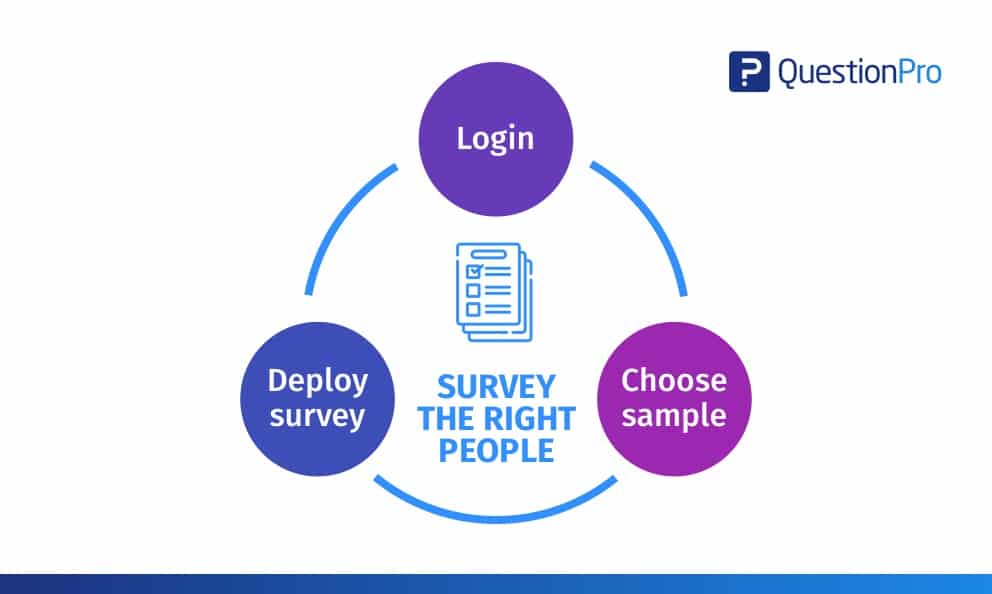 QuestionPro Audience is an economical and quick market research solution that fits your budget with high-quality survey respondents. Access our panel of survey respondents from around the world and get insights quickly. Choose from B2B survey respondents and B2C survey respondents to get immediate answers for brand research and tracking, product testing and development, market segmentation, advertising testing, consumer behavior, etc.
How does it work? A guide to buying high-quality survey respondents with QuestionPro Audience
If you already have your survey, but only need respondents to gather feedback, you can collect responses with QuestionPro Audience. Reach out to us directly on sales@questionpro.com, and we'll gladly assist you further.
Alternatively, you can also build your research project from scratch with QuestionPro. You can deploy the survey to your target audience in just THREE simple steps.
Watch the video for a complete walk-through on how to get survey respondents.
Who are survey respondents?
The QuestionPro Audience network provides you access to 30+ million active B2c and B2B respondents around the world. These survey respondents are double opted-in, pre-screened, and highly qualified to participate in various research studies of any level of specificity. Our high-quality panelists consist of voluntary survey takers who represent a diverse online population. You can directly access our high-quality, mobile-ready panelists around the globe with just three simple steps.
Who can buy survey respondents?
Buying high-quality survey respondents from QuestionPro Audience is easy and straightforward. You can purchase respondents if:
You have created a survey with QuestionPro

You have created a survey on another platform but are only seeking a 'research audience.'
Steps to buying high-quality survey respondents
Follow these steps to buy high-quality respondents smoothly.
To buy respondents: 
After you create the survey, select the Audience tab, and choose the project for which you need to find survey samples.

Please select the project and its completion date.

Select your target audience by selecting the number of respondents, age range, gender, annual income, ethnicity, etc.

Click the toggle button to define your custom specifications, if any.

The tool will calculate your price automatically.

Create your project and proceed to launch. 

Make your payment either via credit card, or use your QuestionPro credit balance to make the payment.
We deploy your survey immediately to our global pool of survey participants. Monitor the live dashboard and watch your answers come in quickly. Analyze the responses with our real-time dashboard.
How is pricing calculated?
Check the total cost of your project on the right side of your target Audience page. Your pricing is based on the total number of completes you wish to collect, multiplied by the cost per survey.
Price per survey response is based on:
Survey length: Shorter surveys cost less. The number of questions correlates directly with the time taken to complete the study.
Targeting options: The cost for each demographic chosen may fluctuate based on the availability and how conventional the selected criteria is amidst the panelists.
Custom specifications: If you have some custom specifications, our experts will get in touch with you directly to work out the best deal for your research sample.
Survey results and dashboard
Watch your responses come in, in real-time. Access the dashboard to monitor the number of respondents who viewed, started, and completed your survey; completion rate, dropouts, and the time taken to complete. Analyze results on each question and download reports in Excel, CSV, MS Word, Powerpoint, and SPSS formats. Collect actionable insights and make the right data-backed business decisions.
Data quality and reliability
Our goal is to help you achieve your research results by gathering the most accurate, reliable, and actionable data. Here's how we help maintain the data quality:
UDID:

Our global panel of smartphone users are uniquely identified with device identifiers (UDID).

Demographic control:

We focus on quality over quantity. We onboard our panelists after we scrutinize them with 300+ demographic profiling points.

Eliminating inadequate responses: Our experts monitor the reactions on the go and weed out any responses that seem to be of sub-quality.
QuestionPro Audience provides our clients access to more than 30 million active, mobile-ready, double-opted high-quality respondents, who are strategically recruited to participate in a variety of research projects. We always meet the rigorous demands of our clients. What more? Find survey samples with just THREE simple steps.
Contact us on sales@questionpro.com for your next research project
or simply get started right now.