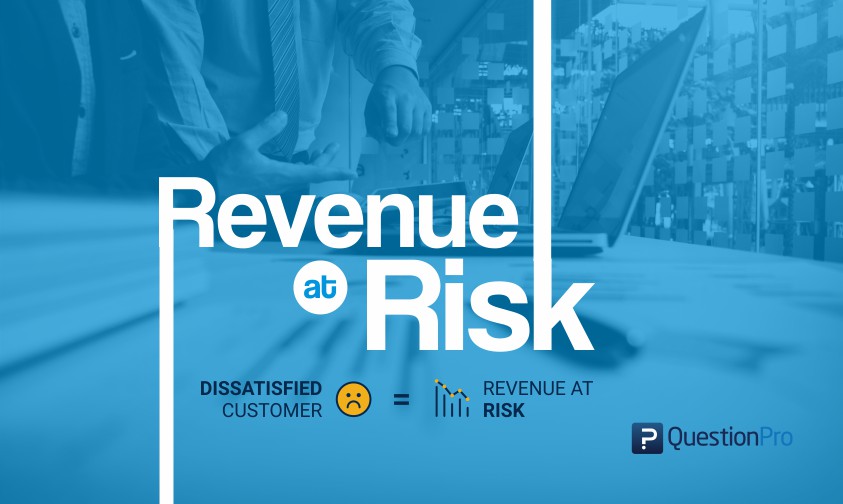 "You learn when you listen. You earn when you listen." —Harvey Mackay
Revenue at risk? Are your customers dissatisfied?
Did you know U.S businesses annually lose an estimated $83 billion due to dissatisfied customers? What does this figure indicate? Well, the answer is very simple. Business revenue and customer satisfaction are most certainly correlated.
Loyalty is a direct result of customer satisfaction. A loyal customer is a returning customer. There is a fair possibility that a loyal customer will endorse your products or services and recommend it to his/her friends and family.
Learn more about how to handle revenue at risk
Linking customer satisfaction to revenue at risk
Customer satisfaction is the direct indicator of revenue growth for any organization or business. Net Promoter Score and Customer Effort Score are the most recommended market research methods implemented to help you understand how satisfied your customers are and how likely they are to recommend you.
Let us understand the factors that will help improve customer journey leading to better customer satisfaction and reduce revenue at risk:
1. Make one person accountable
Customer dissatisfaction arises when customers feel that their customer journey is hampered. One very important factor that contributes to this is the involvement of multiple people. To improve customer satisfaction one person should ideally be responsible to make sure the customer journey is smooth from the beginning until the very end to ensure a great customer experience and induce brand loyalty.
If it is not feasible for one person to manage the complete process, then organizations or businesses should make sure that a single resource is dedicated to at least one of the aspects of the customer journey so that he/she is accountable for that one process and the focus is not lost.
This will help in less confusion amongst the customers too as they would know whom to address the issues to.
2. Identify the root cause of the problem
Customers everywhere across the globe do complain and if they are not satisfied, they have the rights to raise their concerns as they have paid for the product or service. Customer complaints can be expensive but also valuable as their feedback carries important insights. Identifying the problem alone isn't enough.
Getting to the root cause of the problem every single time is very important. Timely complaint resolution boosts customer satisfaction and thereby decreases the threat of losing a customer. It is a known fact that retaining a customer costs way less than building a new pool of customers.
3. Focus on your metrics
For any business to make a decent revenue growth they first need to understand if their customers are satisfied or not. The businesses need to first have their customer satisfaction metrics in place. They need to focus on the key performance indicators (KPIs), move the needles and keep focusing on them.
A better understanding of your revenue at risk comes from a thorough analysis of data that reflects a user's attitude and based on his/her interactions with a given business entity. Accurately implementing thoughtfully designed customer satisfaction surveys is the key to gather valuable data and insights that help the organization's in their decision-making process immensely.
Looking to deliver an exceptional customer experience with QuestionPro CX? Discover more about how to delight your customer at every touchpoint and turn them into brand advocates.