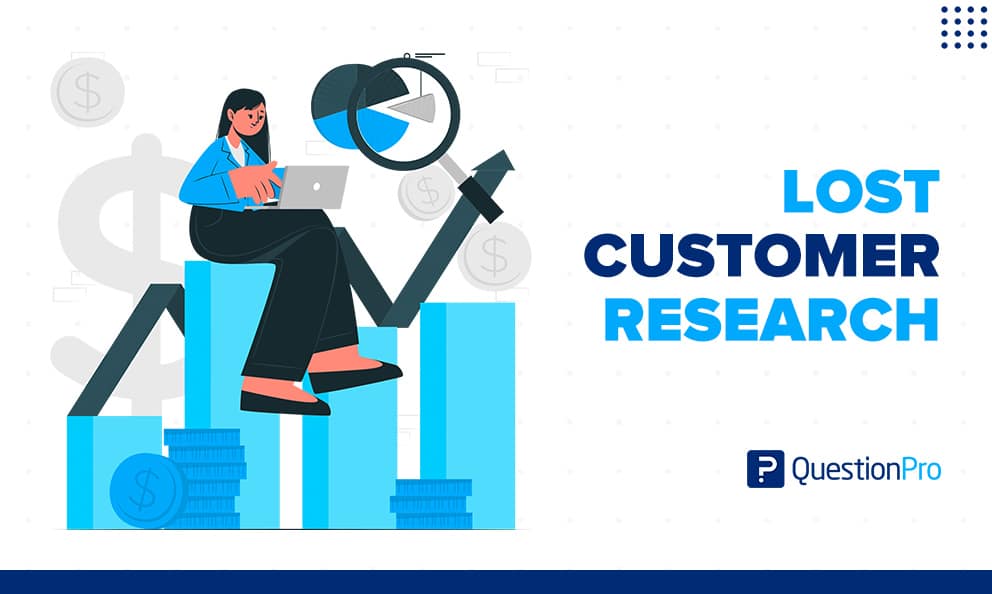 Marketing and business are constantly changing, but marketing research stays consistent. Customer research identifies groups, requirements, habits, and lost customer research.
Most startups and developing firms neglect lost customers after they quit service. Even if your organization can't win back these lost clients, it may help revise or refocus its go-to-market and product strategy.
Most customers have a distinct consumer viewpoint since they have no interest in the game and are typically honest about your goods and services.
Customers are best suited to supply this input. This information helps address customer churn concerns and more significant strategic issues, including competitive positioning, targeting, service or product performance, and product feature difficulties.
This blog will discuss lost customer research and how to conduct this research successfully.
LEARN ABOUT: Data Analytics Projects
What is lost customer research?
Lost customer research is the process of gathering, analyzing, and figuring out why a customer or group of customers stopped using a company's product or canceled their service contract.
This research could help you figure out what "triggers" these changes in behavior and what makes people switch to a different provider or lose interest in your product or brand.
A sort of market research known as "lost customer research" gathers input from former clients or customers to understand their reasons for leaving, suggestions for improvement, and if they switched to a rival.
Don't undervalue your past customers' ability to provide insightful feedback and upfront criticism. One of the goals of this kind of research is to try to find patterns in these losses. These patterns can help a company learn more about its target customers and its competitive position in the market. And find gaps and problems in its products, services, and performance.
LEARN ABOUT: 5 Ways Market Research
How to conduct lost customer research?
Lost customer research is the most effective way to find out why a former customer is now doing business with a competitor. In a nutshell, it eliminates the uncertainty around low client retention rates.
Objective
Before starting a lost customer project, you should list the research's primary goals and main objectives. This will assist you in directing the research course. You must remember that you may only have one opportunity to speak with these lost clients, so getting any information that is "must know" when you have their attention is crucial.
Before organizing the research survey, it is advisable to examine what you currently know about your lost consumers to get the most out of this research project.
LEARN ABOUT: Retention Rate
You should confirm that everyone involved in the project understands the goals, deadlines, and methodology. This will guarantee agreement among all parties on the project's purpose and the business case for the project's costs.
Strategy
Brands may do market research on lost consumers using a variety of approaches. Types of lost customer market research include:
Phone surveys: Respondents are surveyed over the phone in a telephone survey, sometimes referred to as a CATI or computer-assisted telephonic interview. When respondents may have direct contact with the surveying agency, telephone surveys are helpful in a more relaxed setting.
Mail surveys:

The broad use of mail surveys have been influenced for several reasons. One of them is less expensive, particularly when compared to in-person interviews. Mail surveys make it possible to do large-scale polls with thousands or tens of thousands of units. Otherwise, such procedures would have been too expensive to complete. Even if conducting mail surveys has been less costly than doing phone interviews.

In-depth interviews:

An interview is often the best method for gathering specific, missing customer information. The significant situation where this won't be true is if you are looking to gain information about a large audience, and the required knowledge is limited.

Online surveys:

One of the popular research methods among lost customers is an online survey. Interviews tend to have lower response rates and provide lower quality data than surveys, which let you go deeper into the answers that most interest you.
Here are six essential inquiries to ask in a lost customer survey:
Initially, why did you pick our business?
This question reveals what brought customers to your firm. It helps optimize corporate growth plans and find competitive advantages. It would help if you also determined what the consumer was initially promised. If the customer feels that their expectations were not satisfied, they will walk away from the purchase.
LEARN ABOUT: Consumer Surveys
What benefited you most from using our brand, product, or service?
Suppose half of the respondents enjoyed your fast delivery, and 70% enjoyed your customer service. Even if this customer left your company, they must have loved certain aspects. This helps your team.
Why did you decide to quit our business?
This question shows that what the client needs and what the client wants are not the same thing. Who went around? This kind of broad question will be helpful. Every statement eliminates the possibility of further problems.
This is a great way to determine what the organization thinks about the issue. If you don't take the time to listen to what your customers have to say, it's possible that your business will have problems. You can't mend something you can't see.
Which one of our competitors did you go to?
Blinding the poll will help your company understand which competitors former customers are using. It's worth asking lost consumers where they went.
This inquiry will disclose who's after your consumers. Using survey data, you may compute stolen market share.
Why did you select one of our competitors?
Find out how your competitor did better than you. Compare the prices, the quality of the products, the customer service, how on time they are, how well they communicate, and anything else necessary.
Knowing how customers see your competitors might help enhance or position your brand. Customer feedback trumps how your company perceives competition.
Is there anything we can do to get you to trust us again?
This question should be addressed hypothetically, not to convince a consumer to return. You may connect customer expectations and corporate service. You now know how to gain back lost clients not surveyed.
A straightforward modification or several opportunities may minimize customer turnover. Beyond a one-time endeavor, there's more to gain.
Data collection and analysis
Most lost consumer research data will be quantitative (numbers or statistics), not qualitative, descriptive, or observational. In a perfect world, both kinds would exist.
Make sure your data is objective. Never ask a question about whether our product pricing is greater. This kind of questioning aims to influence the subject's reaction.
Try closed-and-open-ended questions (for instance, a multiple-choice question asking what income range best describes you). It would help if you undertook a cost-benefit analysis to find the optimum research plan.
After gathering all your data, it's time for data unit of analysis. Avoid preconceived preconceptions while analyzing the facts. While one statistic or data may stick out, look for trends.
Decision
The research's methodology, findings, conclusions, and the following measures you advise taking in light of the results should all be included in a summary of the research from time to time.
Even if you don't need a formal lost customer research report, make sure you go through the action research and findings to clearly state the suggested course of action. If sharing the graphs and data you gathered doesn't result in action, it isn't very meaningful.
Was your presumption incorrectly proven? That's great, but why don't you test and make assumptions when making choices that might affect your business? Accepting the findings is always preferable to manipulating the statistics to support your position.
LEARN ABOUT: Consumer Decision Journey
Conclusion
Companies may utilize the knowledge about the underlying reasons for client losses to determine whether or not and how to get those customers back in the future through lost customer research. Asking for input from lost customers also shows them that their opinions are valued and considered when making business decisions. This ensures that customers will be candid about their experiences with your company and a competitor.
QuestionPro has some of the most modern tools for making the customer experience better. Today, you can quickly and easily learn a lot about what your customers think and feel by using the QuestionPro CX platform.
Try QuestionPro CX today to find out how our customer experience surveys and analytics management platform can help you get more loyal customers and learn important things about them.