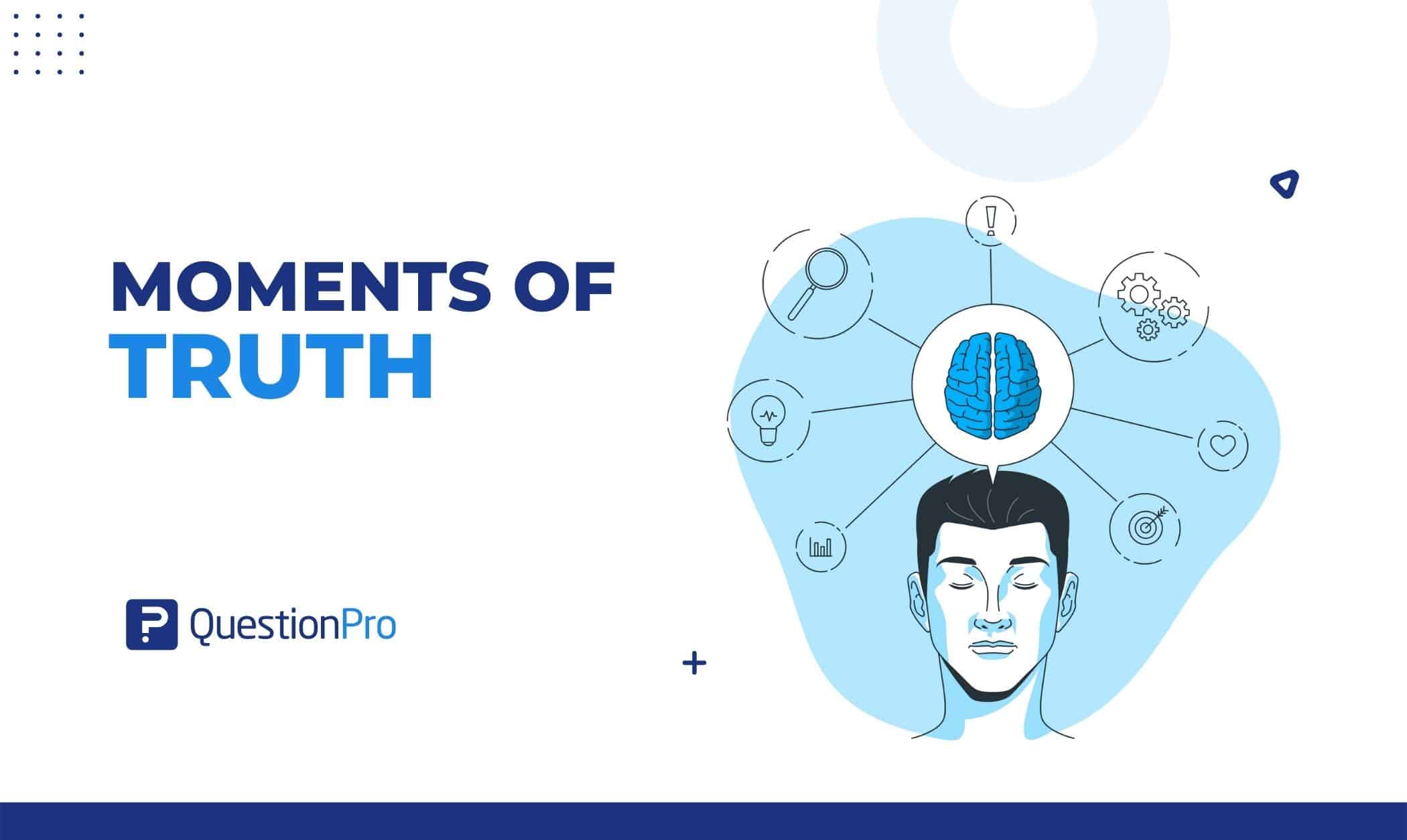 Moments of Truth are undoubtedly a concept you're familiar with if you've been following the customer journey map for some time. It is occasionally misinterpreted and sometimes confused with crucial junctures in the customer relationship. However, this is only the beginning of the story, and there is much more than that.
A customer journey involves multiple interactions with a brand. The most crucial are called moments of Truth. While it's essential for firms to improve their customer experiences overall, focusing on moments of Truth helps improve customer journeys.
Let's take a look at what moments of Truth are, as well as some examples and why you should be looking for them along your customer's journey.
What are moments of truth?
Moments of Truth refer to the points throughout a customer's relationship with a brand when a significant event occurs and a perception of that brand is established. It is crucial in helping marketers achieve successful, client-focused outcomes.
The idea is straightforward: If every client connection results in a win for the company, it will prosper.
Moments of Truth are the points of contact where a customer decides whether or not to continue using your product. These moments aren't all considered by businesses when describing their moments, but including them here can help you understand their extent and effects on your brand's customer experience.
Two significant categories include every single moment of Truth:
Moments of glory

Moments of pain
Moments of glory
Moments of glory occur when service goes above and beyond for the customer. Some of the most memorable moments may occur early in your customer journey, while others may arise later. Let's examine a few glory moments in the online and offline industries.
Consider purchasing a SAAS software service from a website. Receiving a discount coupon might be considered a moment of glory during the "first visit" phase.
After the purchase, reaching out to the customers and asking if they need assistance with setup or usage would be considered a post-purchase positive moment activity.
An excellent example of this practice in offline businesses like restaurants is providing customers with a complimentary beverage while they wait for their food.
Moments of pain
Moments of pain are unpleasant and raise the possibility of customers churning and complaining to others about the terrible service they received.
Some examples of these instances include when a customer service representative at customer service is disrespectful to a customer on the line or when a retail salesperson ignores a customer who is asking for assistance in the store.
It's possible to turn moments of pain or negative moment into an outstanding customer experience. It occurs when customers inform a problem they are having, and we go above and beyond to aid. This increases their commitment to the brand.
Imagine you were in a cafe and the waiter apologized for the long wait for your order and gave you a "Sorry card" with a discount for your subsequent order.
Moments of Truth's classification
In a customer's journey, customers face several moments of truth along the way that significantly impact their purchasing behaviors. Below are a few of them:
Zero Moment of Truth (ZMOT)
This happens when people look for information online and make decisions about brands on the internet.
For example, looking for reviews of mobile phones before buying one.
At this point, the person has already heard of your brand but needs more information to decide whether or not to buy. Giving enough information about your products or services also gives your brand an edge over the competition.
Actual Moment of Truth (AMOT)
This stage is about the new post-purchase experience gap that online shopping has created. This is the time between when a customer makes a purchase and when they get the product.
First Moment of Truth (FMOT)
This is when a customer sees a product or service for the first time, either online or in person, and makes a decision about it. At this point, marketers should focus the majority of their efforts on converting prospective customers into actual ones.
Second moment of truth (SMOT)
This is the moment at which the customers' various senses are taken into consideration. Here, your customers think, see, hear, feel, touch, smell, etc., about your products and brand throughout your relationship.
Last moment of truth (LMOT)
At this moment of truth, your customers have used your product and given you feedback. This could happen when they post about how they use and like your product. This moment provides many new people with their own zero moments of truth.
Ways to identify moments of truth
Depending on the current state of your project, there may be a variety of approaches to locating moments of truth. Here's a look:
Use your and your team's knowledge to uncover your product's moments of truth. You may have some thoughts if you've worked on this product for a while.

Identify the most challenging stage. Examine the records related to customer service. Your customers have probably already mentioned their pain and glory.

If you're still in the planning stages of your project, it's smart to check out the competition. You can simulate a customer to see how your service works. This can help you discover moments of truth and give you ideas for future service.

Another option is to distribute a

survey

requesting clients' positive and negative feedback. Client interviews and other qualitative research techniques will do the work.
Examples of moments of truth
Whether your brand is aimed at consumers or other businesses, such moments of truth will play a role. Here are the two most common types of situations that arise in business-to-business and business-to-consumer settings:
The second moment of truth (SMOT) often reveals itself throughout the onboarding process for B2B customers. It leaves a lasting impression that influences the relationship between the brand and the customer across the entire customer journey.
B2B companies can ensure they have good customer service to make the best impression at this moment of truth. Customers need to be able to get in touch with customer service reps whenever they need help or have a question.
Let's pretend a customer is browsing a store and notices something interesting. When customers first encounter a product, they generate an opinion about it, leading them to make a purchase or leave it as it is. This is an example of the first moment of truth (FMOT). Additionally, some other examples include:
Viewing some reviews of the product (ZMOT)

Having a phone conversation with a service person (SMOT)

The customer buys a product and receives it (AMOT)

The customer has tried the product and provided feedback (LMOT)
Conclusion
Every business has its own unique "moments of truth," and some of these touchpoints will have a higher impact on an audience's impressions of a brand than others. Depending on the firm, they can occur at varying points along the customer journey.
Finding these moments of truth requires time and effort, but the return is excellent. Still, it can be challenging for businesses to know where to begin or how to enhance their particular journeys. Use the QuestionPro CX tool to capture them rather than spreadsheets or PowerPoint.
With QuestionPro, you have to press a button to look at what your customers say. This will allow you to look for and analyze patterns in your customers' feedback about their positive and negative feelings about your product or brand.