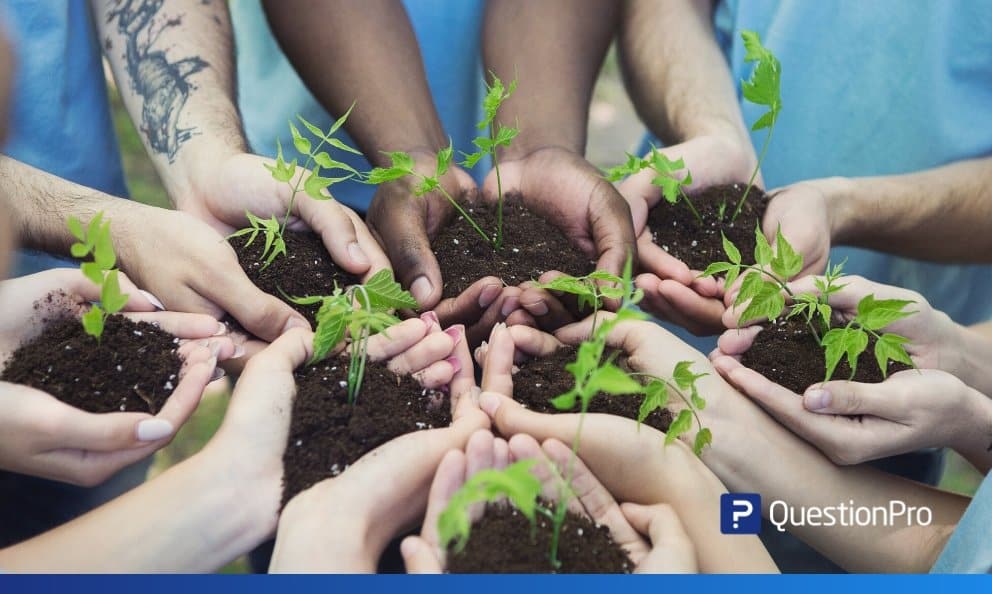 Are you familiar with our mission – and what appeals the most to you? How likely are you to donate to charity again? What can we do to ensure a good volunteer experience? Would you be interested in joining similar events in the future? These are just some of the many essential questions nonprofits need to understand to achieve their goals efficiently.
Why must you conduct a nonprofit survey?
Efficiency is the main mantra of nonprofit organizations. They need to be productive with limited monetary resources and human resources at their disposal. These resources can regularly fluctuate, and nonprofits must have insights about these topics to remain afloat and grow. Conducting surveys is the best way to understand your organization, its volunteers, and stakeholders and gauge your programs' effectiveness. 
To collect actionable nonprofit feedback and insights, you must engagingly ask the right questions. Here are three essential nonprofit survey examples your nonprofit organization must use.
15+ Nonprofit Survey Templates & Questionnaires
Three essential nonprofit survey examples that real brands use
Organizations must survey all the different people involved with the nonprofit who work towards their mission success. Let's break them down and look at a donor survey, a nonprofit volunteer survey, and a nonprofit organization survey.
Nonprofit donor survey example
Donations from donors aid nonprofit organizations to run smoothly. Monetary aid works as the backbone of the entire nonprofit economy. Donors play a very vital role in keeping the nonprofit alive and kicking by donating for various causes. Attracting donations is no simple task, and receiving multiple contributions over time is almost close to impossible for many nonprofits.
A survey is one of the most reliable tools at your disposal. You can collect precise data and turn it into action for the benefit of the nonprofit organization. Here's what you can achieve with a simple questionnaire if done correctly.
Boost your outreach strategy

Have effective donor communication

Build a long-lasting relationship

Urge and propel donations through hyper-targeted appeals
Lakeland Volunteers in Medicine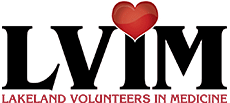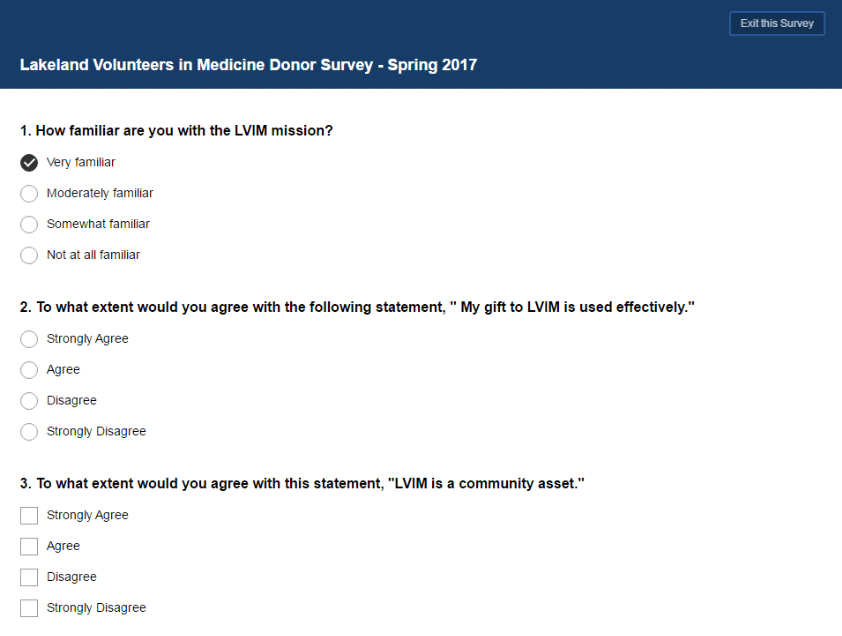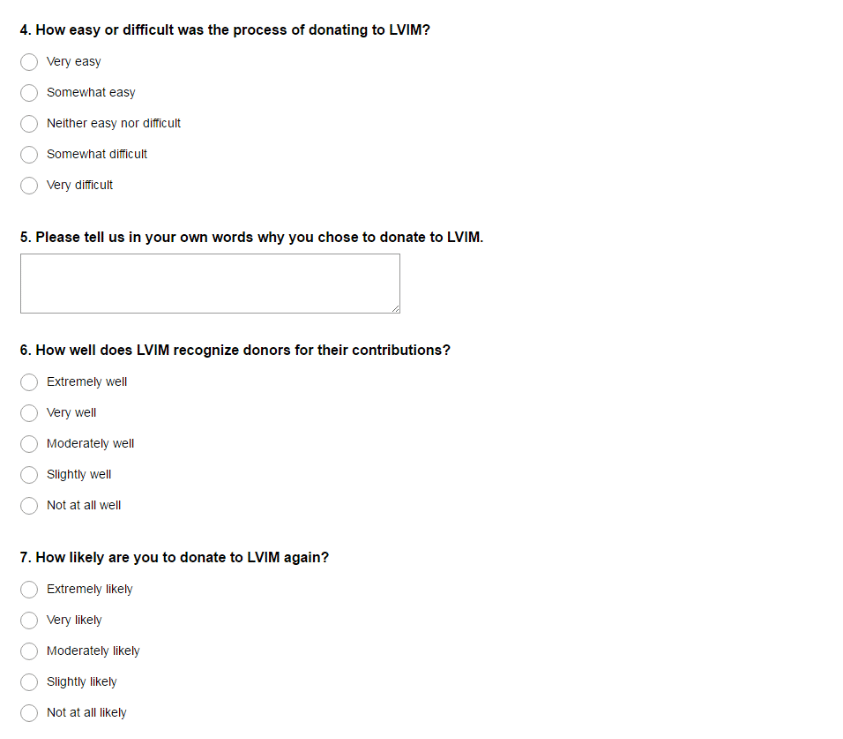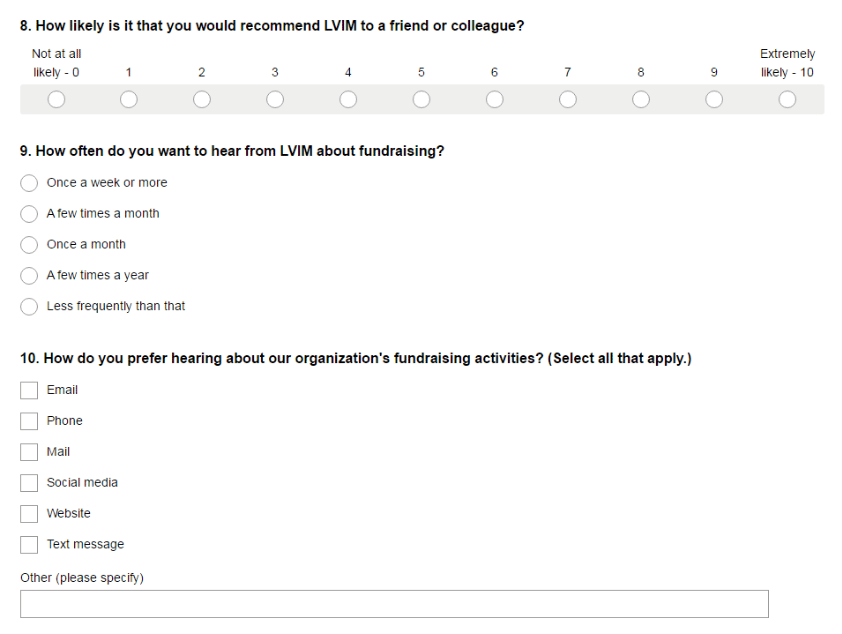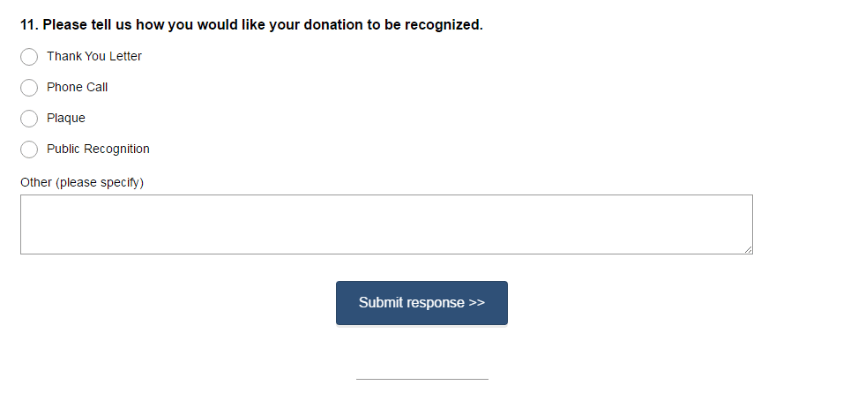 Source: www.qgiv
It is incredibly crucial that nonprofit organizations do not lose their donors. Often than ever, they must run reactivation research campaigns to convert inactive donors into existing ones.
Nonprofit volunteer survey example
Volunteers are the blood of the nonprofit organization that supports and drive your cause. They are an integral part of the charitable system, without whom, nonprofits wouldn't be able to fulfill their mission. It is paramount to keep volunteer motivation levels high while attracting more volunteers at the same time.
Volunteers give freely and generously of their skills and time when they believe in your organization's mission. They strive to make a tangible difference by contributing selflessly to the common cause. They do not expect any money in return, but they need to be heard and appreciated like all humans.
How are their voices heard? Run regular services, especially after the conclusion of events, to understand various parameters that boost your success.
American Red Cross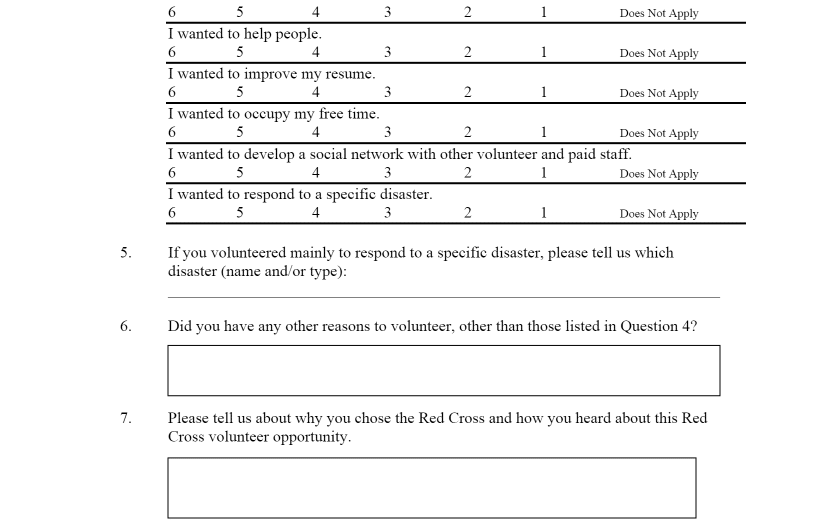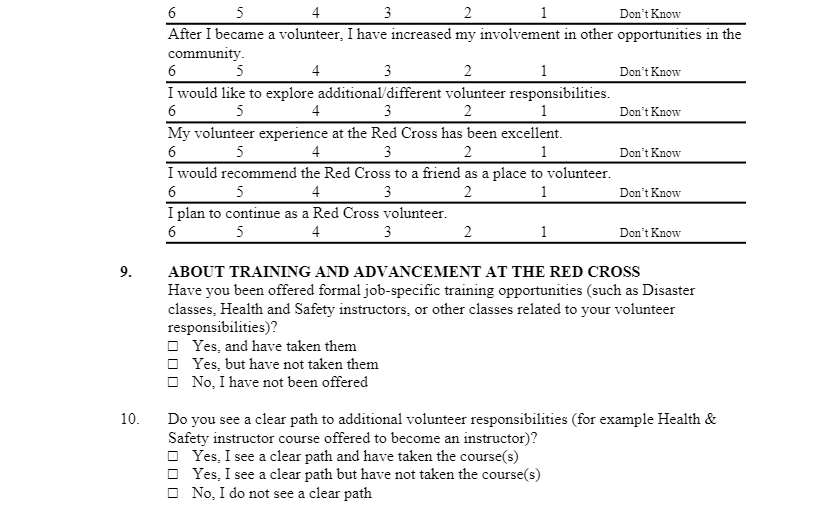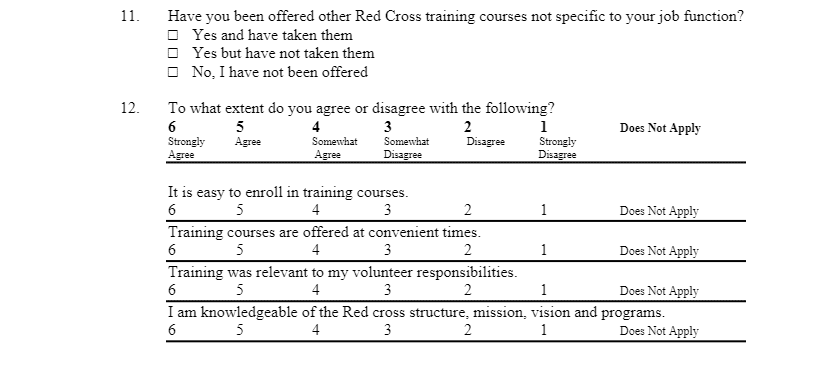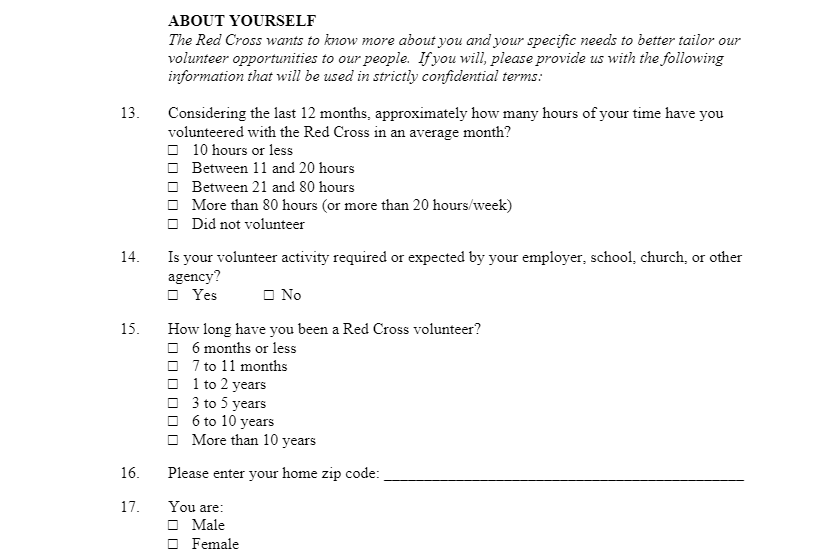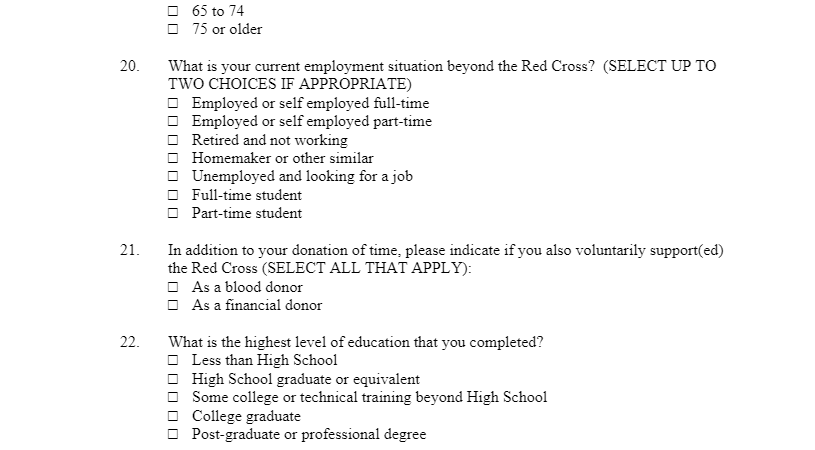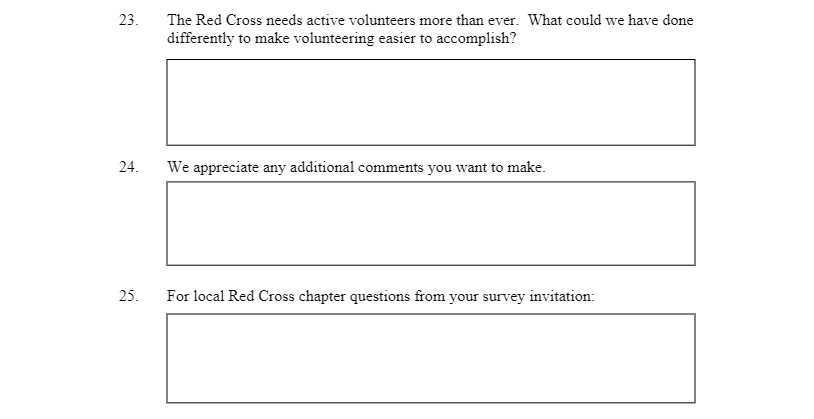 Source: www.redcross.org
Nonprofit organization event survey example
Nonprofit organizations spend countless hours planning events for groups of donors, sponsors, and other attendees. You often spend time studying the location, the food, speeches – and it all has to be perfect.
You can run surveys at three stages of the event:
Pre-event surveys

– where you collect expectations about attendees.

Mid-event surveys

– to gauge the in-the-moment success of the event.

Post-event surveys

– to collect data and fine-tune your event next time.
A survey can gauge the success of the event by asking the right people the right questions. Studies provide extensive data about everything involving the foods, the speakers, and location leaving organizations with actionable data items. Post-event surveys are the most essential out of the three, as the data collection scope is the widest. You can survey everybody who attended the event and those involved.
Here's an example of a nonprofit post-event survey. We'll break them down by the target audience.
1. Survey for attendees: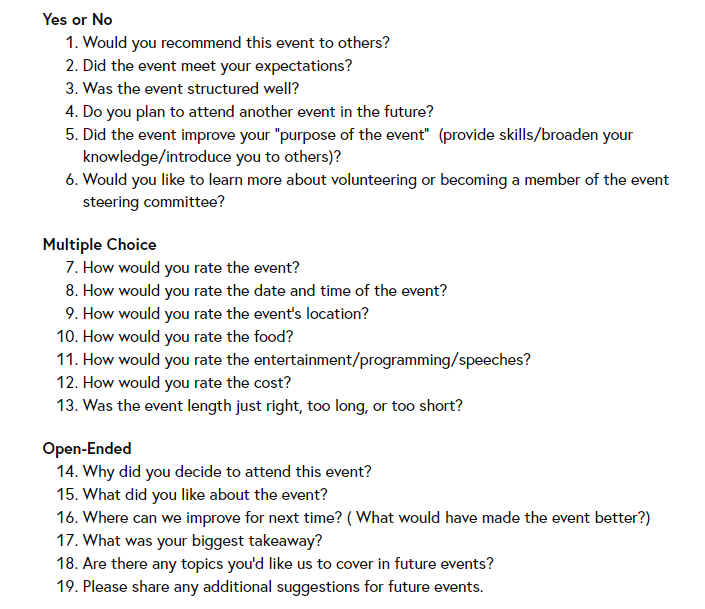 2. Survey for presenters, sponsors, and volunteers:

3. Staff survey questions:

Source: www.wildapricot.com
Importance of regular nonprofit surveys.
From the examples above, it's evident that the various stakeholders and people involved in your organization must be surveyed at different intervals. Here's a deep dive into the importance of running a regular nonprofit survey.
Marketing:

Surveys are an excellent tool for getting people to know and recognize your mission and vision. They help to advocate your cause. Use surveys as a medium to tell your organizational story and goals and draw in prospects to help you attain these goals—test different marketing channels to send out the survey and understand what works best for the nonprofit.

Planning events:

Surveys are conducted at three different stages of the event, as we've seen above. Consolidate all the feedback received from pre-event surveys, mid-event surveys, and post-event surveys to plan future events to be more productive and successful. Understand what activities that different stakeholders will be interested in participating in and increase the chances of funding.

Collecting donor feedback:

Survey donors to understand their giving motivations, opinions, attitudes, and donating patterns of your current donors and prospective ones. Survey them on why they support your cause and understand what issues they care about and would like you to focus on. Conduct in-depth interviews with influential donors and increase your donor support and efficiency of fundraising.

Online fundraising:

The world has been shifting to the online trend, and the year 2020 has limited us to do business physically. People are online now more than they have ever been. Online fund collection or fundraising is a crucial way to get in touch with people all over the globe to raise awareness and collect funds online.

Strategic planning:

Strategic planning can only be done with the backing of quality data. Essential questions like – what are the methods to reduce fundraising costs? Is there a need to alter the fundraising approach? How can you enhance development efforts? What is the most excellent way of managing all the stakeholders? Are there any types of loyalty programs that could benefit the nonprofit organization? Use a well-structured questionnaire to capture data that can be used for strategic planning.

Volunteer management:

Is there a way to improve the recruiting and retention process? Get insights from volunteers to set up volunteer management best practices. Implement them to attract volunteers and keep them pushing towards your goal. Get insights into issues they face and know why they leave the organization and what you can do to retain them. Surveys act as a powerful communication medium, and running regular volunteer surveys keeps their spirits up.

360-degree feedback collection:

A 360-degree feedback survey helps to identify the organizational alignment between the employees and the goals of the nonprofit organization. Run surveys among supervisors, subordinates, and peers to evaluate employee performance levels. Also, ask your employees to rate their performance by using self-assessment surveys. Get understanding into what goals are feasible and what is not and what are the reasons for not attaining the goals.

Member satisfaction:

Find out how much your members are engaged and measure their satisfaction levels. Find out if they're satisfied with the benefits from current membership, and what do they expect from the nonprofit organization. Nonprofits run several member events. Analyze the effectiveness of these events by running a simple survey at the end of these events and capture member thoughts. Find out if the current members would recommend the nonprofit to their contacts and find ways to grow the member base.
Other nonprofit survey types
As seen above, nonprofits are required to run many different surveys, targeting various groups of people like stakeholders, donors, volunteers, and so on. Here are some additional survey types that nonprofits run.
Event registration:

Run this to capture necessary personal details like age, job description, location, etc. Also, ask the attendees preferences like – the time of the day to conduct the event, suitable day of the week, expectations. In the survey, include details and rules that you think are necessary for the attendee to know before attending the event.

Event participation: Gather event feedback from attendees to know what they liked and disliked and use this data to improve the events in the future.
Exit survey:

Volunteers and members leave nonprofits now and then. Find out what factors lead them to go and try to find measures to retain them.

Sponsor surveys:

Nonprofits rely on sponsors to get fundings. They must keep sponsors happy. Get insights on why sponsors support you and what you can do to help the sponsor get more recognition. If the sponsor is satisfied with the marketing of their brand, there are high chances of your organization getting more sponsorships.

Fundraising feedback:

Measure and manage the efficiency of the funds raised from donors. Understand why people contribute to funds. Keep in touch with contributors to approach them for future fundraising.

Satisfaction level:

Run a satisfaction survey among all the stakeholders, volunteers, staff, donors, and all the people involved in your organization. Collect data to help you learn more about them and lead the organization towards its goals smoothly.
15+ Nonprofit Survey Templates & Questionnaires
Tips on how to create the perfect nonprofit survey
Here are the top seven tips for creating the perfect nonprofit survey that you can use effectively.
Ensure that the survey is worth the survey taker's time:

People are busy and take out extra time from their busy schedule to answer surveys. Make sure it is attractive and engaging.

Pitch your mission:

Make sure to market your mission at every point of interaction. Add a small note at the beginning of the survey about your mission statement and what you want to achieve.

Use a robust survey software:

Ask for a demo and choose what suits best. Opt for one that has an excellent rating online. Use one that supports mobile surveys.

Commit to improvements based on feedback:

People will come back to answer multiple surveys only if they know you're going to take serious action based on feedback.

Keep the questions to the point:

Do not ask vague questions. Keep the questions to the point and keep it short and straightforward so different types of respondents don't have trouble answering the survey.

Use open-ended questions:

It's good practice to use a few open-ended questions to capture the respondent's thoughts more accurately.

Test the survey: B

efore launching it, test it to ensure the study runs smoothly, and all the logics work correctly. This will help you capture accurate results.
Are you ready for your first nonprofit survey?
Creating your nonprofit survey must not take too much energy, money, or time. Use one of QuestionPro's existing survey templates for nonprofits and tailor it with your logos, colors, and questions. Creating your survey template from scratch is just as simple. Creating surveys for nonprofits has never been faster, more comfortable to develop, or more fun.