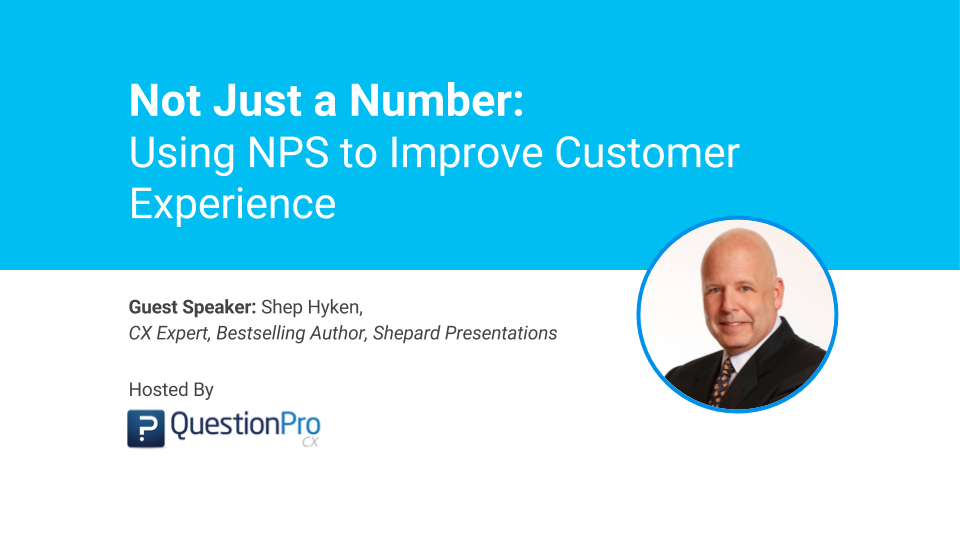 We hope you were able to join our webinar Not Just a Number: Using NPS to Improve Customer Experience with special guest and Customer Experience Expert Shep Hyken! Even if you weren't able to attend, we'd still like to share some of the valuable knowledge he shared. Here's a recap:
1. Question: What are some Customer Experience Trends in 2017?
Shep: 72% of businesses now say that improving Customer Experience is their top priority. The cost of bad customer experience is high. A recent study by New Voice Media cited that companies lose over $62 billion due to poor customer service. But it's not that CX is getting worse (even government is getting better!). Consumers have higher expectations than ever before and it's easy for them to switch over to competitors if a better experience is provided elsewhere.
2. Question: What do you think about Customer Experience becoming the key brand differentiator by 2020?
Shep: Let's talk about the concept. It's already happening.You don't expect the same number of people on the sales floor with low-price providers. Across the hardware industry, stores are competitively priced. Take Ace Hardware for example. They are 1/10th the size of Home Depot or Lowe's, but their focus is to provide you with a more knowledgeable experience.

Although customer service may become the key differentiator, the price will never be completely irrelevant. Here's an extreme example: you can't provide superb customer experience and sell a car for 10x more than the cost of other dealerships. The best service in the world cannot sell if the product doesn't work. If you hone in on just product and customer experience and factor in price, then the price will become less relevant.
3. Question: What's the difference between a satisfied customer and a loyal customer?
"Satisfactory is a rating. Loyalty is an emotion." – Shep Hyken
Shep: Up to 40% satisfied customers don't come back unless they are satisfied, and satisfied means having an average experience. In hospitality, 80% of your customers are satisfied, but won't return. If you give your customers something better than average satisfactory, your customers will begin to build loyalty with you, meaning they will return.
4. Question: What does it take to get to loyalty?
Just be better. Better than average and better all the time to provide a predictable and consistent experience.
5. Question: What's the difference between Customer Experience and Customer Service?
Customer Service is an interaction between two people, usually with the customer seeking out a solution to a problem. However, you may also have customer service that is more proactive, meaning, you seek out solutions before a customer even becomes aware of the problem. However, Customer Experience is about the entire experience. It's everything from the first interaction to the last, and the recurring touchpoints.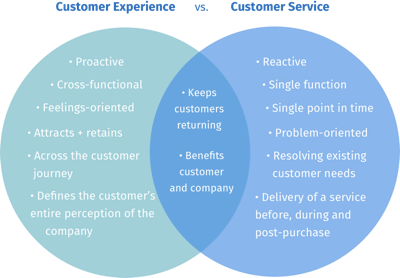 6. Question: Why use Net Promoter Score (NPS) to measure Workforce and CX?
Shep: There is a strong adoption of NPS for CX because of its simplicity. Oftentimes, Net Promoter Score is used improperly if you use it to measure a finite interaction. Rather, NPS is used to measure an overall experience, not just isolated incidents. NPS is used by most companies to measure CX for its simplicity using a 0-10 scale, followed up by an open-ended question.
LEARN ABOUT: Good Net Promoter Score (NPS)
7. How do you calculate Net Promoter Score?

Shep: To measure and improve NPS, make it easy and go beyond average. It doesn't take much as effort as you think! Always follow up with an open-ended question like "What's the one thing you can think of to make your experience even better?" If you have over 100 people giving you the same answer, it most likely is a great idea.
8. Question: How do you begin measuring Customer Experience?
The best way is to track NPS key customer touchpoints or NPS microdrivers. QuestionPro offers NPS Key Driver Analysis to help you look at individual components of the experience that make up the entire customer journey.
Shep: Start out with customer journey mapping. Analyze the friction points because it impacts your overall NPS. Identify the "moments of truth," that is each critical interaction a customer has an opportunity to form an impression. It's much easier for an employee to drive the experience and ask, "where are the points that can negatively impact the bad customer experience?" Ask your customers, "What are your biggest complaints?"

9. Question: When you're looking at the different segments, do you see companies diving into NPS microeconomics and customer lifetime value?
Shep: You can't manage what you can't measure. There are financial implications that you should track. But it's important to know that not every company has to go above and beyond to blow people away. You have to be careful and pick and choose where you want to make the improvement. Shoot for top 20% (which is top 4) and stay there instead of aiming for top 1 because that may not be sustainable.
Harvard Business Review conducted a recent study on Walmart. Walmart experimented with a major store redesign on a few stores based on customer feedback: there was not enough light and the aisles were too close together. Walmart spent a huge amount of money on redesigning the experimental stores, and guess what the financial implication was? None. The point is, you should go for better CX when it doesn't take much to do so. But if you're spending a lot of time and money, then you better make sure there is monetary ROI.
10. Question: What are some top ways to improve CX?

Shep: Respond ASAP. It matters! I recently did some work with FedEx and figured out an optimal time for the organization to get back to you with support. If you have an issue and decide to email support, their goal is to respond in 20 mins.
It's creating a consistent, predictable experience that instills confidence in your customers. You have to get there if you want repeat business. Be better than average at every interaction with your customer. Identify the friction points and improve it.
11. Audience Question: How do you see employees appealing to C-levels within the organization?
Shep: Show the numbers. Get to the numbers and state your case.
What are those numbers?
Three letters – CLV. Understanding the Customer Lifetime Value is important. Take for example – a grocery store scenario. The average CLV of a grocery shopper is $5,000. Today your customer could buy a carton of milk for $1, and next week the same customer could spend up to $150 on a basket of groceries. Now, if you have two different customers, who should you treat better? The customer who purchased just a carton of milk? No. Once you understand the CLV, you should treat them all as if they are worth $5,000.
For the full presentation, visit here.
For more information on Shep Hyken, visit www.hyken.com.
Looking to deliver an exceptional customer experience with QuestionPro CX? Discover more about how to delight your customer at every touchpoint and turn them into brand advocates.