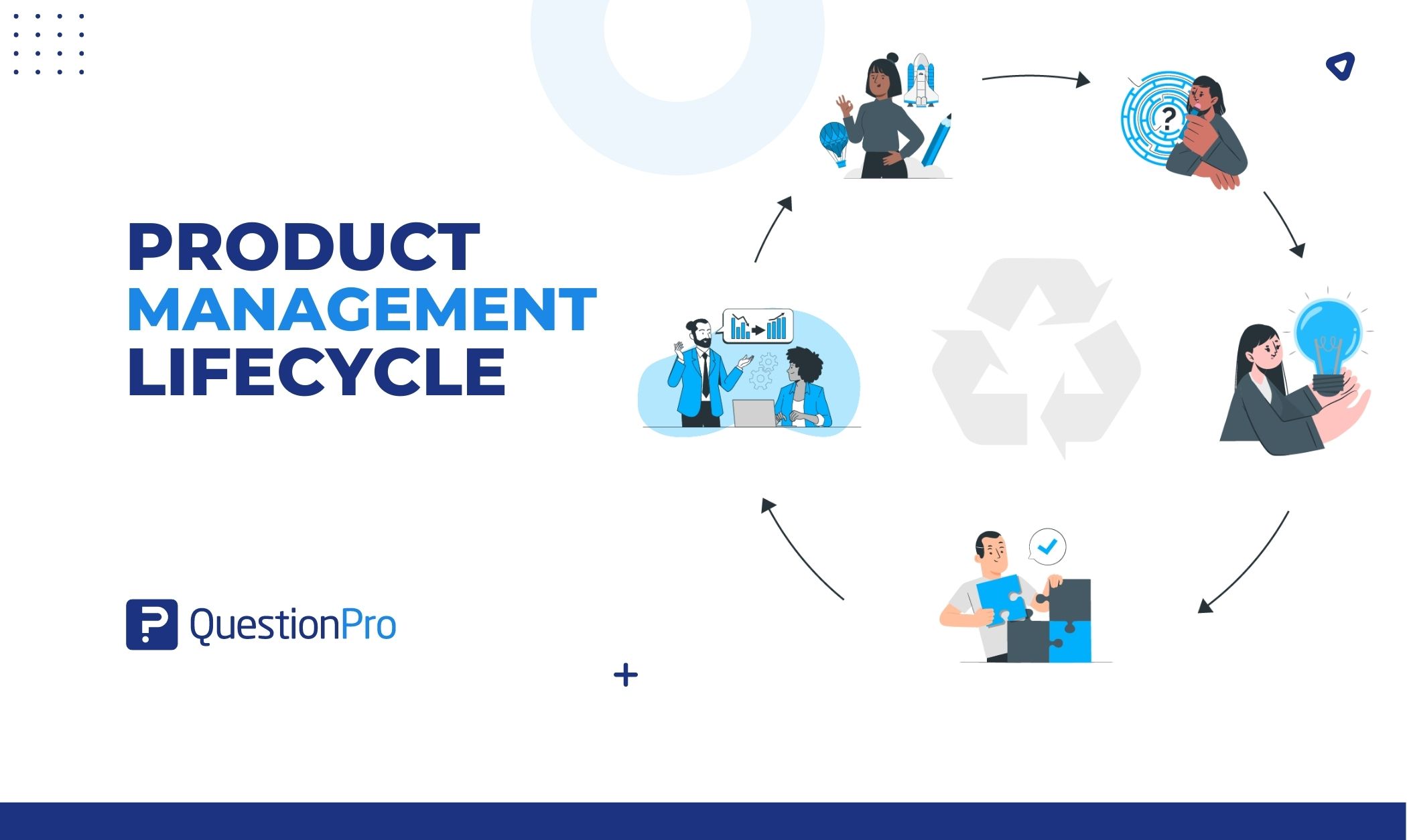 The product management lifecycle is more than a theory or a method. It is a tool for learning about your product and its users.
As a product manager, your duties range from creating the appearance and feel of a product and gaining stakeholder approval to making difficult decisions about new hiring, a launch date, and a price point. To negotiate them, you must have a strong understanding of the product management cycle from ideation onward.
In this blog, we will discuss what the product management life cycle is and what are the main stages of it. So let's get started.
LEARN ABOUT: Customer Lifecycle
What is the product management lifecycle?
The process of bringing a new product to market is referred to as the product management lifecycle.
It is a framework that defines a product's steps from conception through retirement. It usually consists of stages like idea generation, customer development, launch, and post-launch review.
The specific steps and what they are called can change depending on the company and the product, but the goal is to move the product through a structured process to ensure it meets customer needs and business goals.
You may also check out this guide to learn how to build your own Customer Journey Map.
Main stages of product management lifecycle
A product life cycle is a management tool that looks at how a product changes from when it is first made to when it is taken off the market. Here, we will explore the main stages of the product management life cycle for your better understanding:
Problem Identification
It is one of the most important stages in a product management lifecycle. At this stage, You have to figure out what problems your users are having. Sort them into Needs and Wants and decide which ones to solve first based on their importance.
A large portion of your product will be defined based on the issues you have pointed out. At this stage, the following activities are carried out:
Define the target user segments and personas.
Identify the issues these users are having. Sort possible solutions into needs and wants.
Investigate External Markets and Trends
Idea Generation
After identifying and prioritizing problems and understanding the external market and competitors, the next stage is to generate as many ideas as possible to solve the customer problem. At this point, the following activities are carried out.
Collecting and organizing ideas for new products
Preliminary screening to get rid of ideas that are too radical or impossible.
Conceptualization
At this stage of the product management lifecycle, you have to start turning our ideas into products. Provide a general description of the product or feature, including how it will work, who it's for, how important it is to the users, and so on. During this stage, the following things happen:
Idea Screening
Product Definitions
Market Fitment Analysis
Business Case Formulation and Business Analysis
Develop a case for the product when we have agreed on the product concept and prospective target market. Consider the different efforts and costs that might be needed, as well as how much money the product or feature could make.
At this stage, a lot of data forecasting and predictive analytics are used. After this point, you should have given your ideas and numbers and decided whether to move forward. It's good to have three different projections, one that's optimistic, one that's idealistic, and one that's pessimistic, to get a better idea of the product's potential. These steps include the following:
Financial Projections
Marketing and Sales Projections
Cost Analysis
Shortlisting And Screening
After you have the projections for various scenarios, we will explore the proposals with top management. Ideas that do not fit with the company's vision or strategy are rejected. Few concepts survive this stage. It is important to create a solid and realistic business case to demonstrate the value of your ideas.
Many product managers need help at this point since their concepts are not shortlisted due to a weak business case. Before submitting your ideas to top management, do your homework extensively and come up with concepts that have a compelling business case. The following are some of the actions that are taken out at this time:
Cost-benefit analysis of various features for your digital asset
Prioritizing features and organizing them into a roadmap
Learn more about why understanding your Customer Journey transforms your CX program.
Prototype Development
Verify your assertions about the success of the product or feature using very few resources before committing to full-scale development. Create Minimum Viable Products or Prototypes to understand the user acceptability of the product offering.
Prototypes also help determine what alterations are required before the actual product launch for the final product to operate better. This stage includes the following actions:
Prototype Design
Minimum Viable Product Design
Validation and Market Testing
When the prototype is complete, we get in touch with our intended audience to verify that we did everything correctly. Depending on the product category, validations may be carried out through e-mailers, messaging, website/app integrations, in-store incentives, etc.
For example, if a new feature is added to an app, the prototype can be validated by evaluating interest in promotional mailers and notifications.
The following are some of the activities carried out at this stage of the product management lifecycle:
Customer Acceptance Tests
Interest Mapping & Usability Testing
Modifications and Scale Up
After collecting market feedback on your products, it is now time to modify the items and expand the user base. You have to go through various steps before launching the final product.
Think of mobile games. The games are released to a small group of people in Beta Testing, then adjusted and re-issued. They are now being distributed in one country again before the final rollout to assess user behavior. The game will stay in Beta Testing until it is stable and widely accepted.
These several revisions aim to ensure that a more polished product reaches a larger audience. This stage includes the following actions:
Converting User Data into Actionable Insights
Product Modifications
Bug Fixing
Extensive Testing
Go To Market Plan
We have established specific expectations for the product and features that we have created. Before we go live, we need to have a clear Go to Market (GTM) strategy. Without a proper GTM strategy, even the best products fail to reach users on time, only to be destroyed by competitors.
Launch and Data Tracking
Well, this is the moment we all wait for after new products and features have been developed for a long time and worked on for a lot of hours. Keep an eye out for reviews, feedback, and emails regarding urgent situations. Even with careful planning, this is one area that will not go smoothly. The more complex and large your release, the more difficult the issues will be.
However, if testing was good and the incremental scale-up, you would have resolved most of the difficulties sooner. However, keep tracking data for trends and user behavior on a regular basis for at least a couple of days/weeks. This stage includes the following activities:
Data Tracking and Monitoring
Customer Data Analysis
Customer service for issues, feedback, and reviews
How QuestionPro helps in the product management lifecycle?
QuestionPro is a data analysis and survey tool that can help with numerous phases of a product management lifecycle, such as market research, customer feedback, and product review. It can be used to collect data about customer wants and preferences and track a product's performance over time.
The application can also be used to run surveys and polls to collect input on product design, features, and customer satisfaction ratings. It can also assist in analyzing data, tracking key metrics, and detecting patterns, which can be utilized to influence product development and marketing decisions.
Conclusion
A good product management lifecycle begins with defining your consumers' demands. The most important thing is to create a successful product that adds value to customers' lives.
Once you've created a product that people will use, it's time to put it to the test and get meaningful feedback. These product lifecycle discoveries can help you improve the product in future releases.
QuestionPro allows users to create, distribute, and analyze surveys.
It can be used in the ideation process to validate product ideas, the development phase to improve the product, and the post-launch phase to obtain customer satisfaction data and product performance feedback.
QuestionPro helps product managers collect customer feedback and make data-driven decisions across the product management life cycle. If you need any help with your product management lifecycle, contact QuestionPro.