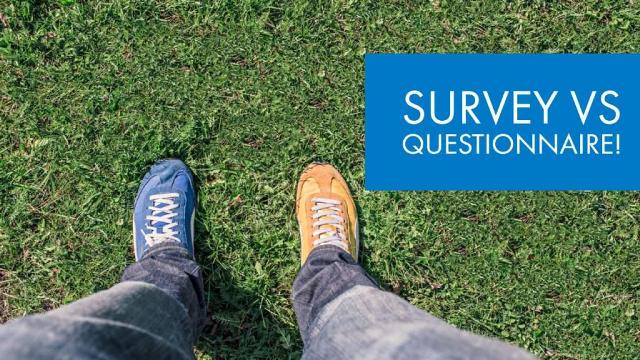 Need to know the distinction between a questionnaire and a survey? Read on and discover.
There is a big difference between a questionnaire and a survey. A survey is defined as the evaluation of experiences or opinions of a group of people via questions as opposed to a questionnaire which is defined as a collection of written or printed questions with an answer choice made to conduct a survey.
Questionnaire
A questionnaire is a tool for research that uses questions to gather data from different respondents. It is a kind of study intended to help with the measurable statistical analysis of the responses.
In case of questionnaires the focus is mainly on quantitative data unlike an interview where in depth and detailed data is collected and analyzed.
Questionnaire particularly alludes to the forms in which various questions have been written in.
There are two types of questionnaire:
– Questionnaires that evaluate variables that is separate, including questions regarding an individual's behavior, facts and preferences.
– Questionnaires that measure factors incorporated into a scale like those about individual identities and different attributes, index and traits.
The respondent can explain the answer in a descriptive style in case of open-ended questions or a responded can be asked to choose a response or an answer from a pre-defined set of options in case of close-ended questions.
It's vital to remember that you decimate, distribute or use questionnaire but you don't conduct a questionnaire. The list of questions in a survey is called questionnaire. So the questionnaire is a tool to conduct a survey.
Surveys
A survey is the efficient gathering of data from various people. They are used for scientific logical purposes and give data in all exploration fields wherein the achievement depends upon how the population is presented to by the respondents.
Flexibility, costs, coverage, willingness to take part, and the exactness of the reactions/responses can impact the method for directing surveys.
Surveys are the customary method for completing research in which the respondents are addressed with respect to awareness, demographics, motivations, behavior.
Other highlights
Questionnaires are set up in such a way in order to not aggravate the respondent.
When a survey is a interview and not a questionnaire, it can be in-depth and open ended.
A questionnaire require not create precise or legitimate responses from the respondent.
When the survey is in the form of an interview it is very much possible to get honest, true and detailed responses.
Create your Questionnaire from a list of FREE 250 templates