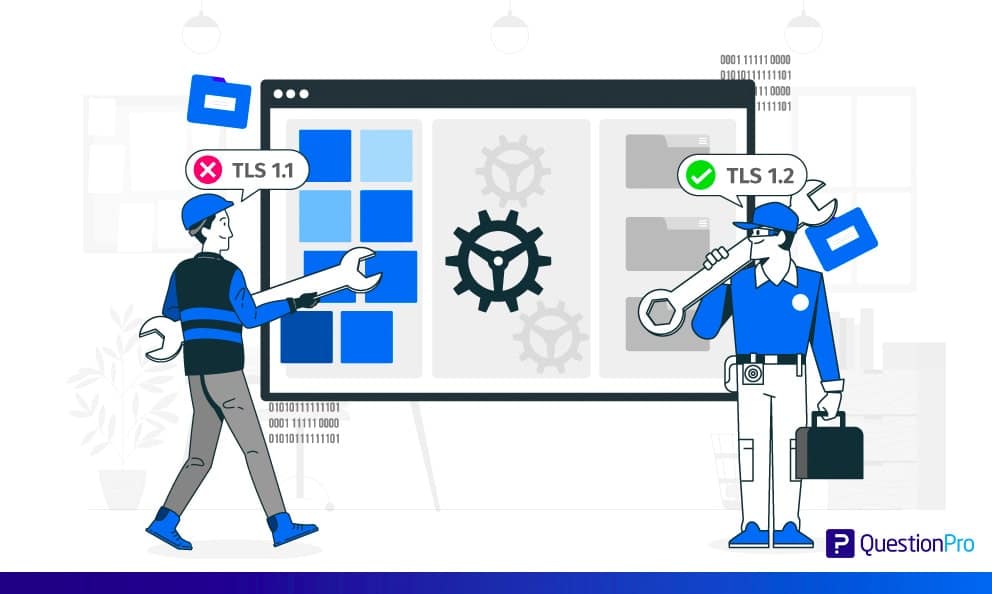 Giving paramount importance to our users' and respondents' data security, QuestionPro will no longer support TLS 1.1 encryption with effect from July 31, 2021. SurveyAnalytics will stop supporting the same from July 17, 2021. Post that, we will continue supporting TLS versions 1.2 and above. 
If you are wondering, what TLS is…
It's an encryption protocol used to make secure connections between applications and servers over the internet.
Currently, there are three versions of the TLS protocol in use: TLS 1.0, 1.1, and 1.2. However, the first two versions are quite outdated now. TLS 1.1 was originally specified in April of 2006. Since then, vulnerabilities have been discovered in TLS 1.1. These vulnerabilities were addressed in the later versions of TLS along with other improvements.
Following the industry best practices, we have decided to stop supporting TLS 1.1.
What do you need to do?
If you are using the latest version of any browser, you don't need to do anything.
If you're using an outdated browser that doesn't support TLS 1.2 or newer, upgrade to a newer version to continue using our products seamlessly.
Key dates:
SurveyAnalytics:  July 17, 2021

QuestionPro:  July 31, 2021
This update applies to API usage as well. We will no longer support connections encrypted with TLS 1.1.
How do I know if my browser supports TLS 1.2?
Refer to the below table to know if you need to upgrade your browser.
| | |
| --- | --- |
| Browser | Supported Version |
| Internet Explorer | 11 and higher |
| Microsoft Edge | All versions |
| Firefox | 27 and higher |
| Chrome | 38 and higher |
| Android | 5 and higher |
| Safari (Desktop) | 7 and higher |
| Safari (Mobile) | 5 and higher |
API consumers of QuestionPro API should upgrade their HTTP clients, libraries, and network-stack to use TLS 1.2 to make requests. If your network stack uses OpenSSL, check if OpenSSL 1.0.1+ is used as TLS 1.2 support was introduced from there onwards.
What if I don't?
You might experience difficulties accessing our products as we discontinue support for TLS 1.1, if you are still using a browser that doesn't support TLS 1.2.
Some of the issues you might face:
Login problems

Website access

Signup issues

Survey load issues for respondents

Failing API calls
How does it affect you?
At QuestionPro, we value your security and user experience, and so we develop our products that are in line with the latest technologies and security protocols.
Fortunately, most of our customers have already switched to modern browsers. Ending support for TLS 1.1 will allow us to focus on faster, modern, and more secure, and innovative solutions.
Have questions?
Feel free to contact us at [email protected] or your customer support representative.