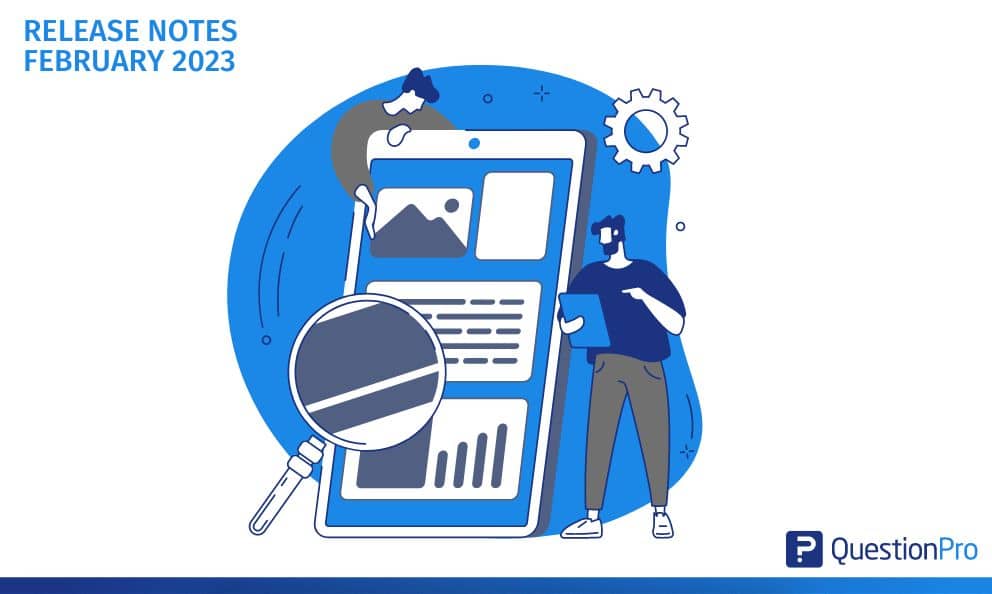 At QuestionPro, we believe in continuous improvement and innovation to offer products that cater to the evolving needs of the world of research. Our team is constantly striving to ensure you get the insights you need to provide the best products and services, here we are with a list of all the new features and enhancements released this month.
Research & Insights
Surveys:
Enhancements
Bugs and other enhancements
EC-1649: Fixed performance issues with getting the user API endpoint.
SA-10758: Fixed percentage sign (%) is not uploading for the Turkish Language.
SA-10762: Fixed error observed while creating a custom scale under 'Scale Library'.
SA-10788: Fixed language translation request for CAPTCHA question interface.
SA-10792: Fixed error on default branch when using random row options on a matrix.
Communities
Bugs and other enhancements
CM-2955: Fixed the data protection issues raised by the client regarding the username field in communities.
CM-2921: Enhanced the code base for the mobile application.
CM-2956: Fixed the issue where the Panel not found error was encountered on the EU domain.
CM-2951: Fixed the issue where Members were not getting downloaded properly.
CM-2996: Fixed the issue where "Viewers" were unable to get added or permitted into the zoom video call discussions.


Workforce
Enhancements
Bugs and other enhancements:
WF-2992: Fixed take survey stuck for the multilingual survey.
WF-3042: Fixed issue with 360 survey count.
WF-3074: Fixed issues with the Portal language tab.
WF-2989: Moved Text Report from EX tab to widget in the dashboard.
WF-3065: Updated unrestricted file upload criteria.

Customer Experience
Enhancements
Bugs and other enhancements
CX-2433: Fixed disposition Metrics to show reasons for unsent transactions.
CX-2456: Fixed issue with feedback intercept getting skewed.
CX-2479: Fixed issue with preview not loading for NPS+ and CSAT question types.
CX-2466: Fixing the issue dashboards are visible to managers even if they are not shared.
CX-2485:Fixed issue of an error occurring when accessing survey tokens.
CX-2419: Fixed the issue with the sentiment widget not loading.
CX-2439: Fixed the issue with the broken preview button for some options on the navigation bar.
CX-2458: Fixed the issue with response count mismatch in Dashboard vs Excel.
CX Reputation
Enhancements
Bugs and other Enhancements
Fixed issues with Sentiment Analysis excel report.
Fixed issue with the email subject for new review notification.
Fixed UX issue with translate reviews drop-down.
Fixed issue with confirmation pop-up appearing when replying to reviews.
Fixed issue with scrolling notification logs.
Fixed alignment issues with the Reviews screen.
Fixed review date mismatch issue with Trustpilot reviews.
Fixed issue with type filters when creating notifications.
Fixed issue with filter screen when the screen size is small.

Hope these features and enhancements will help you advance your research while ensuring the best experience for your audience, customers, and employees.
If you have any ideas, questions, or feedback, please send them to us at [email protected]