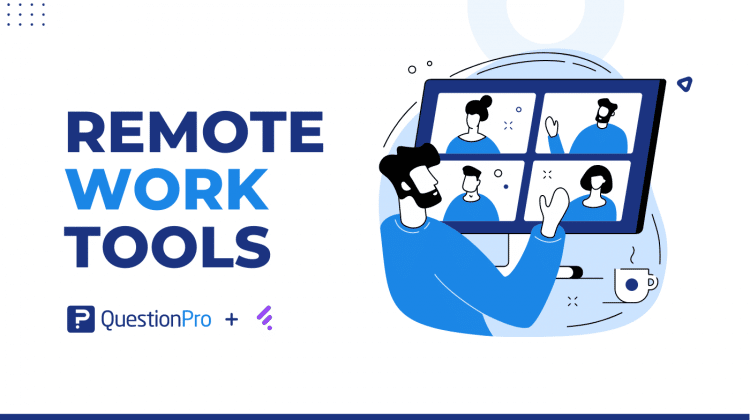 Remote work is more than just a trend. It's become one of the most popular professional settings for employees, and many organizations are choosing regular remote work options for their operations. With the continued use of remote workspaces, here are some statistics that show how prevalent remote work continues to be:
40% of workers believe they've been more productive while working at home during the pandemic than at the office.
16% of U.S. companies are fully remote.
Up to 92% of employees work remotely at least one day per week.
75% say they have a better work-life balance.
With continued engagement in remote workspaces, teams will need to rely on remote work tools consistently in order to remain aligned and achieve results. To do so, we've listed the top 12 remote work tools in 2023 that can impact your team and drive efficiency.
Fresco
One of the most important tools to integrate into your workflow is an online whiteboard, and Fresco is a great option for connecting your team. Fresco enables real-time collaboration on various pre-made and custom templates, allowing your team to connect synchronously or asynchronously to collaborate. What makes Fresco uniquely valuable is its internal task management features. Fresco boasts a built-in task manager, enabling teams to collaborate and manage tasks within the same workflow. This makes remote work incredibly efficient and can stimulate increased productivity and efficiency for teams everywhere.
Slack
Slack is one of the most popular communication tools available and is utilized by over 65% of the Fortune 100. Communication tools are one of the most important parts of an efficient remote work environment, and Slack is the cream of the crop. It allows teams to communicate instantly using private messages and shared channels, engaging in efficient, real-time team communication. Additionally, slack makes it easy to share files and manage documents with an entire organization, serving as a communication hub for all departments.
Slack solves one of the biggest problems for remote teams by replacing endless channels of inefficient communication and providing an innovative way to connect. For this reason, it's one of the tools you can't miss if you're regularly working remotely.
QuestionPro
While offering robust customer survey options and market research capabilities, QuestionPro also allows remote teams to collaborate on surveys in real-time. Targeting surveys properly requires careful communication and alignment, so collaborating on surveys can be incredibly advantageous to teams.
There are multiple ways and tools to carry out successful virtual dynamics that help promote interaction between members of an organization, so you have to spend a little time preparing them and letting them flow correctly. QuestionPro's LivePolls is the right remote work tool if you want to start with an online quiz, trivia, or poll. We invite you to watch the following video to do it practically and utterly free with QuestionPro LivePolls. You will love it!
LivePolls allows you to collaborate with real customers to collect real-time feedback, gamify virtual events to make them more interactive, gather feedback, measure engagement, and use quizzes and polls to understand your customers better.
This unique remote work tool allows you to integrate customers in a meaningful and interactive way, which is incredibly effective when doing market research or analyzing customer experience.
QuestionPro has a large history of optimal customer support.
Zoom
Zoom is the quintessential online meeting tool and one of the most important remote work tools. Teams must find ways to communicate in real-time when transitioning from a physical workspace. You can't fully replace meetings, so you need to find a way to facilitate them remotely. Zoom allows people to connect in small or large meeting rooms to conduct clear video calls and connect from anywhere on the planet. Additionally, Zoom innovated the remote meeting landscape by providing users with an individual meeting room, meaning they could conduct meetings using the same predictable link rather than creating a new meeting every time. This provides a lot of value to teams conducting regular meetings, making Zoom a favorite among remote work tools.
Jira
Jira is one of the most popular project management tools and is especially useful for development teams who need to create and track tasks. This tool isn't strictly used in remote settings and can be applied to a traditional workspace as well, but it's especially helpful as a remote work tool. Jira helps simplify project management, providing planning and road mapping tools for teams to manage feature requirements throughout a project cycle. While specifically helpful for software development, Jira is a powerful tool that can impact any team positively.
Figma
Figma is one of the market's most popular remote work tools, shown by its staggering $20 billion acquisition. Figma offers collaborative options for designers looking to create web experiences, build brands, or design anything they need. They are the market leader in design software, allowing people to create high-fidelity design screens and design systems within the same collaborative software. These features make it one of the most attractive remote work tools for teams everywhere and an absolute necessity for any design agency operating remotely.
Notion
The notion is an incredibly popular document management tool that has grown fast through the popularization of digital transformation. It allows for collaborative online document management when building a startup, completing a project, or onboarding new team members. It's commonly seen as competition for google docs because it focuses on collaborative document creation, but it has an increased focus on internal automation and layers of documentation. If you're familiar with using a collaborative document management tool but want more powerful features for document management and automation, Notion is the perfect remote work tool for you.
Chisel
Chisel is a product management tool that gives teams a holistic way to manage product development and ensure success. It integrates many important features into the product management cycle, including road mapping, team alignment, and customer connection. Integrating customer feedback and team alignment into the product management cycle is incredibly helpful to ensure every product feature is prioritized according to customer needs rather than internal preferences. These robust features make Chisel the #1 choice for product managers hoping to keep track of the end-to-end process.
Google Suite
The google suite is a time-tested method of remote collaboration for teams everywhere. Google's suite boasts collaborative document, presentation, and sheet management while also integrating internal video calling software. Combining all of these products under a trustworthy umbrella makes google an incredibly popular choice for teams that want to cover multiple different areas but don't want to pay a premium for it. Above all, the google features are easy, accessible, and reliable for teams that want something more standard.
Kosy
Kosy is an innovative digital workspace that creates a virtual floor, allowing employees to collaborate, work, and chill together. Many organizations miss the proximity of an in-person workspace, and tools like Kosy provide an innovative option for teams that want to connect differently. Kosy allows teams to meet via proximity chat to utilize multiple meeting rooms and connect in a quasi-physical workspace. Doing this can improve communication, provide more casual interactions within a workplace, and give people a sense of ownership over their new workspace. While it might not be right for every team, remote workspaces like Kosy can be extremely helpful in boosting team morale and providing a unique route to collaboration.
Butter
Butter is a leading collaboration tool focused on managing workshops and collaboration sessions for teams. It enables people to run efficient, integrated, and engaging virtual meetings through multiple built-in participation tools and external integrations. Where regular meeting tools provide relatively simple meeting features, Butter provides an all-in-one meeting solution for virtual teams. Suppose your team is regularly giving presentations, conducting engaging meetings, or wants a better way to conduct virtual collaboration. In that case, Butter is an extremely powerful remote work tool that helps push teams to the next level.
ClickUp
ClickUp is a task management tool that scales to your team's level of expertise, making it a popular addition to virtual workspaces everywhere. It has the ability to manage tasks, create timelines, and collaboratively organize a workspace in an efficient, clear manner. If you need something more powerful, however, you can dive deeper into ClickUp's toolbox to create a more intricate and developed task management system for your team. Every team should have a solution for task management in a remote workspace, and ClickUp offers a very simple entry point to improve any team's efficiency.
Conclusion
These remote work tools will dominate the market in 2023, and if your team struggles to cope with the challenges of a virtual workspace, try onboarding some simple solutions to improve communication and workplace efficiency.