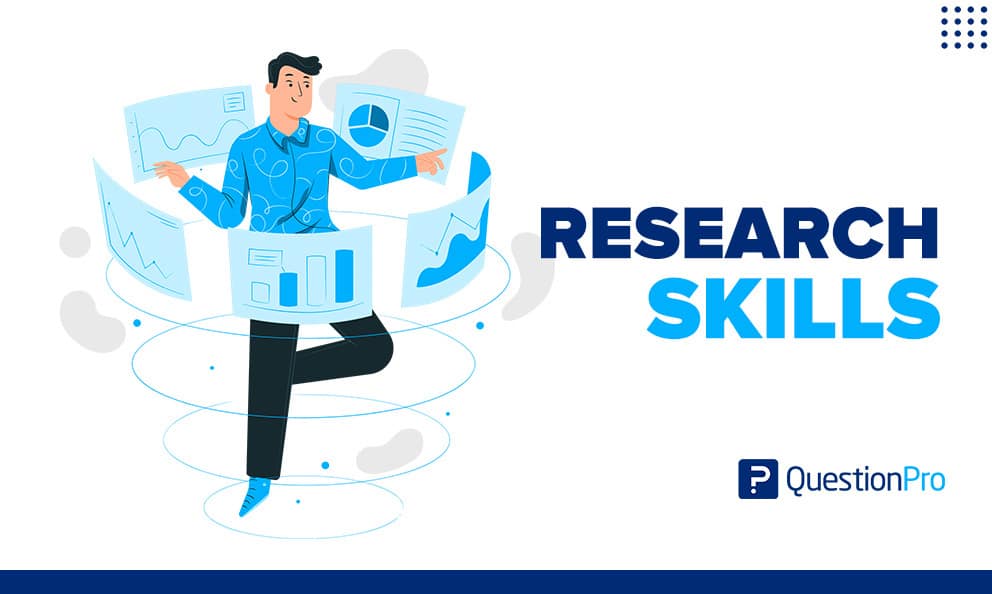 Research skills play a vital role in the success of any research project, enabling individuals to navigate the vast sea of information, analyze data critically, and draw meaningful conclusions. Whether conducting academic research, professional investigations, or personal inquiries, strong research skills are essential for obtaining accurate and reliable results.
LEARN ABOUT: Research Process Steps
By understanding and developing these skills, individuals can embark on their research endeavors with confidence, integrity, and the capability to make meaningful contributions in their chosen fields. This article will explore the importance of research skills and discuss critical competencies necessary for conducting a research project effectively.
What are Research Skills?

Research skills are the capability a person carries to create new concepts and understand the use of data collection. These skills include techniques, documentation, and interpretation of the collected data. Research is conducted to evaluate hypotheses and share the findings most appropriately. Research skills improve as we gain experience.
To conduct efficient research, specific research skills are essential. These skills are necessary for companies to develop new products and services or enhance existing products. To develop good research skills is important for both the individual as well as the company.
Important Research Skills for Research Project
When undertaking a research project, one must possess specific important skills to ensure the project's success and accuracy. Here are some essential research skills that are crucial for conducting a project effectively:
Time management is an essential research skill; it helps you break down your project into parts and enables you to manage it easier. One can create a dead-line oriented plan for the research project and assign time for each task. Time management skills include setting goals for the project, planning and organizing functions as per their priority, and efficiently delegating these tasks.
These skills help you understand and receive important information and also allow you to share your findings with others in an effective manner. Active listening and speaking are critical skills for solid communication. A researcher must have good communication skills.
The ability to handle complex situations and business challenges and come up with solutions for them is termed problem-solving. To problem-solve, you should be able to fully understand the extent of the problem and then break it down into smaller parts. Once segregated into smaller chunks, you can start thinking about each element and analyze it to find a solution.
Information gathering and attention to detail:
Relevant information is the key to good research design. Searching for credible resources and collecting information from there will help you strengthen your research proposal and drive you to solutions faster. Once you have access to information, paying close attention to all the details and drawing conclusions based on the findings is essential.
Research Design and Methodology:
Understanding research design and methodology is essential for planning and conducting a project. Depending on the research question and objectives, researchers must select appropriate research methods, such as surveys, experiments, interviews, or case studies. Proficiency in designing research protocols, data collection instruments, and sampling strategies is crucial for obtaining reliable and valid results.
Data Collection and Analysis:
Researchers should be skilled in collecting and analyzing data accurately. It involves designing data collection instruments, collecting data through various methods, such as surveys or observations, and organizing and analyzing the collected data using appropriate statistical or qualitative analysis techniques. Proficiency in using software tools like SPSS, Excel, or qualitative analysis software can be beneficial.
By developing and strengthening these research skills, researchers can enhance the quality and impact of their research process, contributing to good research skills in their respective fields.
Benefits of Research Skills
Research skills are invaluable assets that can benefit individuals in various aspects of their lives. Here are some key benefits of developing and honing research skills:
Curiosity is a strong desire to know things and a powerful learning driver. Curious researchers will naturally ask questions that demand answers and will stop in the search for answers. Interested people are better listeners and are open to listening to other people's ideas and perspectives, not just their own.
Cultivates Self-awareness:
As well as being aware of other people's subjective opinions, one must develop the importance of research skills and be mindful of the benefits of awareness research; we are exposed to many things while researching. Once we start doing research, the benefit from it reflects on the beliefs and attitudes and encourages them to open their minds to other perspectives and ways of looking at things.
Research skills contribute to practical communication skills by enhancing one's ability to articulate ideas, opinions, and findings clearly and coherently. Through research, individuals learn to organize their thoughts, present evidence-based arguments, and effectively convey complex information to different audiences. These skills are crucial in academic research settings, professional environments, and personal interactions.
Personal and Professional Growth:
Developing research skills fosters personal and professional growth by instilling a sense of curiosity, intellectual independence, and a lifelong learning mindset. Research encourages individuals to seek knowledge, challenge assumptions, and embrace intellectual growth. These skills also enhance adaptability as individuals become adept at navigating and assimilating new information, staying updated with the latest developments, and adjusting their perspectives and strategies accordingly.
Research skills are essential for academic research success. They enable students to conduct thorough literature reviews, gather evidence to support their arguments, and critically evaluate existing research. By honing their research skills, students can produce well-structured, evidence-based essays, projects, and dissertations demonstrating high academic research rigor and analytical thinking.
Professional Advancement:
Research skills are highly valued in the professional world. They are crucial for conducting market research, analyzing trends, identifying opportunities, and making data-driven decisions. Employers appreciate individuals who can effectively gather and analyze information, solve complex problems, and provide evidence-based recommendations. Research skills also enable professionals to stay updated with advancements in their field, positioning themselves as knowledgeable and competent experts.
Developing and nurturing research skills can significantly benefit individuals in numerous aspects of their lives, enabling them to thrive in an increasingly information-driven world.
Improving Your Research Skills
There are many things you can do to improve your research skills and utilize them in your research or day job. Here are some examples:
Develop Information Literacy: Strengthening your information literacy skills is crucial for conducting thorough research. It involves identifying reliable sources, evaluating the credibility of information, and navigating different research databases.
Enhance Critical Thinking: Critical thinking is an essential skill for effective research. It involves analyzing information, questioning assumptions, and evaluating arguments. Practice critical analysis by analyzing thoughtfully, identifying biases, and considering alternative perspectives.
Master Research Methodologies: Familiarize yourself with different research methodologies relevant to your field. Whether it's qualitative, quantitative, or mixed methods research, realizing the strengths and limitations of each approach is crucial.
Practice Effective Time Management: Research requires dedicated time and effort. Develop good time management skills to ensure that you allocate sufficient time for each stage of the research process, including planning, data collection, analysis, and writing.
Embrace Collaboration: Collaborating with peers and colleagues can provide a fresh perspective and enrich your research experience. Engage in discussions, share ideas, and seek feedback from others. Collaborative projects allow for exchanging knowledge and skills.
Continuously Update Your Knowledge: Stay informed about your field's latest developments and advancements. Regularly read scholarly articles, attend conferences, and follow reputable sources of information to stay up to date with current research trends.
There is plenty of information available on the internet about every topic; hence, learning skills to know which information is relevant and credible is very important. Today most search engines have the feature of advanced search, and you can customize the search as per your preference. Once you learn this skill, it will help you find information. 
Talk to Experts to Improve Skills
Experts possess a wealth of knowledge, experience, and insights that can significantly enhance your understanding and abilities in conducting research. Experts have often encountered numerous challenges and hurdles throughout their research journey and have developed effective problem-solving techniques. Engaging with experts is a highly effective approach to improving research skills.
Moreover, experts can provide valuable feedback and constructive criticism on your research work. They can offer fresh perspectives, identify areas for improvement, and help you refine your research questions, methodology, and analysis.
At QuestionPro, we can help you with the necessary tools to carry out your projects, and we have created the following free resources to help you in your professional growth:
Conclusion
Research skills are invaluable assets that empower individuals to navigate the ever-expanding realm of information, make informed decisions, and contribute to advancing knowledge. With advanced research tools and technologies like QuestionPro Survey Software, researchers have potent resources to conduct comprehensive surveys, gather data, and analyze results efficiently.
Where data-driven decision-making is crucial, research skills supported by advanced tools like QuestionPro are essential for researchers to stay ahead and make impactful contributions to their fields. By embracing these research skills and leveraging the capabilities of powerful survey software, researchers can unlock new possibilities, gain deeper insights, and pave the way for meaningful discoveries.
Authors: Gargi Ghamandi & Sandeep Kokane