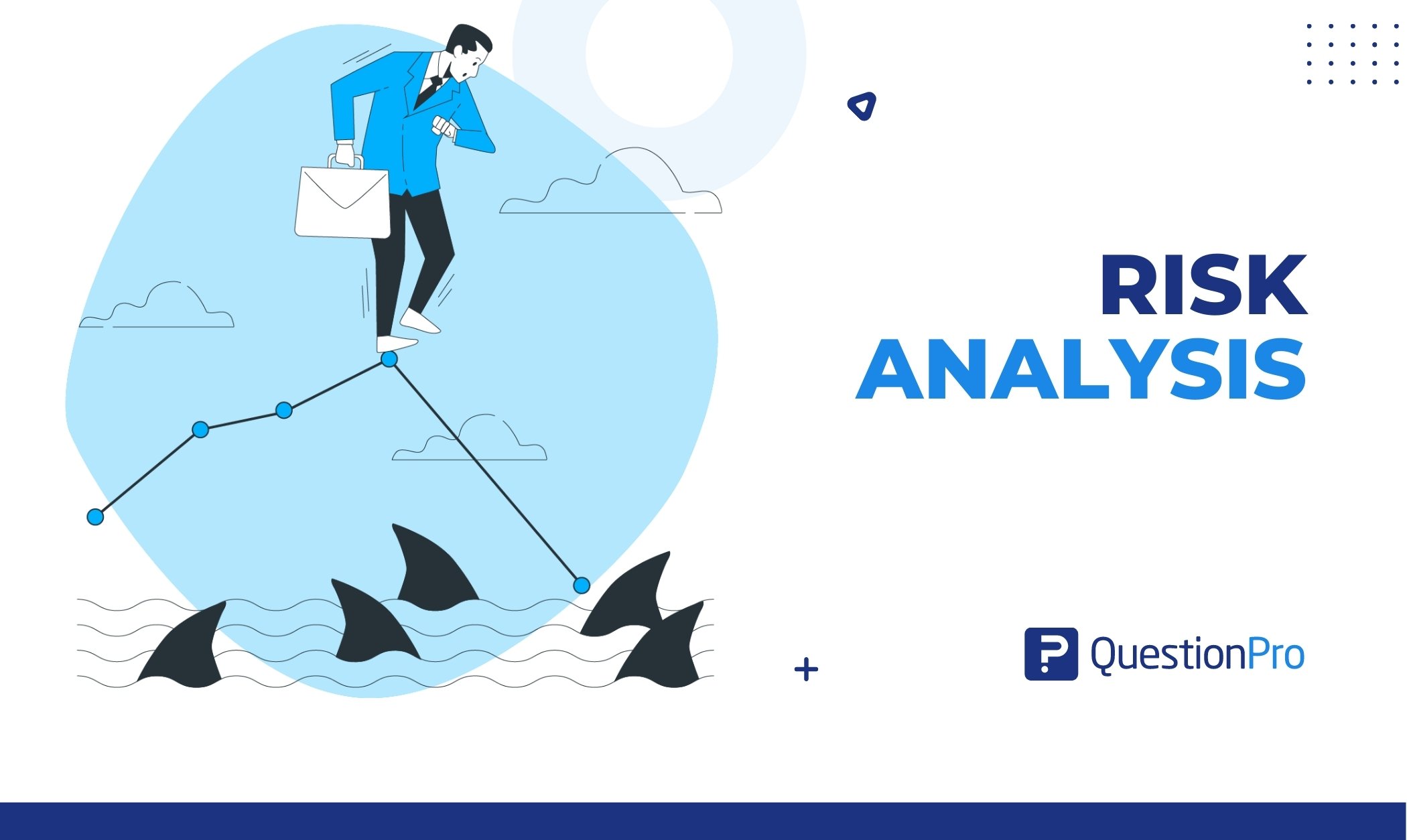 Every business faces risks, and it is its responsibility to identify and manage them. Risk analysis is an important part of this process because it allows you to assess what might happen, how likely it is, and how to manage it effectively.
This analysis aims to identify potential risks and then determine the likelihood, impact, and severity of those risks. The information gathered can then be used to develop a plan to mitigate those risks.
In this article, we will go over the risk analysis, as well as types and methods. We will also show you how to conduct it.
What is risk analysis?
Risk analysis is a way to find and deal with problems that could hurt important business projects or initiatives. However, it can also be applied to non-business projects such as event planning or even home buying!
To conduct a threat Analysis, you must first identify the potential threats you face, then estimate their likely consequences if they occur, and finally estimate the likelihood that these threats will occur.
It can be difficult because you will need to rely on detailed information such as project plans, financial data, security protocols, marketing forecasts, and other pertinent data. However, it is an important planning tool that can save time, money, and reputation management.
LEARN ABOUT: Data Analytics Projects
Importance of risk analysis
It is important because it helps companies make decisions. Here, we will learn the key importance of this analysis.
Minimizes potential losses
It assists individuals and organizations in identifying potential threats and risks and taking appropriate steps to reduce their impact. It helps prevent or reduce losses that could occur if these risks are not identified and reduced.
It helps people and organizations decide whether or not to take a certain course of action by identifying possible risks and figuring out how bad they might be. It can help people avoid making mistakes that cost a lot of money and make better decisions overall.
Improves business continuity
Identifying and mitigating risks can help businesses survive unexpected events and disasters. It helps to keep critical services and products available to customers while minimizing disruptions to business operations.
Types of risk analysis
It covers a wide range of topics. As a result, there are numerous approaches to risk analysis types. Here we will discuss some important types of threat analysis:
Qualitative risk analysis
This type of analysis involves finding possible risks and judging how likely they are to happen and how bad they might be based on personal opinions and qualitative data. There are no quantitative measurements or statistical analyses involved.
Quantitative risk analysis
In this type of analysis, math and statistics are used to figure out how likely a risk is and how bad it could be if it happens. It usually includes gathering and analyzing large amounts of data in order to make more accurate predictions about the possibility and effect of various types of risks.
This type of analysis is concerned with identifying and evaluating potential threats, such as cyber-attacks, terrorism, and theft. It assists organizations in developing strategies to prevent or minimize risk to their assets.
A root cause analysis is a type of risk analysis that is used to determine the underlying causes of problems or issues. This technique is frequently used in manufacturing and quality control. It also assists organizations in identifying and correcting the root causes of problems to prevent them from recurring.
Needs assessment analysis
A needs assessment analysis is a step-by-step way to determine what a person or group needs. This type of analysis is used to identify service and support gaps. Surveys, interviews, and focus groups can all be used to assess needs.
When to use it?
You can use risk analysis in all projects and any other business operations; for example:
To reduce project risks.
To decide whether or not to proceed with a project.
To address workplace risks and improve safety
To deal with technological or equipment failure, theft, or employee illness
While preparing for environmental changes such as new market competitors or changes in government regulations.
Key steps of the risk analysis process
Risk analysis in a project can have a positive and negative impact. Such impacts can have both materialistic and non-materialistic consequences for the organization.
Here, we will go through some steps to follow in this analysis process:
The first step is to identify the risk. Team members must collect all of the inputs that will be used in the projects and recognize the outcome of the projects as well as the number of ways, such as risk involved in the process, etc.
After identifying a risk, it's important to understand and evaluate how big it is, what kind of risk is most likely to happen, and how much it could hurt the organization.
This type of analysis assists you in estimating the potential for risk. So, when deciding whether to take a calculated risk or not, the team will rank the calculated risks.
In this step, the team decides whether or not to keep working on the project. If they do, the project is accepted, and they try to solve the problem by making any necessary changes to the project.
As the risk can happen at any time, it's important to keep an eye on it and evaluate it from time to time so that nothing goes wrong in the future.
Methods of risk analysis
You can use different techniques in risk analysis. Here are some methods for analyzing risks:
This qualitative risk analysis method helps find project risks, where they come from, and how they will affect the project. Before considering where the risks came from, what they might mean, and how to deal with them, project managers must first identify the risks that could affect the project. It is a flexible method that can be used in any field.
The risk analysis matrix ranks risks based on how likely they are to happen and how bad they are. It is a way to look at risks in a qualitative way. Its goal is to help managers classify risks and come up with a plan to reduce the impact or likelihood of threats.
Sensitivity Analysis measures how the uncertainty of one or more input variables affects the output variables. This analysis helps the model make better predictions. It is a method of quantitative threat analysis.
SWIFT stands for Structured What-If-Technique. It is a type of risk analysis that looks for possible risks related to changes to the project plan. To find all risks, team members must come up with as many "what if" scenarios as possible.
A risk register is an essential tool for project management. It is a part of the risk management strategy, which shows who is in charge of the risks, how they can be reduced, and what resources are needed. This project document lists all of the important details and risks that could happen during the execution phase.
How to manage risk
Once you've determined the value of your risks, you can begin to consider ways to manage them. Now we will go through some key points to manage risk:
In some cases, you may prefer to avoid the risk entirely. It could include not participating in a business venture, passing on a project, or avoiding high-risk activities. It is a good choice when taking the risk won't benefit your company or when paying to deal with the consequences won't be cost-effective.
You may also share the risk and possible gain with other individuals, groups, business, or third parties.
For example, when you insure your office building and inventory with a third-party insurance company or when you collaborate with another organization on a joint product development initiative, you share risk.
Accepting the risk is your final option. When there is nothing you can do to prevent or mitigate risk, when the potential loss is less than the cost of insuring against the risk, or when the potential gain is worth accepting the risk, this is usually the best option.
For example, you may be willing to accept the risk of a project launching late if the potential sales cover your costs.
If you decide to take the risk, there are a few things you can do to lessen its effects.
Experiments in business can help you reduce risk. They entail introducing high-risk activities on a small scale and in a controlled manner. Before introducing the activity on a larger scale, you can use experiments to observe where problems occur and to find ways to introduce preventative and detective actions.
How QuestionPro helps in the risk analysis process
QuestionPro is a complete survey software platform that can be used to gather data and insights to help with the risk analysis process. QuestionPro can assist in the following ways:
You can use QuestionPro to create custom surveys to collect feedback from stakeholders, team members, and customers. These surveys can be designed to collect information about specific risks or risk factors. This information can be used to inform risk analysis and make data-driven decisions.
Using advanced analytics to analyze data
Advanced analytics tools such as sentiment analysis, regression analysis, and conjoint analysis are available through QuestionPro. Data analytics and data analysis are closely related processes that involve extracting insights from data to make informed decisions. These tools can assist you in identifying patterns and relationships in data and understanding potential risks.
Collaborating with stakeholders
The collaboration tools in QuestionPro enable you to collaborate with stakeholders to identify and evaluate risks, as well as develop and implement risk management strategies.
Automating the risk analysis process
QuestionPro includes features like skip logic, response validation, and automated notifications to help you automate the analysis process and streamline data collection and analysis.
QuestionPro can assist you in conducting a more comprehensive risk analysis process by providing data collection, analysis, collaboration, and automation tools. Contact QuestionPro right away to get the best value for your analysis process!