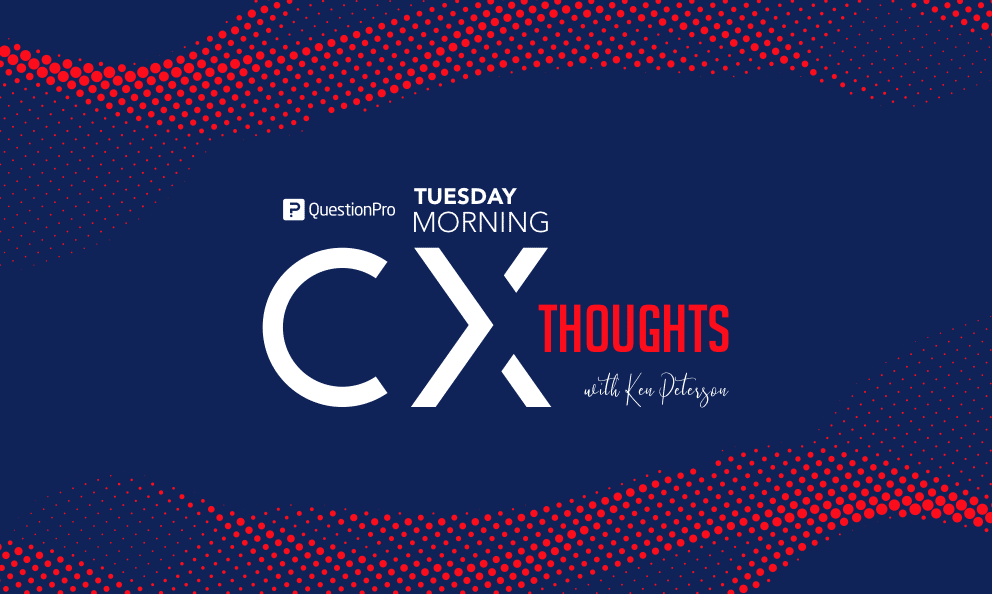 CX and Responsibility
My first 'real' job was as a cashier for a major supermarket.  I was barely fifteen, but during my first day I recall the manager saying to me that it was my job to make the customer happy before they leave. Seemed like quite a bit of responsibility for someone that had no influence on what products we carried, what was available in stock or even the prices of the products.  
It could have been one of those moments that I just shrugged my shoulders and ignored that line, but as a great manager with a focus on customer satisfaction, he offered some words of advice and empowerment.  One suggestion was to "let them vent their frustrations with their shopping trip" – keeping in mind that it might be a bad day, not the shopping experience itself, that might be behind their frustration. Simple things like "don't blame any other employee in the store" or take responsibility with statements like "As soon as I get my next break, I'll check into that".  Finally, he empowered me with an "if all else fails" solution, he handed me a book of coupons for $1 off your visit.  In my hand, I had the power – of $24.  The other thing he noted was that there was a limited supply, and once I was out, there were no more for me.  
I probably should have clarified if there was a time limit or a reset button.  I kept wondering if I would lose my job if I had no more coupons and an upset customer.  Ultimately, it was the exact set of tools I needed to succeed in providing service to the customers.  At the end of the summer as I hung up my cashier's apron to return to school, I returned my book of coupons, with all 24 coupons still remaining.  
Did I have the "perfect" record?  Absolutely not.  I had a few angry customers leave the store, probably more than half of them with my manager asking them to leave and not return.  He would not stand for a customer verbally abusing an employee.  Still, handing me the book of coupons empowered me to do what I felt was right, and because I had those in my back pocket (literally and figuratively), I had what I needed to succeed in my role.  
CX and Technology
My summertime job became my first career.  I was fortunate enough to start college with a full-time job already lined up.  The company continued to entrust me with more responsibilities and I was able to leverage my education early in my experience.  I was helping stores plan labor based on sales forecasts from models I set up, work out logistics and timing of transportation of products to individual stores and even worked on the modernization of the store equipment.  I basically had an "everything about the experience"role without any regular day-to-day contact with the customers.  Even the technology was a promise of shortening lines and getting customers out quickly, which benefited both the customer and the company.
All those years ago, I was testing one of the first self-service checkout machines.  At the time it was piloted in one store and required two employees to help the customer with the process.  Understandably, it did not progress far after that pilot.  Not too long after that, I took up a role with a friend of mine in customer experience measurement and analytics.  
It was probably another fifteen years until I saw the next iteration of self-checkout.  This time, I was the customer.  As a former cashier, I rather enjoyed the idea that if I had a few items, it was very quick and easy for me to ring those items up quickly, then be on my way.  The trade-off, stand in line for a cashier which could mean a wait, or just jump into one of these self-service machines.  I get to choose my experience.
Then, somewhere along the way, someone had the idea that they could reduce staffing levels to an extreme.  I've seen stores with one cashier and lines so long that people felt compelled to be in lines that were only three deep to use the self-service machines.  Those lines grew longer any time there was any confusion and the lone service employee left to manage up to twelve self-service customers at a time not being able to provide any adequate service to anyone, let alone everyone.  
Balance CX, Technology and Responsibility
I could look at all those situations and see both the good and the bad when it comes to technology and empowerment within the customer experience.  I have been on all sides of that delicate equation trying to balance the customer experience strategy with technology that saves costs.  We now look at these machines as fairly standard in our day now, but new concepts and ideas continue to disrupt how we serve our customers.  In retail, it might be curbside pickup that will be shifting things.  In the B2B world it is building out client success models and approaches that include almost no direct in-person interaction.
LEARN ABOUT: Perfect Customer-First Strategy
Things that should remain consistent: we should continue to understand and document each CX touchpoint, be certain we are measuring with the correct KPI (hInt: while I am a fan, it is not always NPS),  and engage the customer in dialogue by closing the loop.  Just as we do at QuestionPro, we use a balance of technology and empowerment to help you save have an enterprise class customer experience platform, and we might save you a few dollars along the way.  
QuestionPro offers some of the most advanced customer experience tools available. Gain valuable insights into your customers' thoughts and feelings using QuestionPro CX software today.