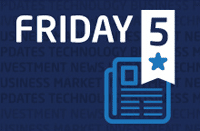 A guide to social media marketing, social media ratings for hospitals, an example of using multiple qualitative research methods including a survey for a full research study, survivor bias, and beer tasting apps – that's this week's #FridayFive!

How to Learn Social Media Marketing: 41 Resources for Beginners – Hubspot Blog
This is a long list of resources about social media marketing. The title says it's for beginners, but I'm guessing no matter your experience level with social media marketing, you'll find something for you here.
Hospital Ratings on Social Media Appear to Reflect Quality of Care – Science Codex
You know we have a Push-to-Social question that encourages those who give you high ratings to post a favorable comment about their experience on your social media channels. Here's an intriguing article about a possible correlation between the social media ratings and the actual quality of care at hospitals, for which the public doesn't have many ways to find information about quality of service.
Local News in a Digital Age – Pew Research Center – Journalism & Media
While this is a great look into how local news is found by residents of both large and smaller cities, the more interesting point (at least for me) is how the research was done. This is a fantastic example of the fact that one survey might not be enough for a big research study, and how other qualitative research methods can be used in combination with surveys to gather the entire picture needed for a project.
The Problem of Survivor Bias in Marketing and Market Research – NewMR Blog
This is a brief overview of what survivor bias in marketing and market research is, and what it can mean. Bottom line: when you're looking at information and drawing conclusions, are you looking at the whole pictures, or only looking at traits of the current group of high performers in the group? If you're only looking at the high performers, you could be drawing incorrect conclusions.
UX Wars: BeerAdvocate vs RateBeer – TryMyUI Blog
Departing from all the really serious posts comes a fun one about usability testing for St. Patrick's Day. Check out the tasks and tests run to try out two different beer-rating apps!