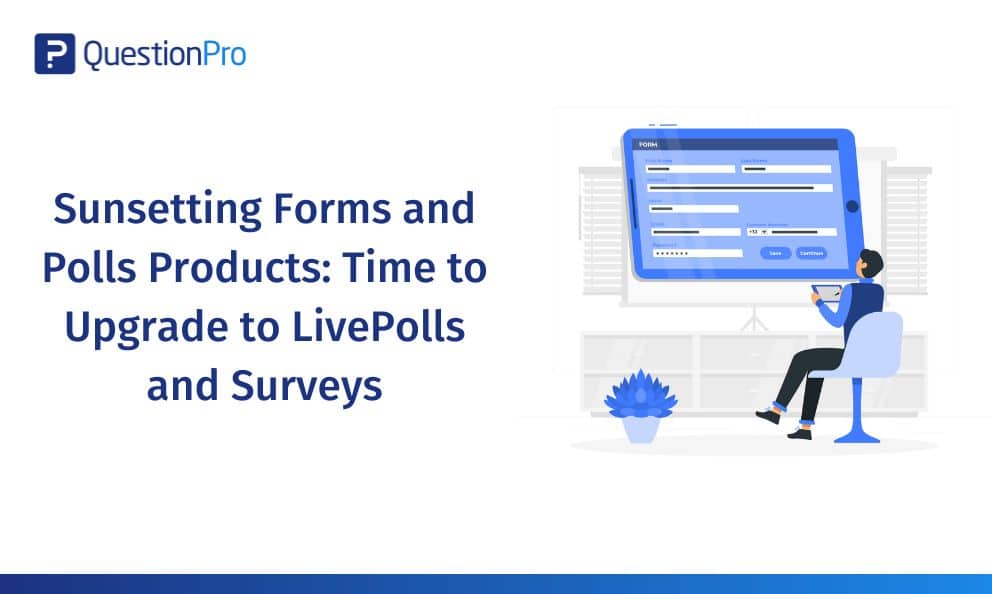 After many years of faithfully supporting our community with simple Forms and Polls, we would like to inform our users that we will be sunsetting these products on March 31st, 2023. While this may be a change, we are confident that our LivePolls and Surveys products will act as more than a replacement and will provide you with even better capabilities for creating surveys, forms and polls.
Some of the key benefits that you can expect from using LivePolls and Surveys include:
A more modern and user-friendly interface, making it easier for you to create and manage your forms and polls.
More options for customizing the look and feel of your surveys to match your brand.
Greater collaboration capabilities, allowing you to work with your team more effectively on projects.
Enhanced data analysis and reporting, helping you to make more informed decisions based on the feedback you receive.
What this means for you
Starting February 25th, if you have previously created a poll or form using our Polls or Forms products, you will still have access to view and manage these items in your account. However, you will no longer be able to create new polls or forms using these products.
To continue creating polls, we recommend using our LivePolls product. For creating forms, you can use our Surveys product.
Please note that on March 31st, 2023, the Polls and Forms products will be completely removed from our product suite and will no longer be available to any users. If you have any important data or information saved in these products, we recommend that you export it before the removal date.
We understand that change can be challenging, and we are here to support you throughout the transition. Our team will be available to help you with any questions or concerns you may have as you switch over to LivePolls and Surveys.
You can get in touch with us over chat any time and our customer success experts will help you out.
Thank you for your continued support, and we look forward to serving you with our best-in-class LivePolls and Surveys products! Log in to your account or create a free Essentials account with QuestionPro