I am at the San Francisco International Airport – waiting for my flight to Seattle (I recently moved to the SF/Bay Area) – and like all pretentious business travelers I have my Mac Book Pro open and working away.
Obviously the first think I need is Internet Access. As I click on the "Free Wifi" option – Low and behold – I can get Free internet access If I take a QuestiionPro survey! See screenshot below: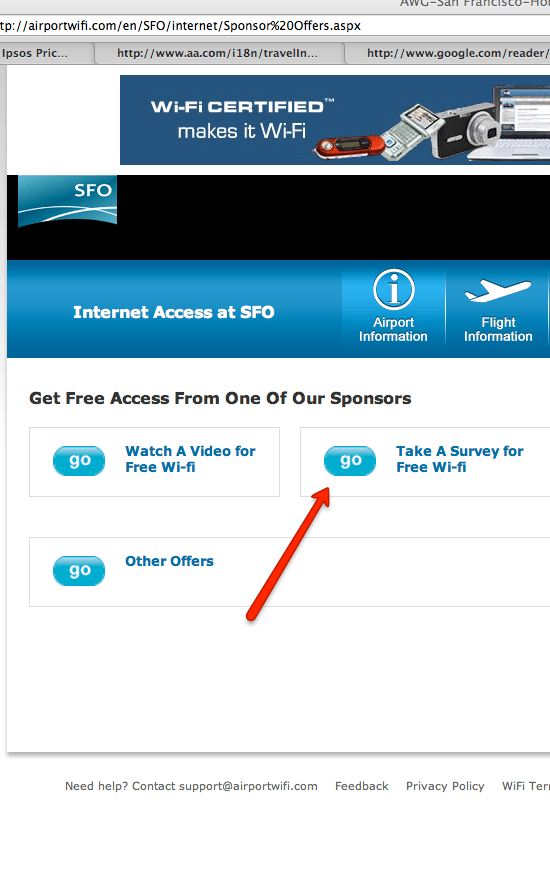 Few things we all can learn from FlySFO:
Respect and Value your respondent's Time – Take a survey, get free WiFi – There is value exchange both ways.
Alternative to incessant advertising – Yes advertising makes money – but incessant advertising is counterproductive and we all become immune to the noise. FlySFO realized that and they are "listening" instead of "peddling"
In the moment feedback — As I have written earlier about in-the moment feedback – its imperative that businesses get feedback as consumers are using their product – not a few days after.
Have you used a survey as an alternative to "value" exchange – I would love to hear from you and showcase your use. Feel free to ping me @ 206.660.1263 or vivek[dot]bhaskaran [at] surveyanalytics [dot] com