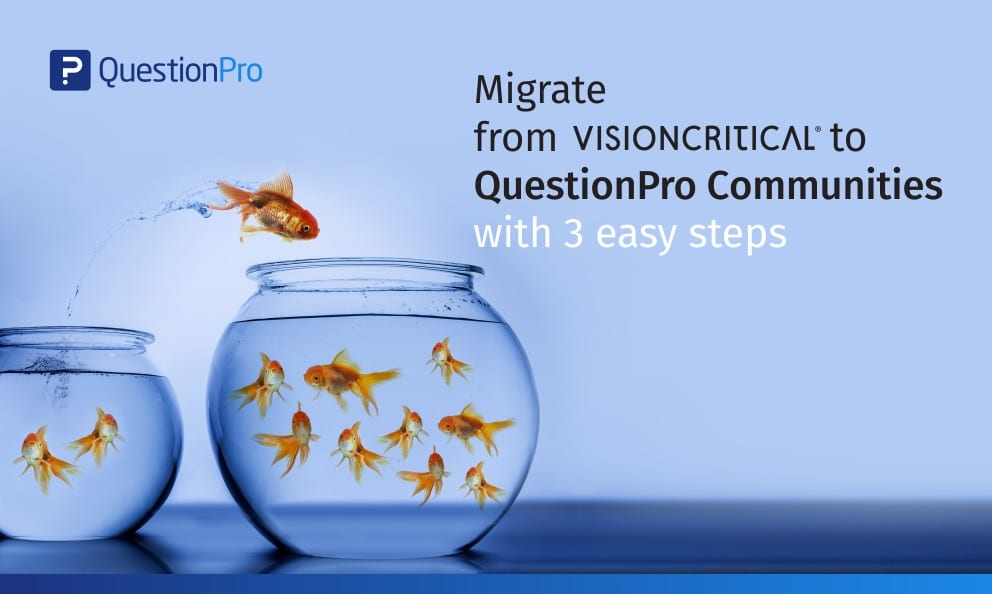 QuestionPro Communities: What is it?
QuestionPro Communities provides a platform that allows companies to create engaged customer communities, collect real-time customer insights and impact customer experience. Offering both qualitative and quantitative functionality, QuestionPro Communities helps deliver actionable insights for better, more informed business decisions.
The platform has a deep level survey integration which makes it extremely robust and easy to use. It also allows to collect community insights from real-time analytics. This enables organizations using the QuestionPro Communities platform to create a space for conversations, engage customers, and generate loyal followers as well as reward loyal customers with points, gamification badges, financial rewards, and donations.
QuestionPro Communities Platform: How does it work?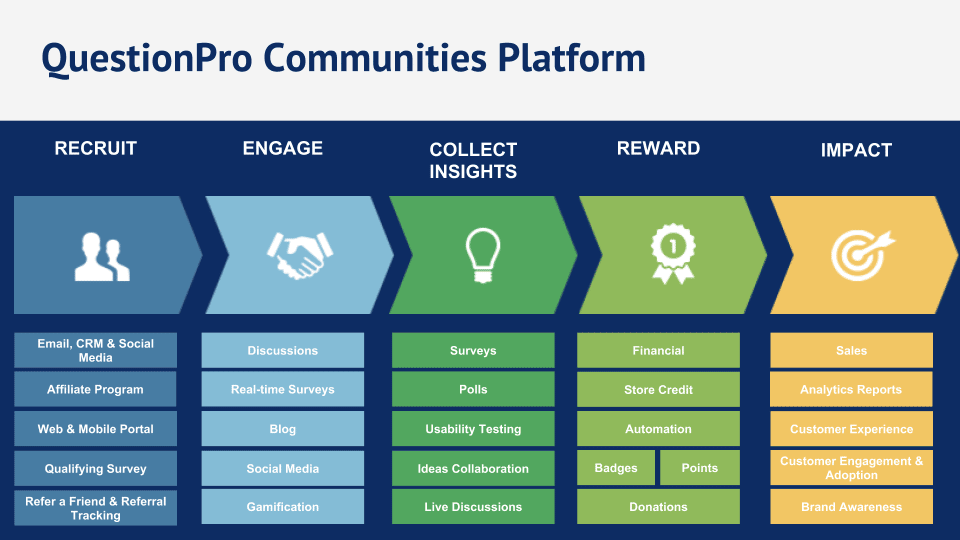 The QuestionPro Communities platform is built on 5 fundamental steps. They are:
Recruit:

With the QuestionPro communities, it is very easy to recruit customers and other relevant stakeholders to the platform. The platform allows you to recruit people using multiple methods like email, CRM imports, social media etc. To ensure the validity of the community, the platform allows you to use two-factor authentication to ensure the relevance of the community. You can also recruit members in the field by using the offline mobile app and then importing them into the community. By recruiting the right people to the community ensures better insights and the decisions are powered by the feedback of the people that actually matter.

Engage: The platform allows you to engage with your community members with surveys, questionnaires, discussions, polls through the online member portal. You can also allow the members to upvote discussion points, share their ideas to social media to increase the reach in their social circles as well as earn badges, points and other gratification methods in the form of gamification.
Collect insights: The platform allows you to collect and analyze in-depth data from the community to To increase the validity of real-time data, also collect ideas in the form of text and also rich-media like images and videos from the Idea Board. This helps with creating and managing the perception that the brand cares about what really matters.
Reward: The QuestionPro communities platform allows to incentivize community and panel members. The rewards are in the form of points and badges which can be used to redeem gifts or other prizes. This ensures a higher participation and engagement in the feedback and idea collection process.
Impact: Since high quality and historical data is collected from the community, the platform allows for in-depth insights in various topics as well as market trends. This has a direct impact on market positioning as well as the brand strategy for an organization.
Aspects of the QuestionPro Communities Platform
Some of the major aspects of the QuestionPro communities platform are:
Member portal
The member portal is a stand alone website where members can sign-up, log in, take surveys, participate in qualitative activities like topics, discussions, and idea board. In addition, members can manage their accounts and update profile information. QuestionPro supports 100% multilingual member portal setup where any can be the primary language.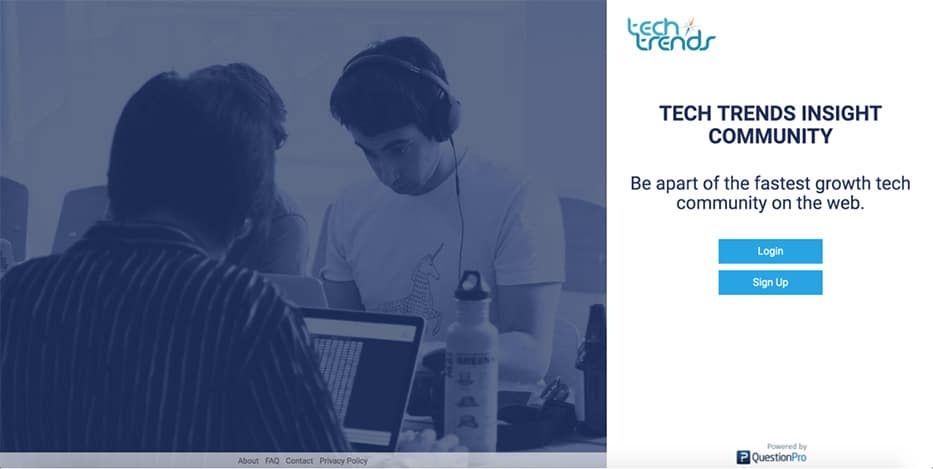 Topics
This feature in the QuestionPro communities platform is designed for members to interact and increase engagement while at the same time allow for insights to be collected. Members can post topics or a question and then other members can comment on and like those topics. Topics can be sorted and also tagged when initially posted so similar topics can easily be found. Also this feature can be used like an online bulletin board study.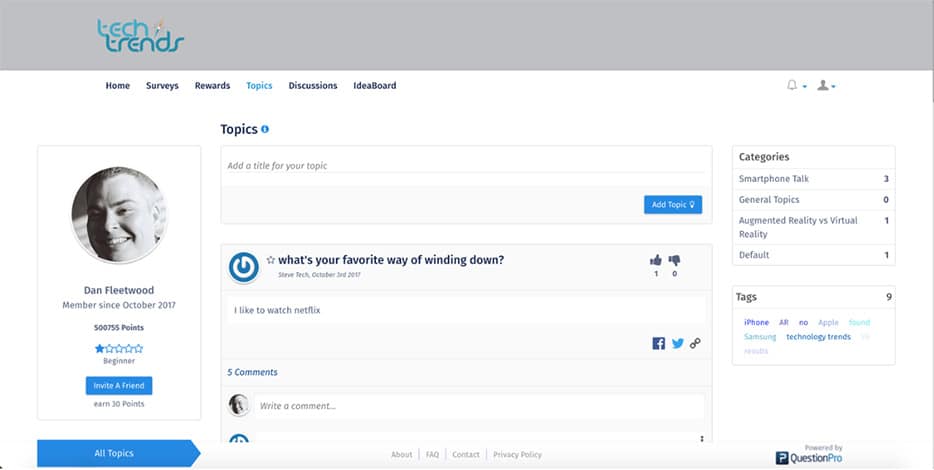 Gamification and Rewards
The platform has built in gamification and rewards. Members can earn points for different task and activities. These points can be then be redeemed using the built-in rewards module. In addition to points, badges can also be used to incentive members. Finally, there's also an engagement module that really plays into the gamification aspect. Members start at a 'Beginner' level and can work their way up to an 'Expert' level by completing more surveys and activities in the community. The module is designed to guide the member through the levels. Emails are also sent to members letting them know their current level and what they need to do in order to get to the next level.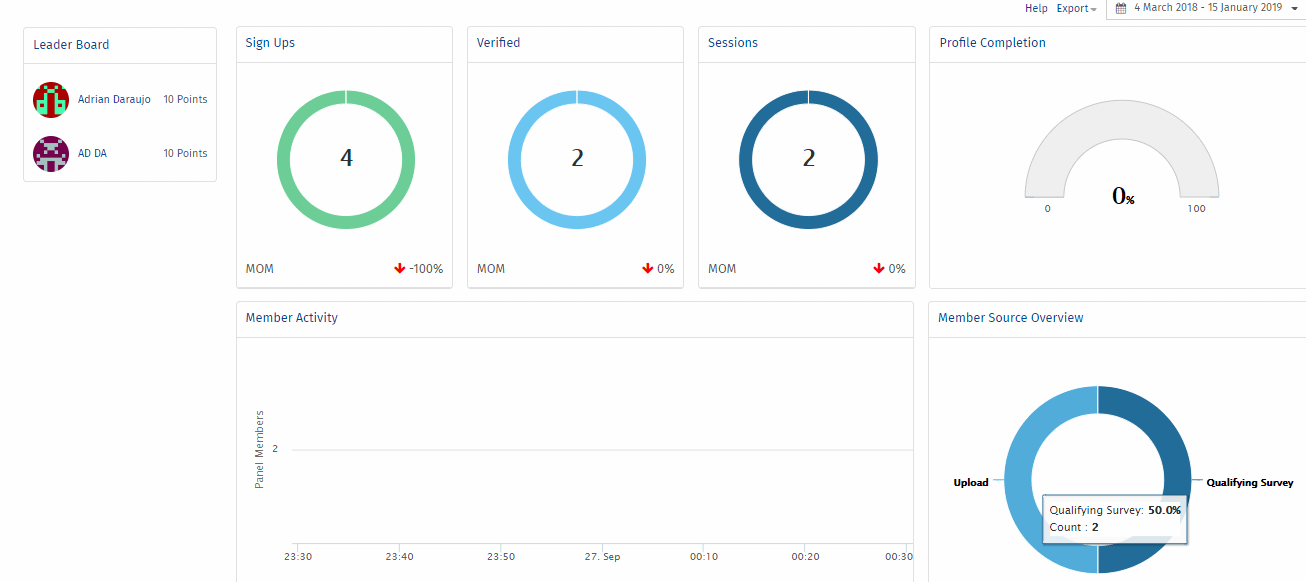 Community Management Administration Features
The QuestionPro community management platform allows the community manager or administrator to easily set up the member portal as well as manage members. Modules that are used in the community can be easily accessed and set up in the platform. The dashboard allows to centrally manage everything from rewards to the community health dashboard. Profile members, create filters, and segment members to ensure you're targeting the right members for a particular study.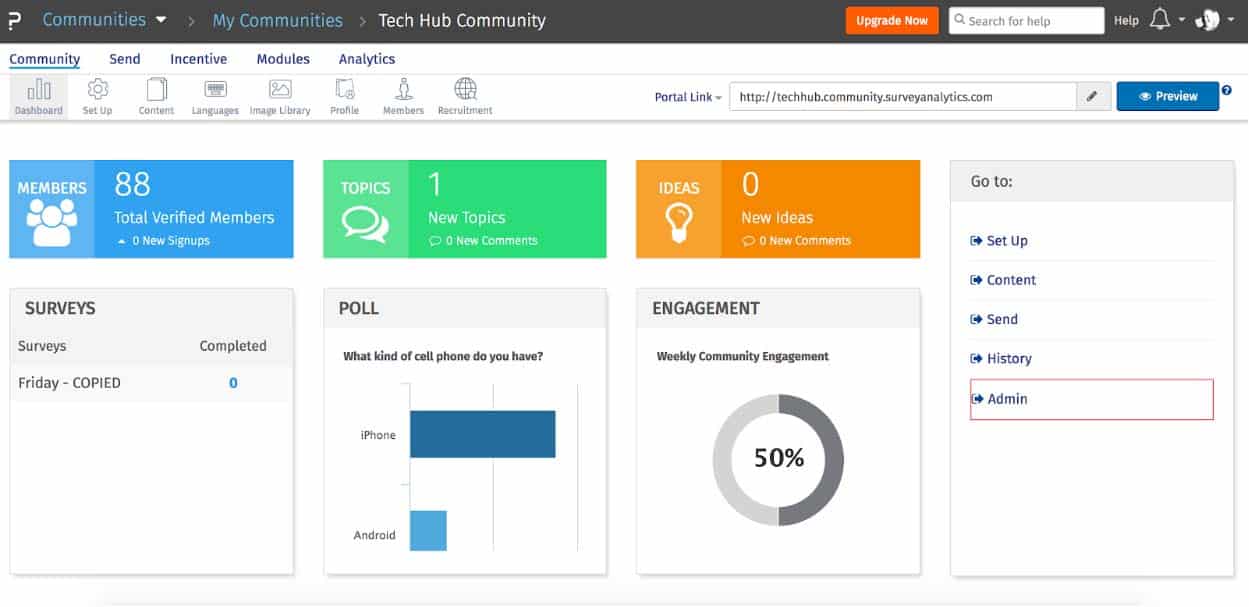 Data Storage 
QuestionPro offers our enterprise clients several geographical options to locate their data to comply with government/federal regulations. Clients can choose from any one of the data centres based in Seattle – USA, Toronto – Canada, Netherlands – Europe, Victoria – Australia, and Dubai – UAE.
Talk to us to know more!
QuestionPro Communities v/s Vision Critical: Why is QuestionPro Communities the best alternative to Vision Critical?
Whilst Vision Critical is a full-service firm and the platform is robust, it limits scope to be involved in the finer nuances of the project and the cost is very high. Also, since the price is bundled for customers, there is limited scope for data-collection on a granular level. You are also locked in into a model where there is no chance to experiment with different methods.
Vision Critical also has different tools present for different types of your community. Which means, there is a chance to lose out on some core features that you need. Or the price increases on the basis of those parameters. There is also a limitation to collect deep demographic and attitudinal profile of the member. All of these factors limit the online engagement and take away the intimacy of customer interaction.
There are no such quirks in the QuestionPro Communities platform. It is a high-end enterprise level community management and online panel management software that is easy and inexpensive to use. The platform let's you gauge the "pulse" of the online community and take business decisions purely on the basis of these interactions.
Learn more: The #1 Vision Critical Alternative: QuestionPro Communities
Features that QuestionPro Communities shares with Vision Critical
Some of the features that are common between QuestionPro Communities and Vision Critical are:
Discussions

Blog

Notifications

Social Media Integration

Polls

Reactions

Full-Service Management

Fully Cloud-Based

Question and Answer
Both platforms are built to deal with high amount of personal data and provide robust reporting and are compliant with regional privacy laws like GDPR.

QuestionPro Communities: Advantages over Vision Critical
QuestionPro communities is the preferred choice of online community management platform over Vision Critical due to the following reasons:
Cost
The biggest advantage that QuestionPro communities has over Vision Critical is the cost. Since the latter is a full-service tool, the costs are exponentially higher as compared to using QuestionPro communities. Also, with our community management platform, all the features are open to all. You do not have to pay for additional features and there is no bundled costing model as with Vision Critical. Which means you have a lot more tools at your fingertips for better insight collection at a fraction of the cost.
Ease of Use
The QuestionPro communities platform is very simple to use and the UX is superior. The platform also allows you to easily set-up and manage the online communities through a centralized portal. It is also easy to look at the health of the community, recruit new members, manage your panel, manage awards and redemption and also collect feedback including rich media in one central location.
Mobile App
The mobile app is an extension of the online community. Members can log in using the same credentials. In the app, members can make use of a number of different modules like take surveys, and answer polls, participate in topics and discussions, update profile info and redeem rewards. Push notifications can be used to alert members in real time of new surveys, news, and discussions posted. In addition, geo-location based smart surveys can also be used to get feedback from members in specific locations. This is one of the other biggest differentiator between QuestionPro Communities and Vision Critical.
Idea Board
 This tool in the platform is purely designed for crowdsourcing of ideas. Members post ideas and then other members can upvote or downvote these ideas. In addition, the status of the idea can be relayed back to the member. Also, the member can upload pictures and video of the idea also with push to social features.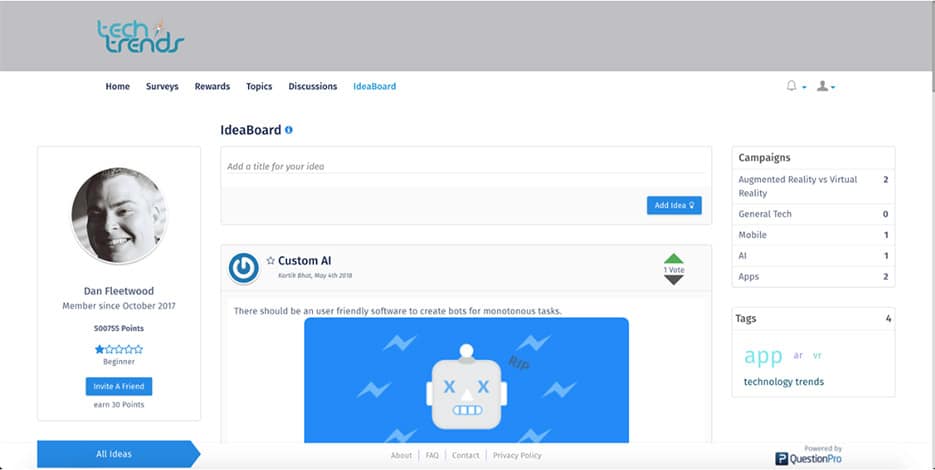 Community Manager
While using QuestionPro communities, you can also use a rope in our community manager to better manage your communities whilst taking away the effort from your end to focus entirely on the feedback that has been collected.
Badges & Automated Incentive Management
The QuestionPro platform allows you to define the contours of points and rewards and then leave the rest to the tool to do. Badges are assigned to members on the basis of the points collected and then these can rewards can be either directly disbursed or the community member can redeem them as and when they want. This reduces the effort to keep looking at the community metrics and making manual purchases of gift-cards etc. It also reduces the effort to manually provide rewards to the community members.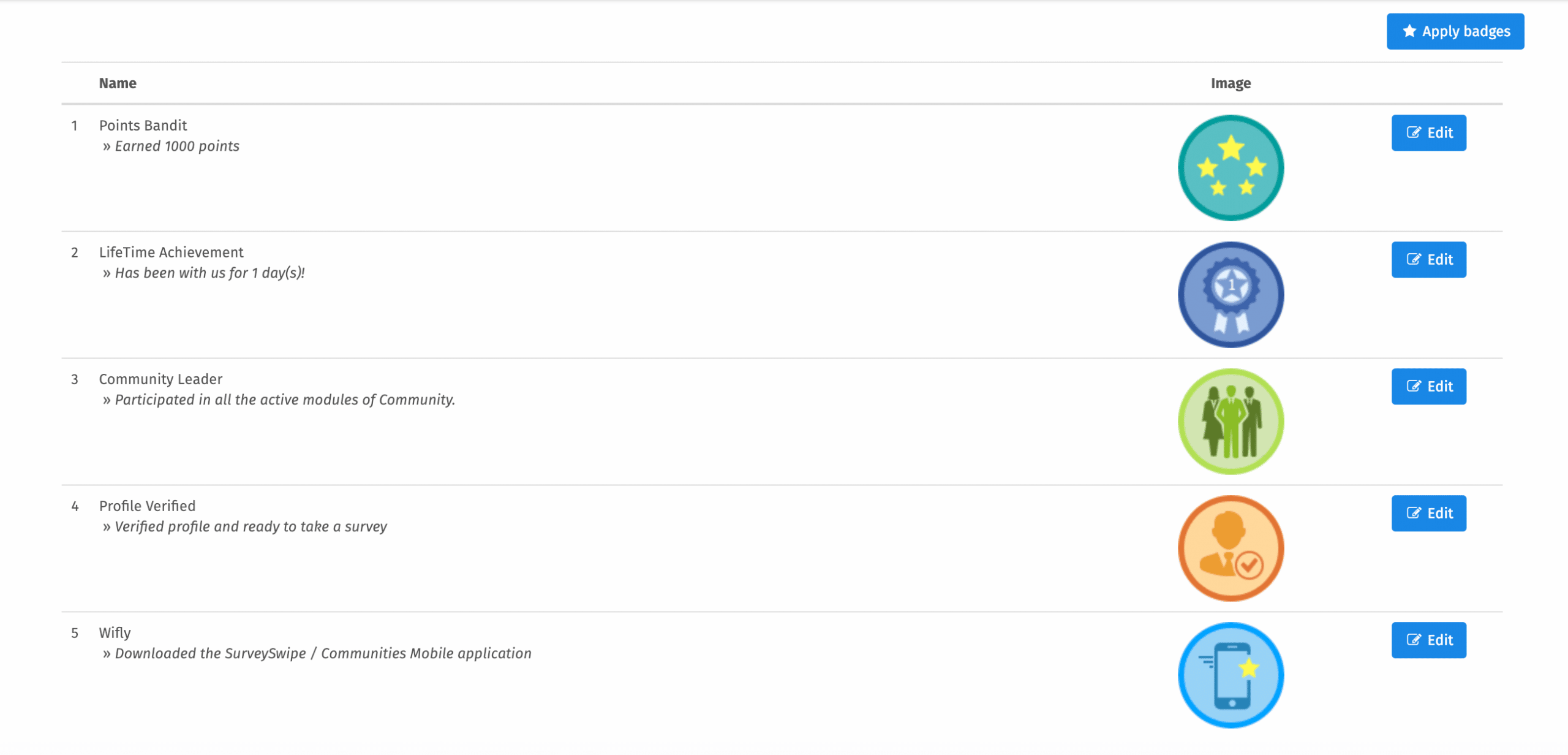 Some of the other reasons that QuestionPro Communities is a better alternative to Vision Critical is due to the ability to share documents, the events functionality that allows customers deep interaction with their community members, direct integration into CRM's and other external platforms and more!
An easy way to migrate from Vision Critical
QuestionPro has made it easy for Vision Critical customers to move their online communities directly into the QuestionPro Communities platform. Below is the three-step process to import you online community into your new and better community management platform – QuestionPro Communities.
Create an account

with QuestionPro

We will help you with exporting your data

We'll Help Port Your Data to QuestionPro
That's it! – We do all the rest of the data import and you're all set!
For a limited time, any Vision Critical customer who migrates over will qualify for a 50% discount to what they are currently paying for (limited year one of the contract).
Connect with us today to save 50% and switch to QuestionPro.