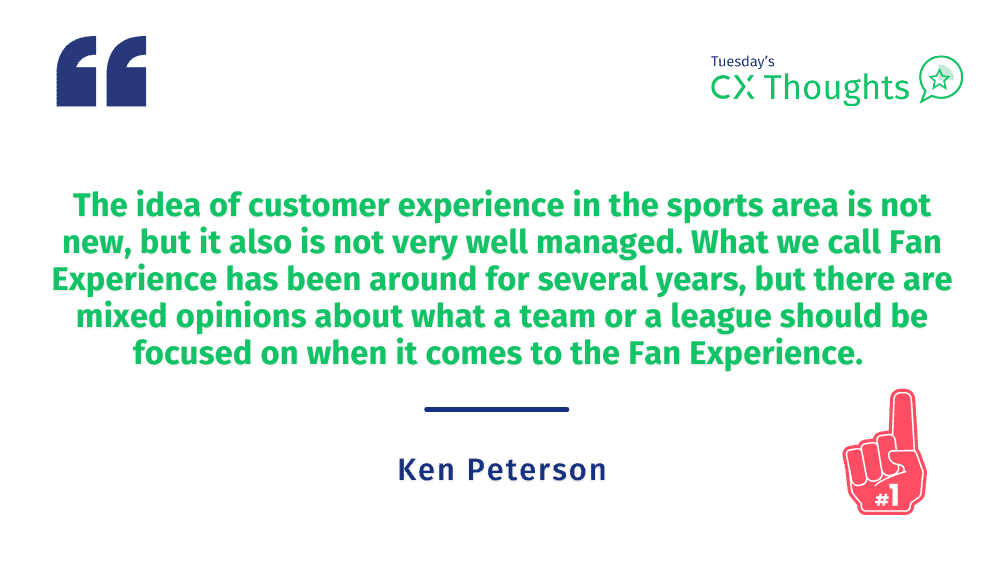 The idea of customer experience in the sports area is not new, but it also is not very well managed.  What we call Fan Experience has been around for several years, but there are mixed opinions about what a team or a league should be focused on when it comes to the Fan Experience. 
We recognize that for the major sports leagues, broadcasting rights and league-wide sponsorships are one of the most significant parts of the revenue drivers.  The direct spending by the fan is usually one of the smaller contributors.  Even a financial linkage analysis of delighted fans will probably contain mixed results. 
With all the costs to manage the customer journey (stadiums are not cheap to build or maintain), the management of the customer or fan experience strategy may not be very beneficial to an organization.  However, that would be a mistake, so today I will discuss three ways I've seen fan experience goes very wrong in sports and how you can avoid them:
Forgoing Measurement

– With all I just said, it might be tempting for a sports franchise to ignore the fan feedback and just go focus on the high-value media and sponsorship opportunities.  The reality is that the fan holds quite a bit of sway in those revenue streams – even if indirectly.  Even if the direct fan revenue only represents 20-25% of the revenue of a league or team, they are the ones that "bring the enthusiasm" for the game that make the media rights possible.  If the stadium is empty, those media rights become less valuable and the sponsorship assets lose value.  Therefore it is imperative that you assess the

Voice-of-the-Fan

with a

CX Enterprise Software

like QuestionPro.  Keep in mind that you'll want to keep the surveys short and concise, just like when you measure across multiple customer experience touchpoints

.  We would recommend a measure like

QuestionPro NPS+

,

where you can quickly assess your performance in that touchpoint, determine a root cause, and have open-end comments that can not only be used for

sentiment analysis

 but can also be voted upon by other fans.  This innovative approach is so unique it recently won an

award for innovation

in the sports industry.  Also important in this touchpoint measurement, be certain to have a

customer feedback loop

– while a complaint about a stadium (as an example) may not be something that can be fixed immediately or without a considerable cost, it is essential to communicate to the fan the reasons behind decisions about what will or will not be done.

Not Assessing Sponsor Affinity

– While it is tempting to forgo this step – or just include it as a part of a touchpoint measurement somewhere on the

customer journey map

– it would be a major mistake not to assess this annually.  Often teams or leagues "wing it" and put a price tag on specific sponsorship assets without regard to the sponsor.  While this approach may seem to benefit the seller of the sponsorship, even the most conservative of analysis estimates show that teams and leagues are underselling these assets, sometimes, they could have a five-fold or more increase in their value.  Further to that point, a team should have the right mix of sponsors across all the assets that will match the collective fan affinity, including the mix of local and national sponsors.  This may mean that an asset that was thought to be valued higher might be offered for a lower price to a local sponsor.  The QuestionPro

customer experience software platform

has been used extensively for such assessments and can be very valuable in terms of optimizing sponsorship revenue.

Losing – This may seem like common sense, yet there are some teams that would encourage "churn" because that means they get to charge for yet another Personal Seat License (PSL).  However, the damage that can be done to the

CX Reputation

through extended loss can be difficult to recover from.  While this may seem to be focused on the fan, it is really

B2B focused

.  When they conduct their

social media analysis

about their sponsorship spending, the negative references to sponsorship will negatively impact the spending for the very same reason that media rights will decline for a league that does not put the best product on the field, rink, and/or pitch.  In a day when fans can easily and securely resell their tickets, it is less likely to cause them to stop renewing their season tickets. Still, the big impact is in other sources of revenue – concessions, merchandise sales and sponsorships.  I know of a team with six straight losing seasons that have sold out every game and have a waiting list of over fifty thousand fans.  Clearly that is not the impact, the impact is seen in other areas.  
 Many other mistakes these teams and leagues have made that do not vastly impact revenue, but they may over time if not corrected.  In addition to measuring fan experience touchpoints, and conducting fan relationship studies with sponsor affinity measurement and winning, one more thing that teams can do is plan for action with a tool like Outer Loop on QuestionPro CX.  Not all problems can be solved immediately, but by bringing together operational and business teams to solve fan problems, when a fan does have a complaint, the organization will know which steps they are planning to take, even if the resolution will come sometime in the future. Until then – and with the World Series now concluded – let's Play Ball (ironically).