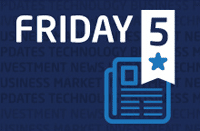 This week, we have some tips for you — from how to design a usability test, to considerations for segmentation, to your LinkedIn profile, to measuring social media engagement. Add to that a fun bit about top global brands, and that's your #FridayFive!

7 Secrets to Designing a Great Usability Test – Research Access
Usability testing is getting even bigger with each passing week, it seems! Get some tips on how to design your own usability test!
Two Key Challenges to Measuring the ROI of Social — GreenBook Blog
If social media is part of your marketing strategy, you should definitely check out this post. In a nutshell: are you just measuring activity on social, or are you starting with your sales objectives and tying social into those objectives?
LinkedIn Profile Tips for Market Researchers — Market Research Blog
Speaking of social, if you're a market research professional, how is your LinkedIn profile looking?
Lego is World's Most Powerful Brand — Research Live Blog
Want to know the top two global brands? I'll give you a hint: Lego is one of them. What's interesting to me about this article is the fact that the brand is the one being valued – not the company.
Five Tips About Segmentation in Marketing and Market Research — NewMR Blog
Segmentation is a great way to put respondents and customers into various categories for marketing and market research purposes. Check out these five tips for things to consider when using segmentation!