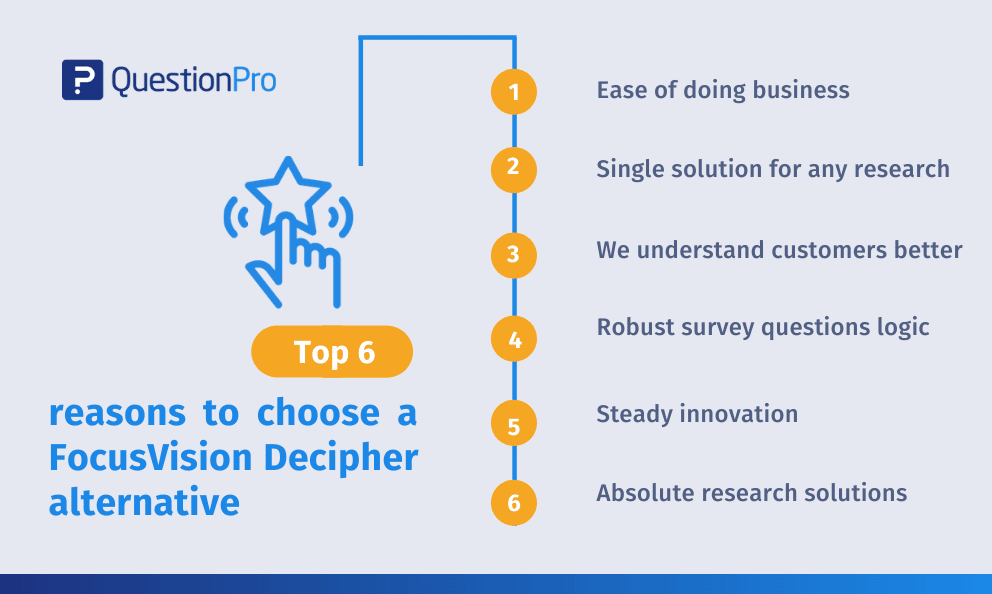 Market and consumer research is at the heart of every business. Organizations need to understand their market better to serve consumers efficiently while making profits. Brand tracking and customer behavior must efficiently be tracked through modern research techniques like live-polls, online communities, and live chat focus groups. 
FocusVision's Decipher survey platform provides researchers a comprehensive, yet simple to understand and easy to use survey solution and reporting platform. So why choose a FocusVision Decipher alternative? It's simple. This solution isn't for the masses, but mostly for seasoned researchers. There's no doubt that Decipher delivers almost everything it promises, and professional researchers are quite satisfied with the software. But what if you are a novice or an unseasoned researcher? Getting the hang of the survey tools will be pretty tough. Even worse, what if you are stranded and need professional support, but support does not come as easy as expected? It's pretty unfortunate to get stuck in the middle of a research study, given the time and effort you have spent on getting the study right. 
At QuestionPro, we provide you with the most robust set of research tools that help you make more responsible business decisions. With help files spanning every feature, you will never get stranded in the middle of your study. We are accessible 24/7 via phone, email, or chat to solve all your queries. Easy to understand and use logic like branching and skip logic, block, and question randomization, advanced research questions like Max diff, Conjoint, and Van Westendorp help you accurately capture what's on your customer's minds. Also, build and manage communities for longitudinal research or tap into 22+ million online panelists from our proprietary audience panel with ease. Let's check out the details why QuestionPro is a better alternative to Decipher.
Top eight reasons to choose an alternative to Decipher
Ease of partnering and doing business
Why deal with hidden charges when you can have transparency on your software license cost? You could easily mess up your budgeting if you're not careful and haven't been offered clarity on licensing costs. Price transparency plays a significant role in large-scale projects. QuestionPro provides you with price transparency and personalized services to know what services you are paying for. It's no secret that the process of going through yearly renewals with Decipher has been challenging and confusing for many researchers. Make the Switch to FocusVision Decipher's best research alternative for transparent business experience and save a lot more on your costs and valuable research time.
Single solution for all research types
A research software must be simple to use even for first-time researchers, yet robust to solve research challenges. Though seasoned researchers can adjust to just any type of research software, many find it challenging to use Decipher efficiently. Getting a hold of the tool takes a lot of time, and not everybody has the time to learn and understand it well. QuestionPro's single-solution software makes it practical for occasional users to run even large-scale multi-country, multi-language surveys while saving time and money. To learn more about how it's done, we have placed help files that cover all the aspects of the tool so that you can run surveys smoothly.
We understand our customers
We provide you with a dedicated account manager to help you through the research journey. We also offer all customers 24/7 live support, 365 days a year. Contact us via phone, email, or live chat for immediate assistance, any time of the day (or night). Our customer service is best in class, saving you time fixing any issues you'd face during the study. Our customer service is personalized and makes sure that you run projects to their maximum potential and collect intuitive data without compromise.
Robust questions and survey logic
Probe respondents in more than 48 different ways. Access the basic research questions or advanced questions like Conjoint, Max Diff, Heatmap, NPS (Net Promoter Score), Van Westendorp, and many more. Use research techniques like question and options randomization, branching and skip logic, block, and advanced randomization, question, text validation, or piping for your surveys. Create beautiful, intriguing surveys with custom scripting to draw in more responses. Tap into revolutionary research questions like anchored max diff and help your research yield accurate research results.
Steady innovation
Granting multiple stakeholders with varied access and permission levels is not possible with Decipher. Often large research teams have different stakeholders who need different permission levels to code surveys or edit them or analyze reports. Granting these permission levels with QuestionPro is possible and straightforward, so the right people have suitable access to the right tool functions. Access downloadable, precise, real-time dashboard reports on the go, so you have all your information up-to-date to make informed decisions. The robust built-in dashboard displays data that is easy to read and understand, so you have no problem assessing extensive surveys. The size of the study does not compromise the speed of the dashboard or the tool.
Absolute research solutions
Our professional-grade research tool helps you run robust market research surveys with ease. Capture accurate consumer thoughts with 48 different intuitive question types to know precisely what goes on in respondents' minds. Make use of powerful survey logic and collect unbiased responses around the globe. Use our powerful communities platform to and track longitudinal studies. Access more than 22+ million pre-screened global survey audiences who are eligible to take part in surveys of any specificity. Our advanced dashboard analysis helps you with insights data that matter the most to make informed decisions for your business. Connect with us to better understand how to make the switch easily.