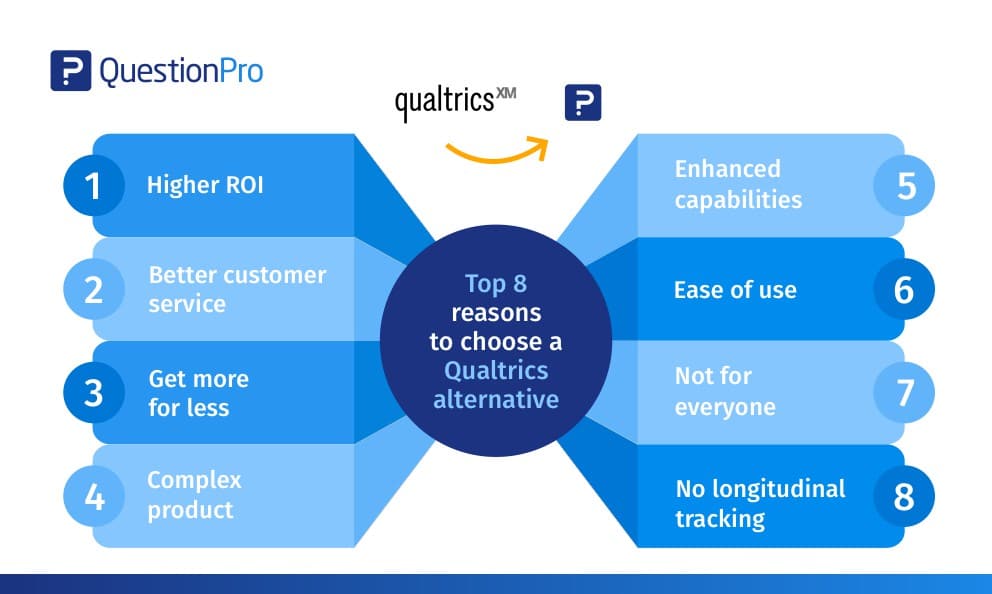 Research and insights collection is a major global industry. But it is even more critical due to the underlying impact it provides to brands, researchers, organizations, and Universities to collect and make sense of data. Qualtrics is one of the most powerful customer insights platforms currently available. The platform is geared towards enhancing the four pillars of business – customer experience, brand experience, product experience, and employee experience.  
Qualtrics provides a comprehensive platform to collect and analyze data so that relevant stakeholders can make informed decisions. The platform is highly intuitive, interactive, and powerful. There is also a deep level of integration between modules so brands can draw conclusions and make sense of bivariate data. After the SAP takeover, Qualtrics users can now leverage experience data and operational data and get mature insights.
All of this looks great. Why are brands, researchers, and organizations looking for Qualtrics competitors and evaluating a Qualtrics alternative?
As with everything, though, there are always caveats. In this case, the bad exponentially outweighs the good.
Let us look at some of these reasons to choose an alternative to Qualtrics.
Top eight reasons to look for the best alternative to Qualtrics
The eight most significant factors that cause brands and researchers to look for competitors to find the best alternative to Qualtrics are:
1. Higher ROI
As with every M&A, to recover costs, prices are always hiked, and providers push for more extended contracts. This has increased dissatisfaction levels among existing customers. The Qualtrics price no longer works for brands. Renegotiated contracts where the deal size has vastly ballooned and long lock-in periods ensure that researchers and brands alike are not seeing the value anymore. The increase in Qualtrics pricing, coupled with longer contracts, makes it tough to justify the ROI of using the platform. Market research objectives are always evolving, and QuestionPro offers researchers user-friendly survey tools and the flexibility to make changes in their insights management strategy without making wholesome changes in their data collection strategy and the ability to create beautiful surveys.
2. Better customer service
When a deal spans into a few billion dollars, like in the case of SAP acquiring Qualtrics, the focus is always on the product, and the most overlooked aspect of the business is customer service. This thought process has led to an increase in the concentration of acquiring new customers but a lesser focus on the retention of existing customers. Existing customers are always complaining about not hearing back from their account managers and customer service representatives. For the price that you pay, you expect a much better level of personalized service, right? Being stuck on the survey creation phase and losing time to deploy translates to insights lost for stakeholders. There is no substitute for 24*7 customer support, which is readily available with many other Qualtrics competitors, including QuestionPro.
3. Get more for less
No one likes to overpay. On the contrary, getting more for less forms the backbone for procurement and sourcing leaders and business insight managers. Customers looking to collect insights want to be able to run customer satisfaction studies, employee satisfaction studies, research studies, and more in the most optimal manner. This includes collecting qualitative and quantitative data in the form of survey questions that solve the need, plus advanced logic and data quality. The ability to use mobile survey data collection, conduct offline surveys, and field research is a bonus. You should also have easy access to powerful dashboards and reporting to make sense of data.
4. Complex product & integration
When two technology giants merge, their product and technology stack becomes expansive. The end customer has to pay the brunt of this and is inevitable. Making a change to your existing technology stack and limitations of integrating with the online survey software make Qualtrics a not so viable option anymore. Not just that, the complexity of the product increases, and the time to learn and master the platform also increases. Organizations and researchers look for solutions that solve problems and help them collect insights in the fastest and easiest way. Compounding this problem is causing existing customers to look for the best alternative to Qualtrics.
5. Enhanced capabilities – experience transformation
The 'one solution fits all' strategy isn't the best way to go. You need to be able to run specialized tasks to solve unique problems and collect data in different ways to make sense of and analyze. The Qualtrics platform is certainly expansive but is also rigid in a lot of ways which results in an inferior user experience in the process to create surveys and manage insights. For example, if you want to run just an employee satisfaction study or a customer satisfaction survey, you would want access to unique solutions to the problem you want to solve. Many Qualtrics competitors, including QuestionPro, offer the ability to run specialized experience transformation studies and hence are the best alternative that most brands are gravitating towards right now.
6. Ease of use
An easy to use platform is one of the essential needs of researchers. Setting up complex and advanced logic without scripting, easy to use survey templates, NPS surveys, specialized question types like NPS+, panel management with the community software, gamified rewards management, etc. are some of the top reasons to evaluate competitors Qualtrics. When the platform is highly intuitive, it makes it easier to manage the insights collections process. You can transition all current and historical Qualtrics survey data to QuestionPro in three easy steps and access all existing data for your ongoing research initiatives.
7. Not for everyone
Qualtrics, while a choice for many, is also not for the masses. The platform's complexity and price, lack of customer support, and tailor-made solutions result in brands and researchers looking to move away to superior competitors. There is also no scope to pay higher amounts or enter into long-term contracts that do not justify ROI, and hence using the Qualtrics platform is not for everyone. Boutique researchers, research firms, individual researchers and consultants, Universities, Government entities, brands, and organizations are looking to get a higher value addition for the price paid. Hence, there is a deluge of customers looking to migrate away from Qualtrics to competitors such as QuestionPro, which are more suitable solutions to their needs.
8. No longitudinal and qualitative tracking
The lack of the ability to conduct in-depth qualitative studies and manage qualitative tracking that includes panel management or customer community studies is another reason to switch from Qualtrics. The inability to source and manage respondents or panelists in a community is one of the most significant drawbacks of the Qualtrics platform.
There are multiple reasons to look for an alternative to Qualtrics but these are the top reasons that we have seen existing Qualtrics customers make the switch in the past few months. Have you evaluated the #1 alternative to Qualtrics? Make the switch at half the price and get more for less.