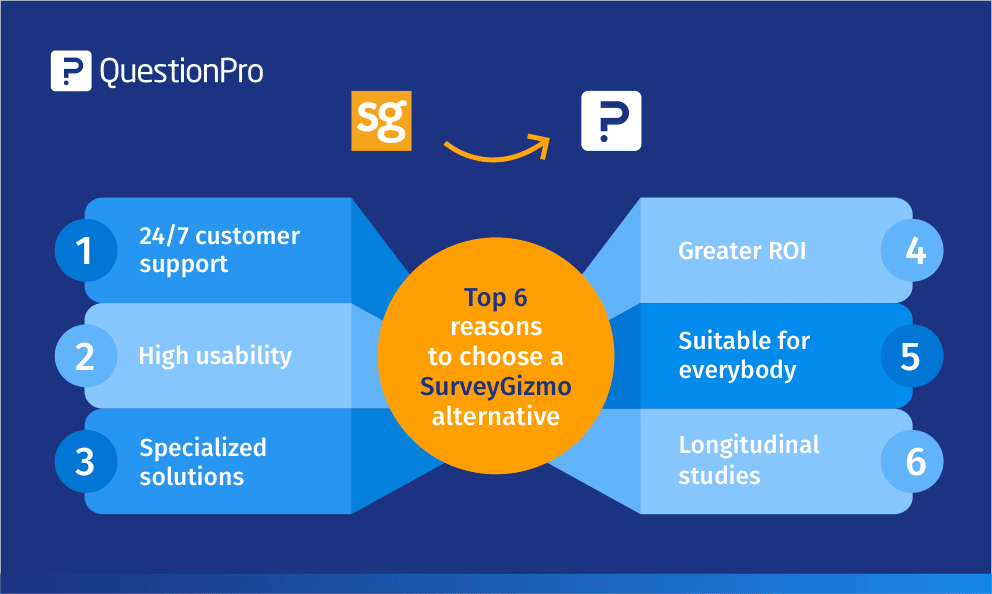 The science of research is continuously advancing, and market research has turned into a full-blown major industry. From airlines to the hotel industry, and from academic institutions to large multi-billion organizations, research is at the forefront of every project they undertake. 
SurveyGizmo, one of the leaders in survey research software, and survey response collection plays an important role in these organizations' lives by empowering them with useful insights straight from the end-user. Decision making based on market research is considered to be a safe bet due to the advancement of research tools. SurveyGizmo's secure, flexible, and powerful survey software empowers you to gather data and feedback your way and helps you put this data to work, immediately.
Why, then, must you look at a SurveyGizmo alternative? Like all things, lately, users have faced some shortcomings with SurveyGizmo too. What works for one will not necessarily work for another. It makes sense to evaluate other players in the market to understand whether they support all the features that you're looking for. 
Here are the main reasons why you must choose a SurveyGizmo alternative.
Six leading reasons to choose an alternative to SurveyGizmo
Better product support and client service:

Each customer needs support at some point in their journey. Sound customer service and customer satisfaction are at the crux of any service. Though email support is provided by almost every business in the market, we all can agree that it can be either slow or will not answer all your questions. There is nothing like receiving  24/7/365 phone support on any license level – without discrimination. It goes a long way in boosting customer satisfaction by collecting customer feedback. Finding help when you are on a free or a lower license will always be a hassle. Why settle for something that offers you limited or minimal personalized service when you can get 24/7/365 chat, phone, and email support?

Usability:

SurveyGizmo is not the easiest or smartest survey tool for data collection. It can get really confusing, especially if you are a novice researcher or the end-users are not so proficient in survey software usage. A simple-to-use, yet robust platform is valued and loved by every customer. Setting up advanced and complex logic to surveys, without relying on custom scripting, readily-available survey templates, panel member integration, management, managing and running communities, NPS surveys, rewards management, etc. are important reasons to look at market survey research options to  SurveyGizmo. QuestionPro helps you create beautiful surveys to attract your customers.

Specialized solutions for specialized research initiatives: Managed research transformation for different initiatives like employee experience, net promoter score, and customer experience is built on top of an enterprise-grade survey platform. A single-solution software can't wear many hats when it comes to running specialized surveys in real-time. Gizmo's platform is broad, but not flexible enough to offer these specialized products. SurveyGizmo's competitors like QuestionPro and a few others are powered with the capacity to run specialized research projects with skip logic to solve problems at all levels.

Greater ROI:

Gizmo's pricing is not the most competitive compared to other players in the market. No doubt, they provide almost every feature that any research software offers, but is it worth the investment? QuestionPro is flexible in delivering what our customers want and need. 35+ question-types help you build more intuitive surveys for more significant learning. Create surveys that are effective and useful in every scenario. The software is simple to use, and thus, you don't spend time trying to figure out how to do things. A simple to understand, but an extensive dashboard helps you see all the analytics in one place.

Not suitable for everybody:

Academic institutions, academic researchers, and students use survey software extensively for different levels of research. QuestionPro's Academic license is exclusively built for educational institutions that have users by the number. Novice researchers find the survey tool extremely hard to understand and use, while hardcore researchers face bottlenecks while doing extensive research. Of course, the software supports complex research, but it is not well-equipped for conducting high-end marker research by creating surveys in minutes.

Longitudinal research: Not being able to run longitudinal research and track consumer attitudes and behavior is another reason to switch from SurveyGizmo. Organizations need to track and identify consumer behavior, consumer thoughts, and employee satisfaction over a period, to name a few. This limitation is one of the most notable drawbacks of SurveyGizmo. QuestionPro helps organizations recruit members for longitudinal studies and community feedback studies. Lead generation, community management, and maintenance also play a major role in how well an online survey software can perform.
QuestionPro is a better alternative to SurveyGizmo when it comes to having more features, a better UI, improved dashboards, data-segmentation and filtering, word cloud, exporting data, and cross-tabulation.