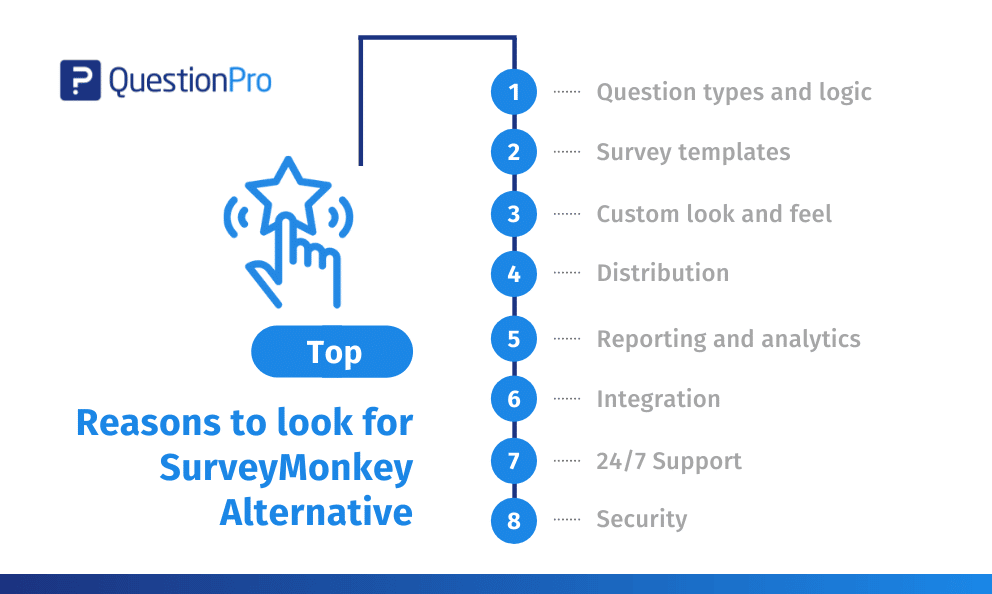 Looking for an alternative to SurveyMonkey is the first step to come out of the dismal user experience with the online survey tool. We have many users who switched from SurveyMonkey to avail of our attractive set of features.
While there are many options available in the market, QuestionPro has the edge over them because of the value for money we offer. Let's dive into what makes us a lucrative competitor of SurveyMonkey.
We offer the highest number of free survey features in the market research industry. It is bundled into a package called "Essentials" and lets you access all the necessary features required to create a beautiful survey. What SurveyMonkey offers in a paid plan, we offer for free.
QuestionPro vs. SurveyMonkey – why do users choose us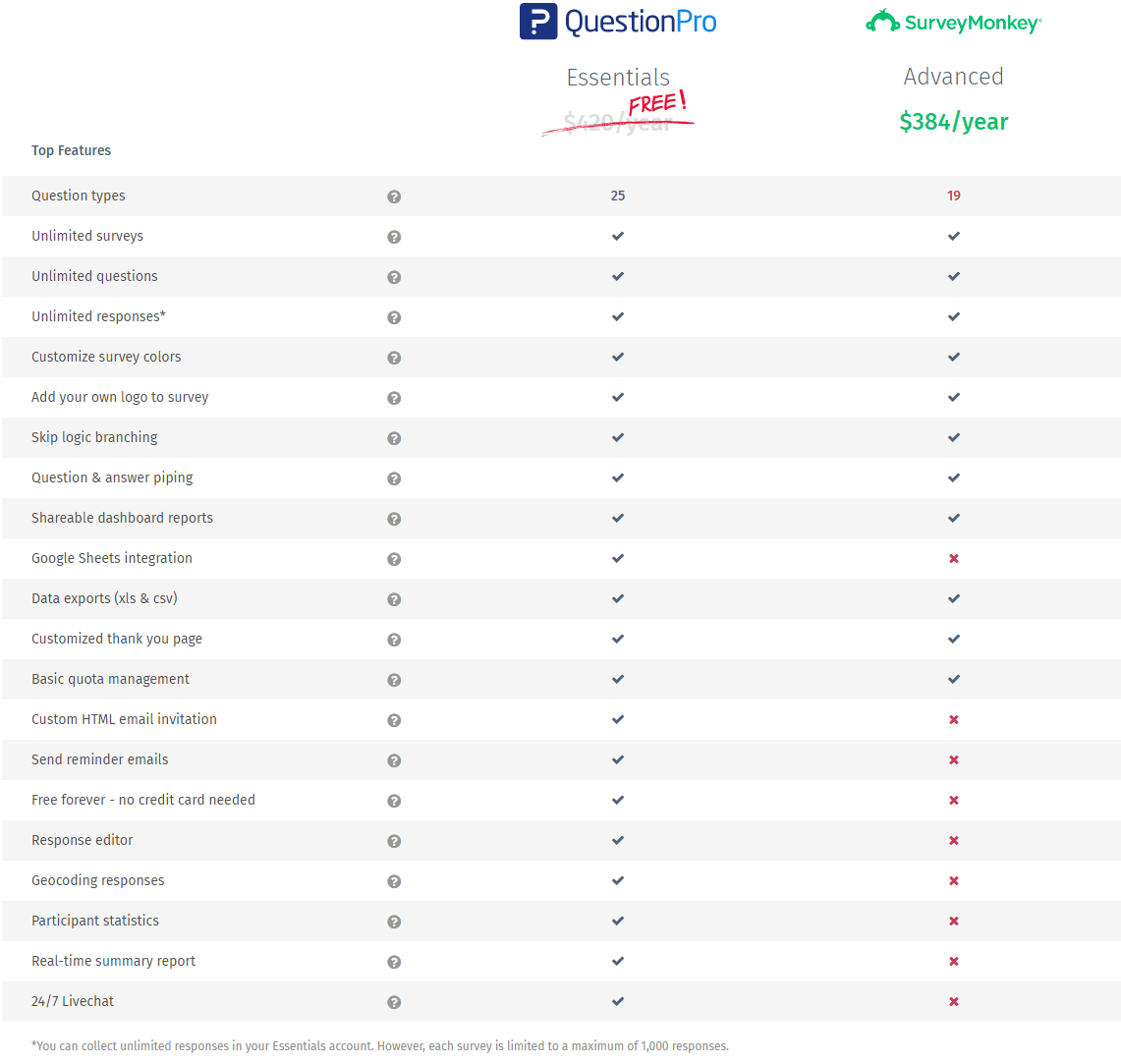 8 Reasons for you to choose QuestionPro Essentials:
1. A vast set of question types and logic
You can create surveys using 25+ question types, including multiple-choice questions, Likert scale, drag and drop, graphical rating questions, etc. SurveyMonkey, on the other hand, offers only 19 question types to its free users. Create unlimited surveys with unlimited questions and collect any number of responses. 
To present the most relevant questions to the respondents, apply logic like skip logic. It customizes the survey path depending on the respondents' answers. Embed images, audio, and video in your survey to make it interesting for participants while collecting customer or employee feedback.
2. Survey templates
Choose from 350+ free survey templates that are ready to be used for your research. You can edit them as per your needs and design the survey. You can also create a question library of frequently used questions to save on time. 
3. Custom look and feel
Let your surveys reflect the brand with a logo, fonts, header, footer, and more. End your research study with a custom thank-you page and offer an excellent experience to your respondents. With Essentials, you can choose from 20+ professional themes to customize the look and feel of your research study.
4. Premium distribution features
Import your contacts in an online address book and send your survey to qualified respondents through an email. Increase the response rate by sending them reminder emails. It is again a differentiator for us as compared to SurveyMonkey. You can print questionnaires or distribute them online on social media platforms for data collection. To customize your email invitation, you can send an HTML invitation email too. 
5. Reporting and analytical features
You can generate statistical and analytical reports to analyze the survey results. Gain valuable insights on a real-time basis with a dashboard that updates with every completed response. Apply filters on the question, location, custom variables, etc. to dig into details. You can export raw data in .xls and reports in commonly used formats. Share these reports on social media or collaborate with the team. Our reporting capabilities and free training resources are major factors our users switch to QuestionPro while looking for an alternative survey software to SurveyMonkey.
6. Integration with third-party apps
You can integrate QuestionPro with 20+ applications like Salesforce, Microsoft Dynamics CRM, Hubspot, Tableau, etc. With the Essentials license, you can integrate your surveys with Google Sheets. You can combine data from various sources and analyze survey results with a holistic approach.
7. 24/7 Support
With the free Essentials package, you can get 24/7 customer support on live chat. However, SurveyMonkey offers limited customer service to its free users.
8. Secure platform
QuestionPro is compliant with GDPR, CCPA, SSAE 16 (SOC 2), and other data privacy and security regulations like ISO:27001. Our users' data security is our topmost priority, and we ensure our data centers comply with standard security regulations.
While SurveyMonkey is a good survey software for novices, QuestionPro is the best alternative software to SurveyMonkey for those looking more features for free! 
If you are still in the dilemma, create a free account, and explore our tool. To try our paid features, you can create a free trial account and get started. For any questions, please get in touch with us.