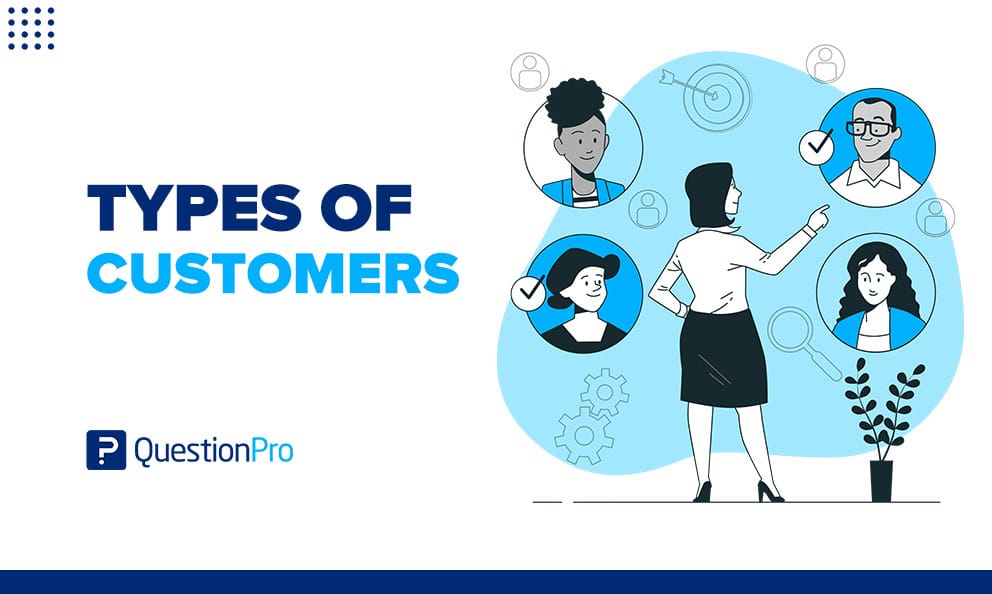 Different types of customers are varied sets of individuals who should not be classified. They come in a variety of personalities and are scattered out over your sales funnel. When consumers are potential customers or when you need to help them in the customer experience and customer success stages, they have various personalities and behaviors.
Nonetheless, determining consumer categories is among the first stages in developing a successful company plan. Customers will leave a variety of evaluations and comments on your products and services if you research your brand on review sites or apps.
Various types of customers can be classified into the following categories, let's get into the details:
Types of Customers Who Remain Loyal
These consumers are fewer in number, but they generate more revenue and profit than other customers since they are entirely happy. These clients return to the company regularly.
Methods for Managing Customer Loyalty
It is critical to contact them daily and to devote a significant amount of time and effort to them. Loyal clients want personalized service, which necessitates polite and respectful replies from vendors.
Share your values.

Provide great client service.

Activate your supporters to help you spread the news.

Create a loyalty program to show your gratitude.

Deepen your connection

Request feedback.

Improve your customer service experience over time.
Types of Customers that Get Discounts
Discount consumers are frequent visitors, but they're a part of the firm when they are provided discounts on standard products and brands, or when they exclusively buy low-cost items. The larger the discount, the more likely people are to purchase. These clients are primarily associated with tiny businesses or businesses that make only little product investments.
Focusing on these sorts of customers is especially vital because they contribute a significant portion of profit to the company.
Methods for Managing Discount Customers
Focusing on these sorts of customers is especially vital because they contribute a significant portion of profit to the company.
Offer new consumers tempting deals.

Set discount expiry dates or restrictions.

Offer competitive pricing or collaborate with well-known businesses.

Offer overstocked, obsolete, or discontinued items as freebies to get rid of inventory.

During the typical retail season, offer things that customers can't afford.

Reward loyal customers.

Convert lost sales chances from abandoned carts.
Customers Who Are Impulsive Buyers
These clients are tough to persuade since they are acting on impulse or caprice. They don't have a specific item on their product list, but they feel compelled to acquire whatever is excellent and useful at the time. Handling these consumers is difficult since they aren't seeking a specific product and instead want the provider to put all of the relevant things in their collection in front of customers so that they may buy what they want from that display.
Methods for Managing Impulsive Customers
If impulsive buyers have been regarded as such, there is a good chance that they are responsible for a large percentage of purchases.
Attract customers' attention throughout the site or store.

At the point of sale, make customized suggestions.

Global thinking, local action

Make an irresistible offer.

Make use of digital platforms to enhance the experience.
Customers Who Have Specific Requirements
These customers are product-specific and only purchase products to which they are accustomed or have a special requirement. These are frequent consumers, yet they rarely participate in purchases, making it tough to please them.
Methods for Managing Specific Requirements Customers
These clients should be treated favorably by demonstrating and encouraging them to purchase more related items and brands. These consumers may be lost if they are not dealt with effectively and with pleasant contact.
Provide excellent client service.

Create a customer journey map.

Consistently assess client satisfaction.

Maintain consistency in customer communication.

Create a customer-focused culture.
Customers Who Wander
Customers that are unsure about what to buy are the least lucrative. These consumers are usually new to the sector and merely want to validate their product requirements. They look at the characteristics of the most popular items on the market, but they do not purchase any of them or show little enthusiasm in doing so.
Methods for Managing Customers Who Wander
To attract such clients, they must be adequately informed about the items' different favorable aspects to build an interest in them.
Make all of your communication channels, such as chatbots or live chat, easily accessible. This phase has the potential to sway their choice in your favor.

Concentrate on your unique selling point and value proposition. Provide exceptional customer service and walk them through every step of the process.
Conclusion on types of customers
To use impulsive clients, a firm should fixate on loyal customers while expanding or multiplying the product range. Other types of customer methods should be updated and improved to suit their wants and alter these types of customers so that they fall into the loyal and impulsive categories.
QuestionPro offers some of the most advanced customer experience tools available. Gain valuable insights into your customers' thoughts and feelings by using QuestionPro CX software today.