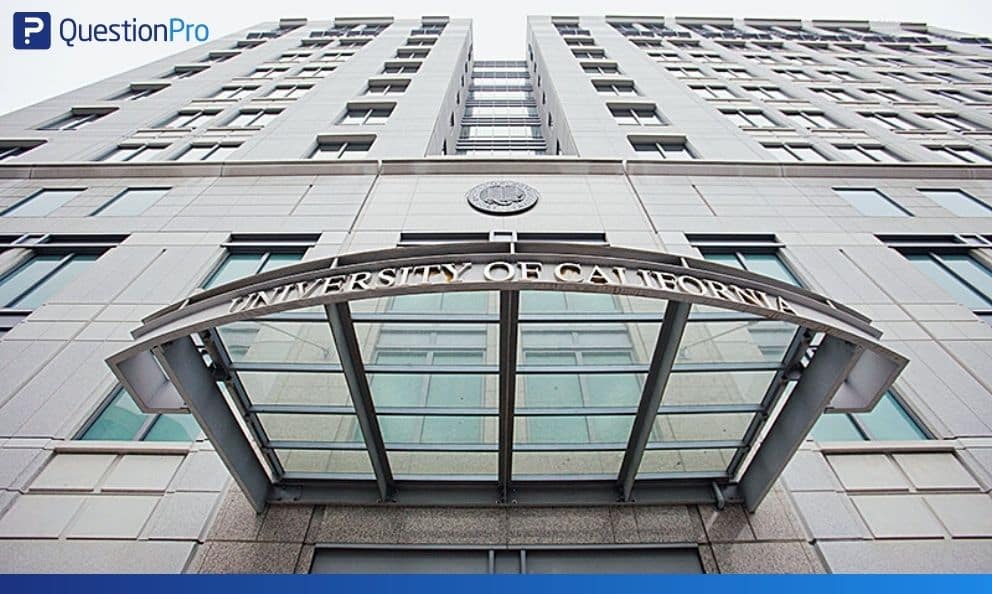 The well renowned University of California is a group of 10 educational institutions, 5 medical centers and 3 national laboratories. The University's headquarters, The Office of President is situated in Oakland CA and supports all the campuses and its students through funding and programs. Being the very heart of the system of institutions, UCOP manages the multi-billion dollar operations, provides a centralized legal and employee relation services, and governs its massive and diverse workforce through benefits during their tenure and retirement programs after. 
We are thrilled to announce that UCOP has chosen QuestionPro to conduct their Institutional Surveys, IRB Surveys, Academic Research, and a variety of other use cases. Chosen by over 5000 universities and colleges, QuestionPro, with its advanced logic and workflows, is the ultimate research solution for academic institutions. 
With QuestionPro's Academic license, you can gain access to a complete survey and research solution for your university. We aim to make our software solution intuitive, easy to grasp, yet highly customizable; making it perfect for quantitative and qualitative reporting, data analytics, and collaborative research across universities. Assured pricing for contracts up to 5 years, no additional cost for advanced features, and educational discount for audience projects are just a few of the advantages of using QuestionPro at your institution.
QuestionPro also provides unique Academic Research Services that helps students doing their dissertation collaborate with researchers and research experts from around the world.
We trust that UCOP and QuestionPro will have a fruitful and long term relationship!
Learn more about academic surveys here
Learn more about academic research services for students here