Our QuestionPro team has been hard at work, putting together a great new editing experience for our platform users. We are creating a clear and seamless edit survey experience where users can easily and quickly build smart surveys to get the insights needed.
We know that any tool needs to be more than just powerful, it needs to be intuitive and fun to use as well. That's why we have reviewed the newest best practices and up-to-date style guides to give you a new, modern tool that you'll look forward to using!
Clearer Text and Layout
Modern and Easy-to-Read Font
This one may sound like a minor detail, but we know that this 'minor detail' can make a huge difference for both the researchers and respondents. Our first improvement to note is that we are upgrading the font and text styling to make the overall platform easier to read. The new style gives the edit survey experience a fresh new look and feel, while also reducing the clutter that comes with heavy and bulky text. You can see the difference right away in the before and after images below.
Simplified Background and Question Flow
In addition, we are also working to reduce the amount of "noise" within the layout by changing the background to a clean, smooth grey. This change will help users focus on the task at hand: adding and editing your survey questions.
Similar to background update, we are also updating the frames around each question. With lighter borders, a clearer distinction can be made between each question, as well as a more natural flow within the editing page.
Before

After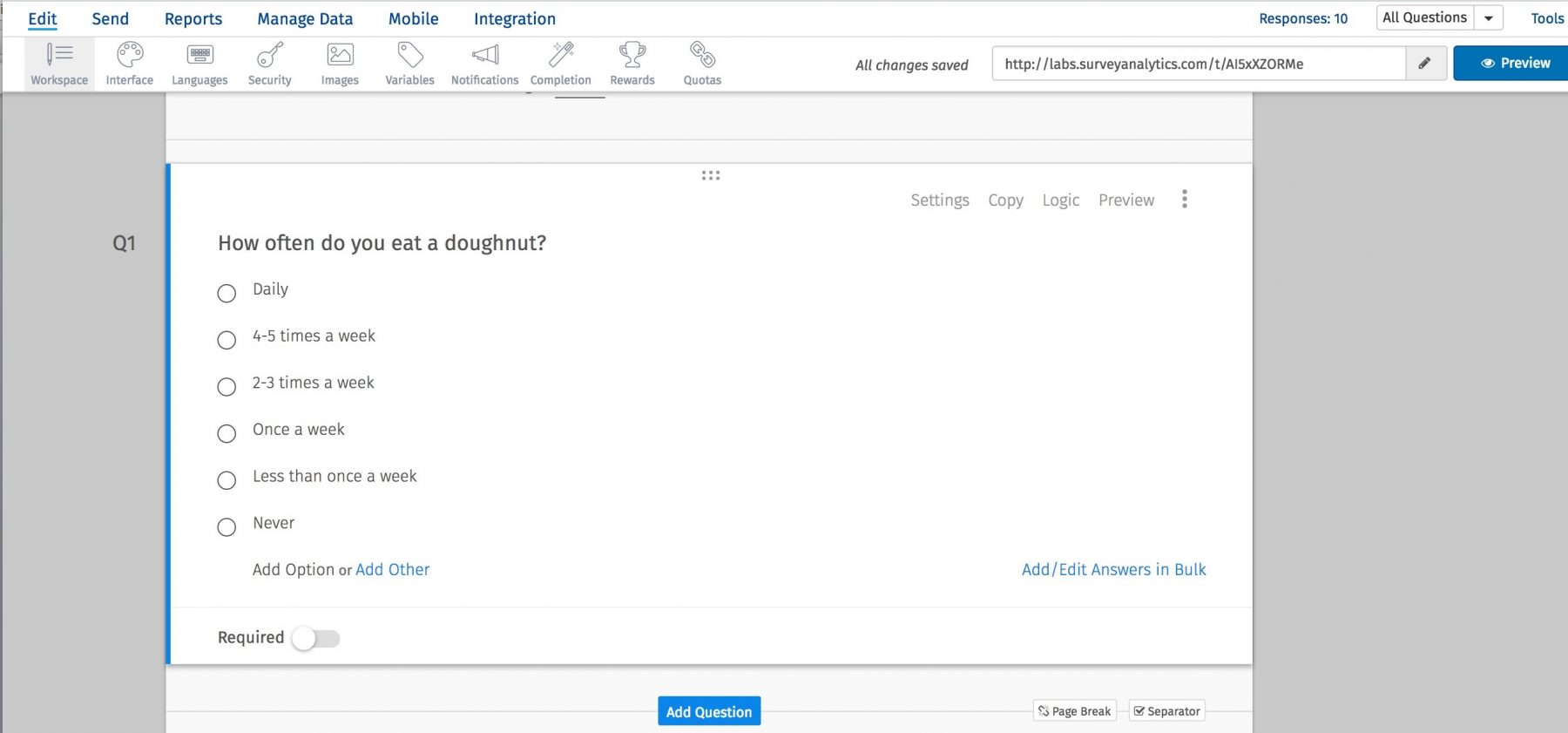 Intuitive Editing
In-Answer/Question Editing
With a more intuitive editing experience, you will now be able to edit your questions and answer options directly in the survey. Gone are the days of the "Edit Window"!  Once the UI updates are live, your chances in the platform will appear in real-time, creating a faster and more precise survey editing experience.
Bulk Edits
Imagine that your survey contains four questions asking about how often you partake in different activities. The answers for each of these questions are all identical:
4+ times per day

1 time per day

2-4 times per week

1 time per week
However, you decide that instead of one time per week, you want the last option to be 2-4 times per month. Rather than editing each question's answer individually, our new Bulk Edits update will cut down on both time and energy. This means you can edit all of the answers for any multi-choice question–including images–in one go!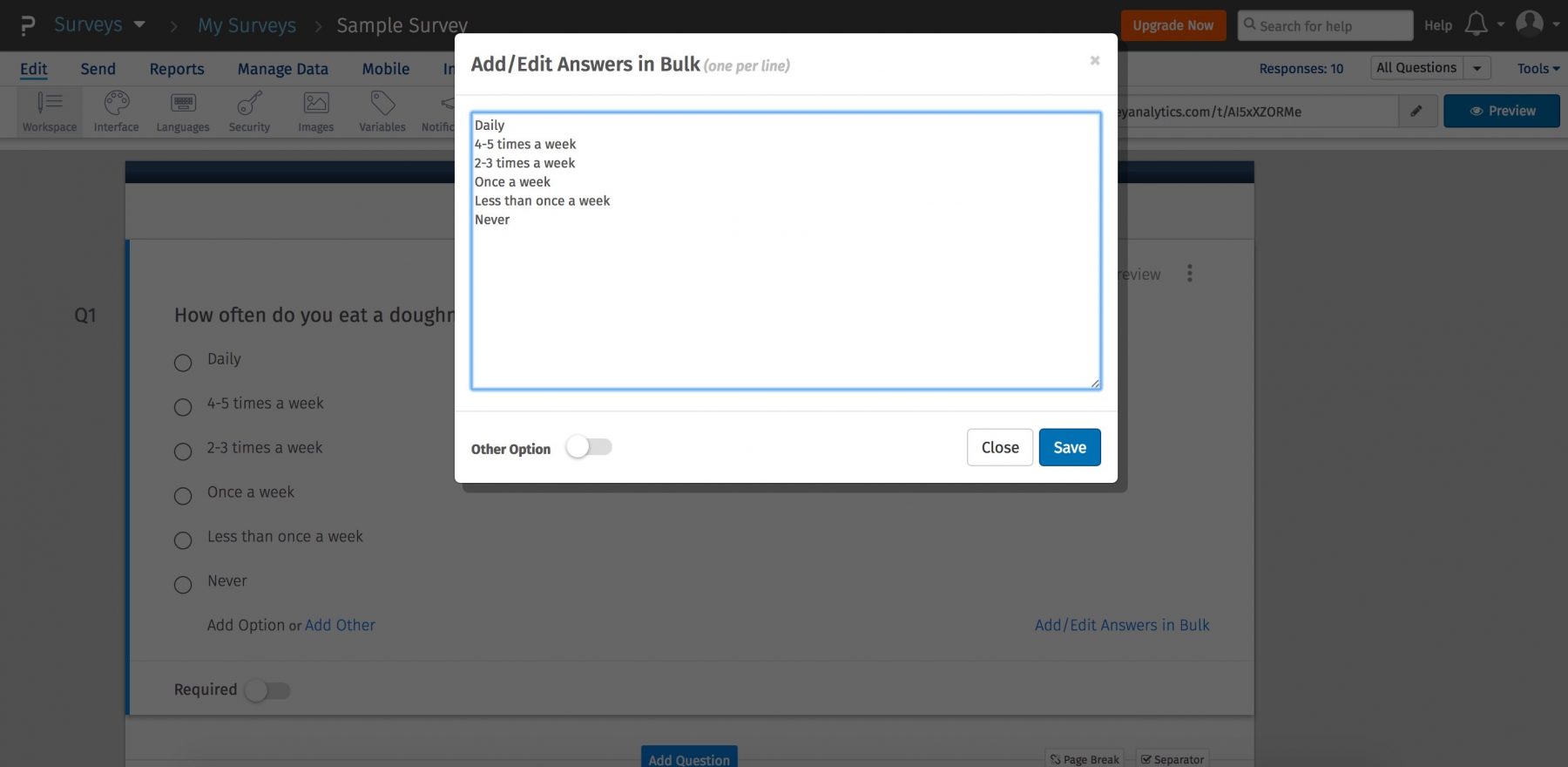 Logic All in One Place
We know that adding logic to a survey is the bread and butter of a successful survey, which is exactly why we have developed an unrivaled amount of depth behind our logic capabilities. To top things off, the upcoming UI update will consolidate all of the logic options for each question type into one simple drop-down menu within the question's edit navigation bar. Now, everything can be done from just one location—insert anything from branching and skip logic to the recommendation engine logic.
Mobile-Optimized
Responsive Design
We know that the world is moving to mobile. Nowadays, you can do just about anything from your phone, from ordering new shoes to video-conferencing across all 7 continents. And we are optimizing our survey platform with exactly that in mind—so that you can create and edit your surveys on-the-go! You will no longer have to wait to get back to your desk or pull out your laptop to get the insights you need.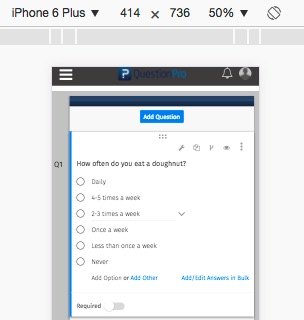 Later this month, make sure to keep an eye out! We will be giving users an exciting sneak preview within the platform of the new changes before the updates go live. As we continue our revamp of the QuestionPro platform over the next few months, you will be the first to know what's coming up—stay tuned!
For more detail on the thought behind the new User Interface design, check out our recent blog by QuestionPro's expert UI Designer, Nick.