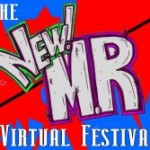 The following is a re-print of an announcement from our new editor of Research Access
By the time the Festival of NewMR reaches its tenth anniversary, the novelty of online-only conferences may have worn off.  But it hasn't yet.
Such online-only events are increasingly becoming part of the market research thought leadership scene, with entries in the past year from the American Marketing Association (AMA) and Market Research Global Alliance (MRGA).
While online-only conferences lack the appeal of traditional face-to-face interaction, they offer the advantage of allowing researchers who cannot travel to attend conferences the opportunity to participate, both as presenters and participants.  Online conferences open up the conversation beyond the "usual suspects" who attend multiple research conferences each year.
In year two of the Festival, last year's organizer, Ray Poynter, who recently accepted the position of Managing Director UK with Vision Critical, has been elevated to Festival Chair, while last year's deputy, Sue York, serves as this year's Festival Organizer.
This year's event is more even more ambitious than last year's inaugural event.  The conference has activities all week from October 31st through November 4th.
The meat of the Festival is the so-called "Main Stage," a twenty-three-hour marathon on Thursday, November 3rd.  Other activities include a Young Researcher Competition, a Training Day, and anInsight Innovation Competition.
This year's Main Stage is comprised of seven consecutive sessions, spaced at three-and-one-half hour intervals.   A single registration is required for attendance at as many Main Stage sessions as desired.  The presentations chosen for the Main Stage were selected by online vote.
See below for the full November 3rd Main Stage program.
Poynter will be speaking to kick off Session 3 of the Main Stage at 7:30 a.m. Greenwich Mean Time on Thursday, November 3rd.  His topic is "NewMR, a View of the Next Two Years."
NewMR previously used Ning as its website technology of choice, but this year they have switched to WordPress, which does not require users to register for membership.  The Main Stage program is being delivered via GoToMeeting technology.   
Principal sponsors of the Festival of NewMR include Survey Analytics (Silver), GreenBook Blog(Media), ESOMAR (Bronze), ASMRS (Bronze) and Q Analysis Software (Bronze).  If you are a "member, supporter, customer, or fan" of a Festival sponsor, you can attend the Main Stage at half price.  Sponsors also are contributing to an innovative e-Exhibition page on the NewMR site.
We hope to see you at the Festival of NewMR!
FESTIVAL OF NEWMR
Main Stage Schedule
Thursday, November 3, 2011
Session 1 – 00:00-02:00 (GMT)
Jeffrey Henning, Affinnova
Crowd-Shaped Surveys: Adapting the Experience Based on Prior Respondents
Annie Pettit, Research Now
On Social Media Research
Alastair Gordon, Gordon & McCallum
Surveys Without Scales – NewMR and Facial Imaging
Victoria Gamble, WorkINProgress Qualitative Research
Taking Qualitative Online: What I wished I'd known before I started
Session 2 – 03:30-05:30 (GMT)
Mike Sherman and Neil Gains, SingTel and Tapestry Works
Less is More: Getting Value (Not Just Reams of Data) From Your Research
Sue Bell, Susan Bell Research
How to use discourse analysis in market research
Christine Walker, Alliance Strategic Research
2011 What a Disaster!
Jess Whittaker and Steve Nuttall, Buzz Numbers and Colmar Brunton
Are social media and research meant to be together?
Session 3 – 07:30-09:00 (GMT)
Ray Poynter    
NewMR, a view of the next two years        Vision Critical
John Griffiths, Spring Research
It takes two baby!
David Penn, Conquest Research
Neuromania and why we need to re-humanise research
Session 4 – 10:30-12:30 (GMT)
Mark Earls, Author of HERD
Less is more: how pattern spotting can save us from ourselves
John Kearon, BrainJuicer
Let's Get Emotional About Advertising; Evidence from the frontiers of behavioural economics about how ads really work
Rosie Campbell, Campbell Keegan
Case of the Dead Cat:  Curiosity not to Blame
Ian Ralph, Marketing Sciences
The Rise of the Digital Shopper: New ways to shop require new ways to research

Session 5 – 14:00-16:00 (GMT)
Robert Kozinets, Author of Netnography
Anthropology Goes Online: Why Cultural Insights Still Matter
Diane Hessan, Communispace       
Online Communities: Mistakes, Misuses and Challenges
Paul Child, Join the Dots         
Life outside the ivory tower
Felix Koch, Promise Communities
What next? 5 predictions about the future of online co-creation
Session 6 – 17:30-19:30 (GMT)
Finn Raben, ESOMAR
Update on Privacy and Ethics
Bernie Malinoff, element54
The Road to Survey Extinction
Jon Puleston, GMI
The ideas that are transforming market research
Ross McLean, Egg Strategy
Digital Ethnography – Revealing Human Truths through Smartphones
Session 7 – 21:00-23:00 (GMT)
Reg Baker, Market Strategies
Survey Gamification: Old Wine in New Bottles?
Steve Rappaport, ARF
Listening as Foresight: Detecting Emergent Consumer Trends
Leslie Townsend, Kinesis Survey Technologies
2016: A Market Research Odyssey
Leigh Caldwell, Inon
Behavioural economics – new new or new old?
About Dana Stanley – Dana is the Editor-in-Chief of Research Access.