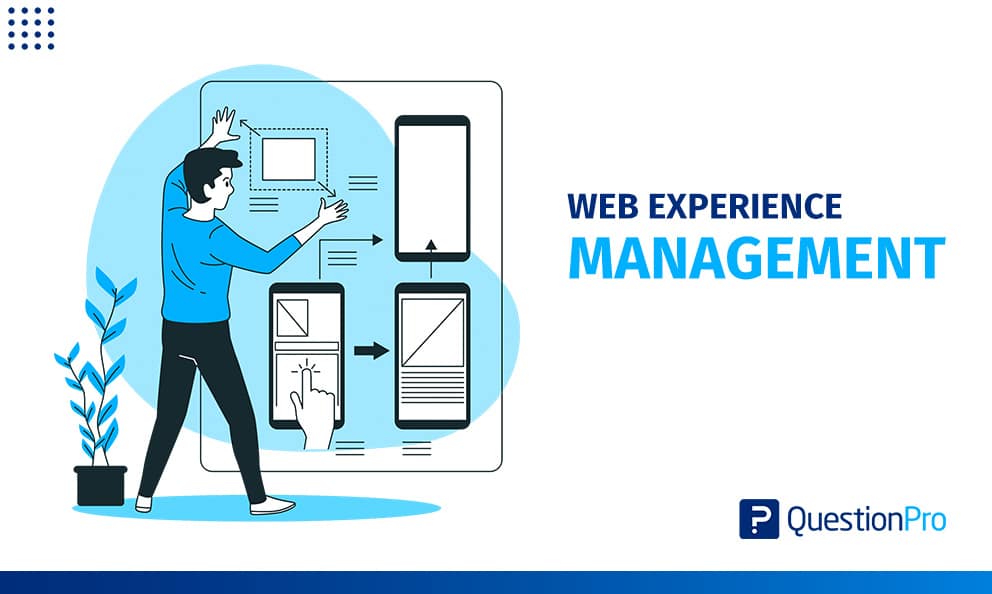 Today we're charing these perfect 30 questions about usability, user experience, and the content of your website for better Web Experience Management.
You should ask these 30 questions to improve your website visitors' content and user experience—best practice tips for your web experience management.
LEARN ABOUT: User Experience Research
What is web experience management?
Web experience management is the management of the sum of all experiences that website visitors have had with a website, for example, concerning the quality of the content, the findability of information, user-friendliness, design, the ordering process, or the performance of the website in terms of speed and availability.
Particularly in many small and medium-sized enterprises, the topic of web experience is still often neglected. Yet today, there are effortless methods to find out how one's web offer affects visitors.
Nowadays, tools such as "Google Analytics" are used very often and with great pleasure, which analyses, for example, dwell time, abandonment rates, lead conversion, entry and exit pages, etc., which allows plenty of conclusions to be drawn about visitor behavior. However, these "cold" data only show you what is good and what is not, but these analyses do not answer " why " questions.
Why is web experience management important for UX?
You can only find out why something works well or not if you collect data on the user-friendliness of your website and ask your web visitors directly as part of web experience management. And the best way to do this is directly on your website. QuestionPro offers a wide range of options for this, such as so-called online intercept or exit surveys as well as feedback tabs.
You can also insert micro-questionnaires into the source code at the end of each page using code snippets so that your visitors are spared the often less popular pop-up or layer surveys. We will be happy to show you exactly how this works in a 1:1 online presentation.
We have compiled a list of 30 practical questions that companies ask their website visitors in order to obtain useful information about their own Internet presence. Coupled with the results of your web statistics tools, you have access to a rich treasure trove of data to improve your web experience!
Web experience management questions to ask
The following questions are very general and should of course be specified according to the individual requirements of your web experience management.
Questions about design
In general, did you like the design of the website?
Did you like the color scheme of the website?
Was it easy for you to distinguish links from the regular text?
Did you find the images on the website useful?
Are the individual design elements clearly arranged and structured?
Did the website look good in your browser?
Did you quickly find the information you were looking for?
Was the size of the navigation elements appropriate?
How satisfied are you with the results of the internal search?
Have you noticed any links that don't work?
Questions about the payment method
Have you always felt that your payment details are secure on our website?
Does the website accept major payment cards?
Was the payment process smooth and quick?
Is there anything that you would improve on our payment process (open-ended free text question)?
How do you rate the entire payment process on a scale from 1-10?
Questions about performance and availability
Do you think that our website loads individual pages quickly and smoothly?
Do you think our website loads images and other graphic elements quickly and smoothly?
On a scale of 1-10, how would you rate the speed of our website?
Were there any failures or error messages during your visit to our website?
Questions about the mobile website
How was the experience with our website on your smartphone?
Were you able to use all the necessary functions on our mobile website that you are used to from our desktop version?
Did you find the font size legible?
Does the mobile version of our website load individual pages quickly and smoothly?
In your opinion, what can we improve on the mobile version of our website (open-ended free text question)?
General questions
What do you like best about our website (open-ended free text question)?
What would you improve on our website (open-ended free text question)?
How often do you visit our website?
On a scale of 1-10, how likely are you to recommend our website to your friends or family?
Do you have any suggestions or comments (open free text question)?
Combine survey data with QuestionPro's web analytics meta-data
When you survey your website visitors with QuestionPro as part of your web experience management, in addition to the direct feedback from the questionnaires or from the exit or intercept surveys, you also gain additional so-called metadata. This is data such as the browser used, the operating system, and the end device used with which the survey was conducted.
You also receive the timestamp and the browser language that was set. This gives you the opportunity to combine this meta-data with the user feedback and draw deeper conclusions, for example, that the ratings were more negative than average when using a certain browser. You can then derive specific actions from the data obtained.
Try the Web Experience Management software now for free
Do you have any questions about web experience? Simply contact us using the contact form. We look forward to speaking with you! Or book a demo for Web Experience Management now for free. No credit card required.