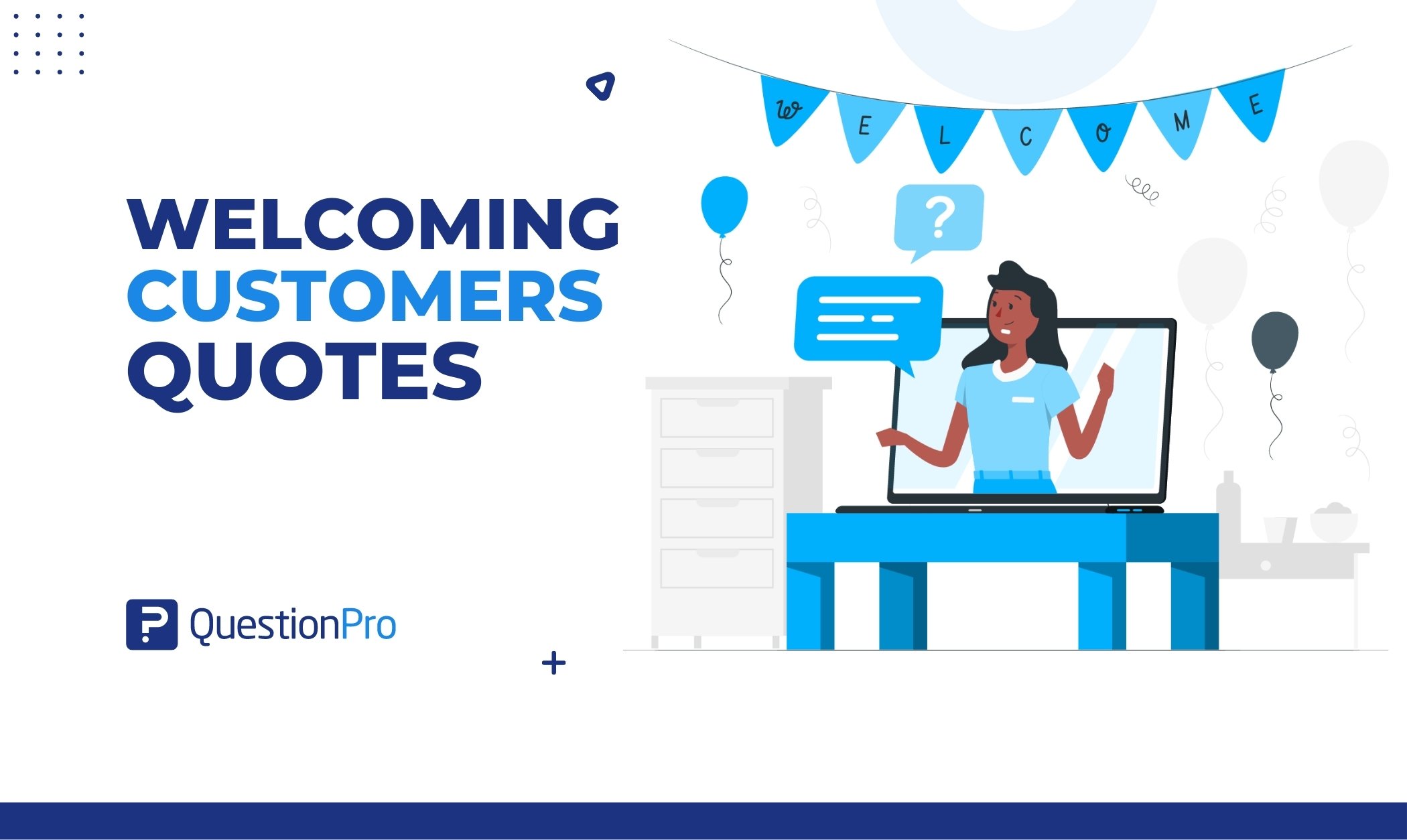 As a business owner, it's important to make your customers feel comfortable and welcome if you want to build a loyal customer group. And what better way to set the tone than with some inspirational welcoming customer quotes?
Whether you're just starting or want to improve your customer service, using welcoming quotes for customers can make a big difference in your relationships. These words show your customers that you care and can help you build a good relationship with them that will last for years.
So, let's get started and look at the ten phrases about welcoming customers that will help you connect with them on a deeper level.
What is "Welcoming Customers Quotes"?
"Welcoming Customers Quotes" are phrases or sayings used to create a warm and inviting environment for customers.
Business owners, employees, and customer service teams can use these quotes in retail stores, restaurants, hotels, and other customer-facing companies. The goal of using quotes to welcome customers is to make them feel loved, valued, and at ease while doing business with your company.
The Importance of Welcoming Customers Quotes
Welcoming Customers Quotes are important to providing excellent customer service because they create a happy and welcoming atmosphere. Here are some of the most important reasons why these words matter:
A welcoming quote sets the tone for the entire customer experience. It's the first impression customers have of your business and can significantly impact their overall perception of your brand.
You may also check out this guide to learn how to build your own Customer Journey Map.
A warm welcome creates an emotional connection with customers. It can make people feel more at ease and comfortable, which can lead to improved customer satisfaction and loyalty.
Improves Customer Service
Welcoming customers quotes show how much your company values and is committed to delivering outstanding customer service. Setting a positive tone in the workplace may open the way for positive experiences between employees and customers.
Customers who feel welcomed and appreciated are more likely to return. Welcoming quotes help to develop good relationships with customers, foster loyalty, and increase the likelihood of customer retention.
Differentiates Your Business
Using welcome quotes differentiates your business from the competition in a competitive market. It shows that you value customer service and go above and above to provide a memorable experience. This may result in new customers and encourage customers to return.
When customers enjoy a pleasant, welcoming experience, they are more likely to share it with others. Welcoming phrases can promote positive word-of-mouth promotion, which is a great marketing technique for attracting new customers.
Tips to Create Welcoming Customers Quotes
To make or write welcoming customers quotes, you must be creative, have empathy, and know your readers well. Here are some steps to help you write powerful quotes for welcoming new customers:
Learn about your customers' demographics, tastes, and values. Consider what resonates with them and what would make them feel welcomed and respected.
Match the tone and personality of your brand with your quotes. Maintaining brand integrity requires consistency in all professional, informal, playful, or refined settings.
Welcoming quotes should be short, memorable, and impactful. Aim for simplicity and clarity, and use brief phrasing to convey your point effectively.
Use positive and inclusive language
Choose words that convey positivity, kindness, and inclusiveness. Avoid using potentially controversial or exclusive language that may turn off certain customers.
Incorporate personalization
Make your quotes relevant to your industry or business. Consider including features that tie customers to your brand, whether it's a local reference, industry-specific jargon, or a unique aspect of your company's identity.
Focus on quotes that inspire and uplift your customers. Choose phrases that convey appreciation, gratitude, and a genuine desire to serve them well.
Experiment with various quotes and measure customer reaction. Pay attention to customer feedback and modify your quotes as needed. Refine and improve your welcoming customers quotes based on what resonates best with your target audience.
Learn more about why understanding your Customer Journey transforms your CX program.
Crafting Welcoming Customers Quotes: What Not to Do
When it comes to welcoming consumers, the appropriate approach may make or break the experience. When creating welcoming customers quotes, here are a few traps to avoid:
Avoid generic approaches. Unpersonalized quotes might make clients feel like numbers.
Don't over-promise. It may create unrealistic expectations that can lead to disappointment.
Avoid impersonal quotes. It can create a cold and distant impression. Instead, add warmth, friendliness, and personal touches to your quotes to connect with customers.
Don't rush the onboarding process. It can lead to missing critical details or customer inquiries.
Don't neglect follow-up communication. It may seem that their needs are no longer important.
Don't assume. It can cause misunderstandings and a lack of personalization.
Don't ignore customer Feedback. It can miss improvement possibilities.
10 Welcoming Customers Quotes to serve customers correctly
Keep in mind that these phrases are just ideas and that every customer is different and has different needs, so be sure to add a personal touch as well.
Here are examples of 10 quotes about welcoming customers that you can use:
"Welcome aboard! We're thrilled to have you as our newest customer. Get ready for a seamless onboarding experience that sets the foundation for a successful partnership."
This quote is suitable for welcoming new customers to your business or service. It establishes the tone for a pleasant onboarding experience and underlines the company's dedication to its success.
"Step into a world of possibilities as our valued customer. We're here to guide you through onboarding and ensure a smooth transition into our products and services."
You can use this quote to introduce new customers to your products or services. It conveys the purpose of guiding them through their onboarding experience and ensuring a smooth transition.
"Thank you for choosing us as your trusted partner. We're committed to understanding your unique needs and delivering tailored solutions that help you achieve your goals."
This phrase is perfect for thanking new customers for choosing your company. It emphasizes the commitment to understanding their individual needs and providing customized solutions.
"Welcome to our customer community! We're excited to embark on this journey together and provide you with the support you need to thrive in your business."
You can use this quote to make new customers feel like they are a member of a community. It highlights collaboration and the dedication to supporting their company's success.
"You're not just a customer; you're part of our family. We're dedicated to building a strong relationship and delivering exceptional service that exceeds your expectations."
This quote is ideal for developing a sense of community in new customers. It expresses the intention to establish a solid relationship while providing great service that exceeds their expectations.
"Enter a world of personalized attention and care. Our onboarding team is here to walk you through the process, answer your questions, and ensure a seamless start."
Use this quote to explain the role of your introducing team. It tells new customers that they will receive individualized attention and help throughout the process of getting started.
"Thank you for entrusting us with your business. We're committed to your success and will work tirelessly to meet your needs, address any concerns, and provide ongoing support."
This quote is suitable for expressing gratitude and focusing on the dedication to the success of new customers. It gives them confidence that their needs and concerns will be addressed quickly and effectively.
"Welcome to a collaborative partnership. We'll navigate your onboarding journey together, leveraging our expertise to ensure a smooth and impactful experience."
You can use this quote to highlight the collaborative nature of the introduction process. It emphasizes your team's expertise and intent to collaborate for a successful outcome.
"You're in good hands! Our onboarding specialists are here to listen, guide, and empower you as you get acquainted with our products and services."
This quote is suitable for assuring new clients that they are in proper hands. It indicates that dedicated onboarding specialists are available to provide guidance and support.
"Thank you for choosing us as your trusted ally. We're excited to serve you and make your onboarding process efficient, enjoyable, and rewarding."
You can use this quote to express appreciation for the new customers' trust and confidence. It ensures they receive ongoing support and a positive activation experience.
How Can QuestionPro CX Help to Create Welcoming Customers Quotes to Serve Customers Correctly?
Customer experience tool QuestionPro CX can help significantly in making welcoming customers quotes by providing useful insights and data. Here's how QuestionPro CX can directly help:
Gathering Customer Feedback
You can collect customer feedback using QuestionPro CX via surveys, polls, and other engaging methods. This data will help you understand customers' requirements and expectations and produce more relevant and unique welcoming quotes.
Analyzing Sentiment and Emotions
QuestionPro CX evaluates customer feedback to discover their emotional tone. This will help you evaluate how satisfied customers are. Understanding their emotions will help you write inviting comments that address their issues, celebrate their triumphs, and establish empathy.
QuestionPro CX uses powerful analytics and text analysis to identify customer feedback themes, patterns, and pain points. This information will help you discover areas where customers may feel welcomed or have problems. Addressing these pain points in your quotes shows your proactive customer care and commitment to enhancing their experience.
Segmenting and Personalizing Communication
QuestionPro CX lets you segment customers by attributes and feedback. This segmentation will let you customize greetings for different groups of customers. Customizing your quotes to individual consumer segments will make customers feel understood and valued.
The importance of welcoming customers quotes for providing pleasant customer experiences cannot be underestimated. Creating these quotes is a critical component of delivering a memorable customer experience. It establishes the tone for the entire customer engagement and can potentially build or break a customer's impression of your brand.
Using QuestionPro CX, you can learn a lot about your customers' needs and preferences. Using the insights, you can improve your welcome quotes and make customers feel more involved, which will make them more loyal and likely to buy from you again.
Sign up for a free trial of QuestionPro CX today to see the difference for yourself!