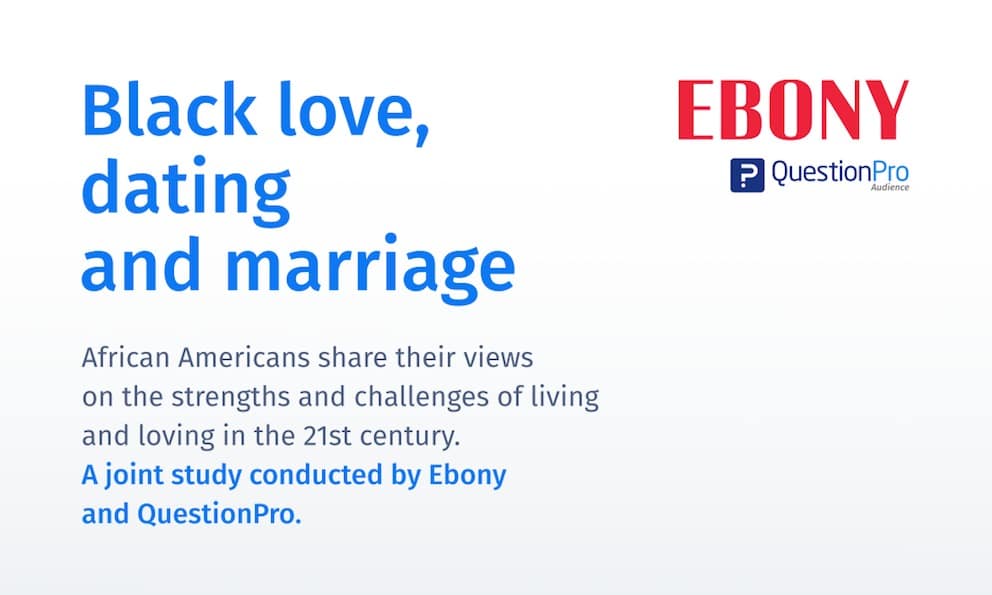 Valentine's Day came and went like a SpaceX Cupid's arrow. Romance was in the air that day, but what about the rest of the year when it comes to Black women? What are their attitudes toward love, dating, and marriage in general?
The answers to these questions and others can be found in a recent EBONY/QuestionPro study.
Seven hundred participants completed the survey in February 2019. Nearly 350 were female and a plurality (79 percent) self-identified as Black/African-American. The respondents represented a diversity of educational and financial backgrounds. Almost half of them have never been married; 34 percent are currently married; and the remaining percentages are either divorced, widowed or separated.
Here is the current status of the unmarried Black women respondents:
Looking but not dating: 40 percent

In a committed relationship but living apart: 25 percent

Not looking right now: 16 percent

Living with someone: 9 percent

Dating but not exclusively: 9 percent
With these statistics in mind, let's see what Black women today want (information that many men might pay handsomely for).
Where do Black women meet the right guy?
Even in these digital days, physical word of mouth and networking are still where it's at when it comes to meeting Mr. Right. According to the study, the best ways to meet men is through friends (25 percent). Next comes social clubs and places of worship (churches/mosques), both at 12 percent.
As far as the online domains, 11 percent of respondents say they find potential mates via dating sites/social media.
Perhaps surprisingly, 10 percent find dating partners at work considering we're deep into the #metoo era, with all its fallout and warnings. In fact, for those already in relationships, when asked how they met their current companions, 14 percent say at their workplaces.
Sorry, guys, but the old standby of the bar fared poorly with the ladies; only 8 percent of respondents claim it was a suitable place to meet a partner. And family introductions don't do that well, either (9 percent).
Perhaps bolstering the "high school/college sweetheart" or "young love" tropes, 16 percent say they met their current partners in school (the place with the highest percentage).
How long before getting intimate and serious?
Many men would surely like to know when she wants to take that first but huge step. Forget about the classic "three-date rule"; only 3 percent of women say it is okay to engage in sex within the two-to-three date range, and fewer than 1 percent say sex on the first date is OK.
An open mind seems to be the law for women when dating. Just under half (47 percent) of respondents state that there is no fast rule regarding having sex and the length of dating time. Only 16 percent claim they would hold out until marriage, although more than one-third of respondents say making love is acceptable once they know a relationship has reached the "exclusive" zone.
With all that in mind, 60 percent of respondents agree or strongly agree it is fine to date without wanting a serious commitment.
Black women and interracial relationships
It's good to see Spike Lee finally winning an Oscar, and it's good to remember his explorative film Jungle Fever (which also helped catapult the careers of Wesley Snipes and Samuel L. Jackson). Have things changed since Lee's 1991 understanding of what happens in interracial relationships? According to the study, there's still a "mixed" message when it comes to Black women dating other races.
If there is a preference for marrying men of another race, it would be those of Hispanic descent, according to the study, with a strong 39 percent of respondents agreeing/strongly agreeing and only 26 percent disagreeing or strongly disagreeing. In second place are White men, with 28 percent of respondents agreeing/strongly agreeing with that preference and 42 percent disagreeing/strongly disagreeing. At the bottom of the list of preferences for Black women's marriage partners is Asian men, with a mere 21 percent agreeing/strongly agreeing and 46 percent disagreeing/strongly disagreeing.
A majority of participants (71 percent) claim they are not attracted to lighter-skinned men—and that percentage will probably never change as long as Idris Elba is alive.
Of course, it's a common belief that staying within one's culture leads to smoother relationships. That applies to race, but what about marrying outside of one's religion? African-American women's views were more spread out when asked if they would settle down with someone outside their faith:
Neutral: 32 percent

Agree: 24 percent

Disagree: 18 percent

Strongly disagree: 18 percent

Strongly agree: 6 percent
Most participants hold neutral views about their men drinking alcohol and using marijuana, but there is an extremely negative reaction to cocaine. For the most part, women have no main "dealmakers" besides wanting a man with good income.
In relation to LGBTQ relationships
As Black women's relationships evolve, so do their views on LGBTQ issues, which may not be as liberal as those of many other groups in the nation. Thirty-eight percent of female respondents approve of same-sex marriage, and 30 percent are against it. The rest are noncommittal or agnostic on the issue. By contrast, 64 percent of all Americans support same-sex marriage, 34 percent oppose it, and 2 percent have no opinion, according to statistics reported by Gallup in 2017.
Two-thirds of our female respondents say they have never used the derogatory term "faggot." Also, 72 percent say a celebrity coming out as gay would not negatively impact their views.
When it comes to an individual being born gay, 45 percent of participants agree/strongly agree, but 32 percent think it is a choice.
Can a gay person become straight? Forty-percent of Black women agree or strongly agree this is the case, and 30 percent disagree or strongly disagree. As far as trans people having a choice, 37 percent either agree or strongly agree, with 27 percent either disagreeing or strongly disagreeing.
Despite these views, 67 percent of respondents claim finding out a friend is gay would have no impact on their friendship.
In all polling, the lower the income, the more conservative the attitude of African-American women. Not surprisingly, millennials, overall, are far more liberal in their views on LGBTQ relationships.
Are African-American women hopeful?
With regard to finding a suitable mate, Black women are generally tepid, the study reveals. Fifty-one percent of respondents state they are somewhat optimistic, and 26 percent say they're not optimistic at all. On the other hand, 35 percent of respondents claim they were either optimistic or very optimistic.
Men, you've got some work to do, even if 33 percent of women strongly feel they will eventually tie the proverbial knot, and 35 percent say marriage is important to them. Twenty-five percent of participants, however, say they often feel very lonely.
If there's any consolation, being lonely on Valentine's Day can only happen once a year, but finding a soulmate can happen at any moment.
About EBONY/QuestionPro Poll?
A monthly syndicated survey, in partnership with EBONY and QuestionPro, to measure attitudes about contemporary topics affecting African-Americans. The results are published in the form of blogs, articles, ebooks and infographics. To download the latest infographic, click HERE. To be part of the Ebony research study, please sign up now.