"I need to feel excited about the company's vision and direction"
"Does my supervisor care about my career?"
In 2004, Microsoft head honcho Steve Ballmer want to $1B in "Cuts" – he famously said, "Even the Free Soda Policy" is under review. I was in Seattle at the time, and although I never worked for Microsoft – anyone in tech in Seattle was affected by Microsoft culture and politics and endless conversations about how to make it to "Level 68." Every social event I went to – there was an endless discussion of "Towels Gate" — as part of the cuts, Microsoft decided to eliminate a free laundered towel service for employees who took showers at the campus – either after biking to work or after playing hoops in the campus.
The entire city of Seattle was abuzz with activity and Seattle PI and every media covering tech, and even local media covered this story with great fanfare. Almost 90% of all the employees hated this idea. This became a rallying cry for something that the employees felt deeply about – Microsoft had lost its "edge" — everyone knew that. Google was on a tear dominating the internet and search and there were a multitude of Internet-based companies creating excitement from eBay, Paypal to Amazon – whereas Microsoft was still making a cash on legacy products like Office and Vista.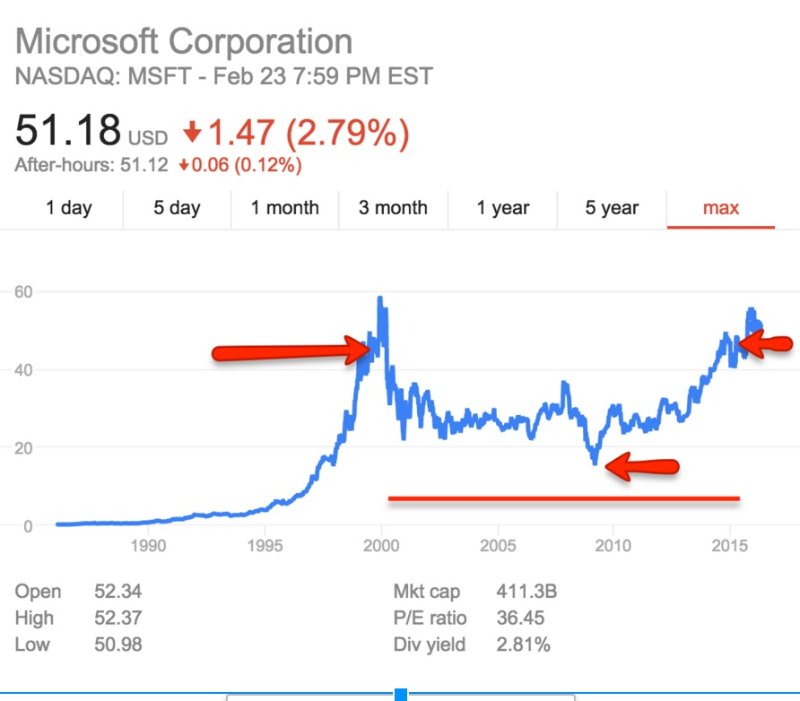 Here is another interesting fact – between 2000 and 2004 Microsoft stock price fell from about $40-$50 a share to almost $20. I was in Seattle throughout the decade and a vast majority of my friends who worked there all had stock options that were under the water. In fact, if anyone worked at Microsoft between 2000 and 2010 – they almost made nothing in stock options. Juxtapose this to all the other folks who were making bank working at Internet companies like Paypal, eBay and even Yahoo at the time.
What almost everyone missed is the direct connection between Towel Gate and the flat stock price and generally the lack of innovation coming out of Redmond. The discussions around towels and sodas missed the point- that people lost connection to the vision and the mojo and therefore started worrying about trivial things. The reality is that people didn't care about the towels, the issue was with Steve Ballmer's vision: there were no new products coming out that mattered, or anyone could really support
This brings to my first point – Employees need to feel excited about the company's vision. Towels, Free Soda and all the other perks – don't really matter if people are excited about the company, vision and the trajectory of the company. Public companies are measured by stock price, private companies are also measured by revenue and/or usage and subscriber growth. Towels become an issue if folks are not excited about the company!
I came to this conclusion after conducting an internal Workforce Survey – Yes – we ate our own dog food and used our QuestionPro Workforce Platform to conduct the survey and then do Key Driver Analysis on what _actually_ correlates to overall satisfaction.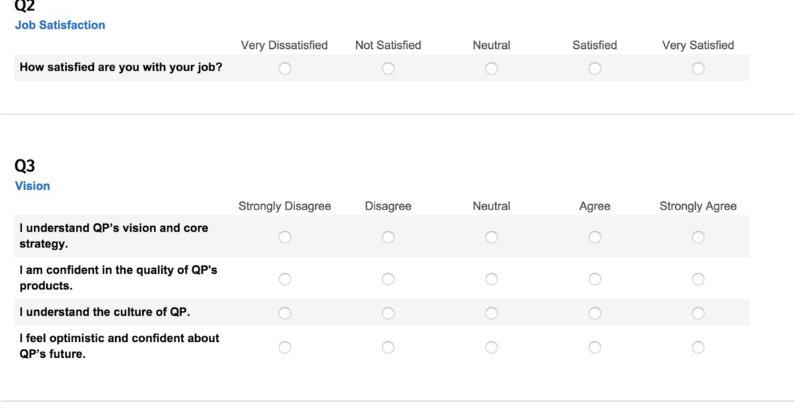 There were about 30 questions across 4 categories – and lo and behold – the key question with correlation coefficient of .5 (yes I know that the accepted standard for correlation is .6) – but none-the-less – the item that had the _highest_ correlation to overall satisfaction was "I clearly understand the vision and direction of the company"
The good thing about doing Driver Analysis is that – you can then find out all the other questions that correlate to overall happiness and satisfaction. Keep in mind that regression analysis takes into account not just positive scores, but both positive and negative scores. It effectively tells us that – any movement on these questions are correlated to the overall satisfaction question.
The second item on Driver Analysis that came up was – "Does my supervisor care about my career?"  – this also correlated to the overall satisfaction at ~.5 – the same as the Vision and Direction question. Truthfully, we actually scored pretty bad on this dimension – and the good news is that – we know this. We've been so focused _externally_ with the business – that we've not put systems and processes in place for career growth and more importantly, we've not educated ourselves that this dimension matters to all our employees.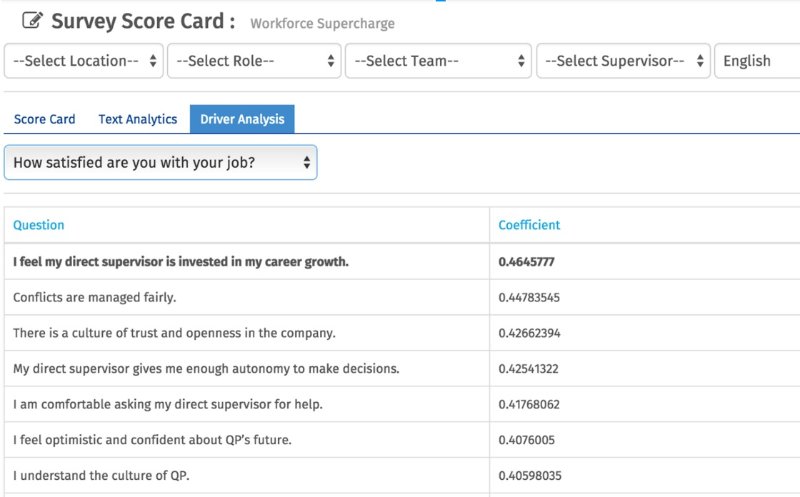 This is obvious when you look at the literature out there with all the conversations around – "people work for people first and companies second" or quotes like "people don't quit companies – they quit managers."
There you go – we now have empirical evidence – at least for our company – that the two most important items for our employees are;
Company Vision/Direction
Supervisor attention to career growth.
We now have a pulse survey that we run every week to measure if we are improving (or not) in each of those two categories!
Two Key Action Items for each of these:
I know each company is different, but here are some key action items we've instituted to address both these issues;
A weekly email from senior management – specifically from the CEO/Founder of the company to the whole company – that talks about the weekly issues and metrics and KPI's that matter. This keeps the entire company excited and focused on what the leadership is thinking.
We plan on instituting / formalizing the "Tour of Duty" concept that Reid Hoffman and his team came up with. This essentially formalizes what we've done in our company anyway. It gives employees a chance to disassociated themselves from the role. It gives both the company and the employees a focus on their career.
About QuestionPro Workforce
QuestionPro Workforce is a comprehensive workforce intelligence toolkit for forward thinking companies. It has 3 measurement components – a 360 Review Tool, a Survey framework and a Pulse Polling tool – all combined in a single platform – giving deeper insights into your workforce.
Learn more @ questionpro.com/workforce