Push metrics
Survey metrics provide valuable insights to understand the satisfaction level of a customer. Knowing what works better and what issues need immediate attention for enhanced customer satisfaction allows management to come up with a result-oriented customer satisfaction strategies.
However, the sheer number of available metrics can sometimes be overwhelming to check it manually and login to the account every time to view the dashboard. Due to the time and efforts it needs, many times, segment managers give it a pass. QuestionPro's new CX feature to schedule dashboard reports periodically is a solution to overcome this problem.
Push metrics – Share periodic survey metrics with all dashboard users.
QuestionPro introduced a new feature under "Push Metrics," that allows admins to share weekly survey dashboard reports via email. It ensures sharing the right data with all the right people that matter to the organization at the right time.
No longer the segment managers need to login to their QuestionPro CX account to view the reports. A weekly email containing an overall dashboard report is enough for people to consider and act upon the insights.
The CX dashboard reports are fully customizable, ensuring all the involved managers get an objective view of the feelings, beliefs, expectations, issues, and sentiments of the customers.
These timely dashboard reports will help management to drive decisions, make strategies, implement changes, and reach target audiences to brand their product or services.
How to activate push metrics in your CX account
Login to your QuestionPro CX account
Go to Admin >> Push Metrics
Toggle on the Schedule Report button
Click on the drop-down menu present in front of the Dashboard
You can opt for overall reports monthly trends or sentiment analysis under this tab
It is a good practice to send survey metrics for overall surveys.
Select the day on which you want the reports to go out from the drop-down list listed in front of Weekly On
Select the time frame from the drop-down menu so that the push metric can be scheduled at a specific time slot
Customize the email
Add subject line
Add your message
Hit the Save button
Hurray! You just scheduled your weekly survey metric dashboard.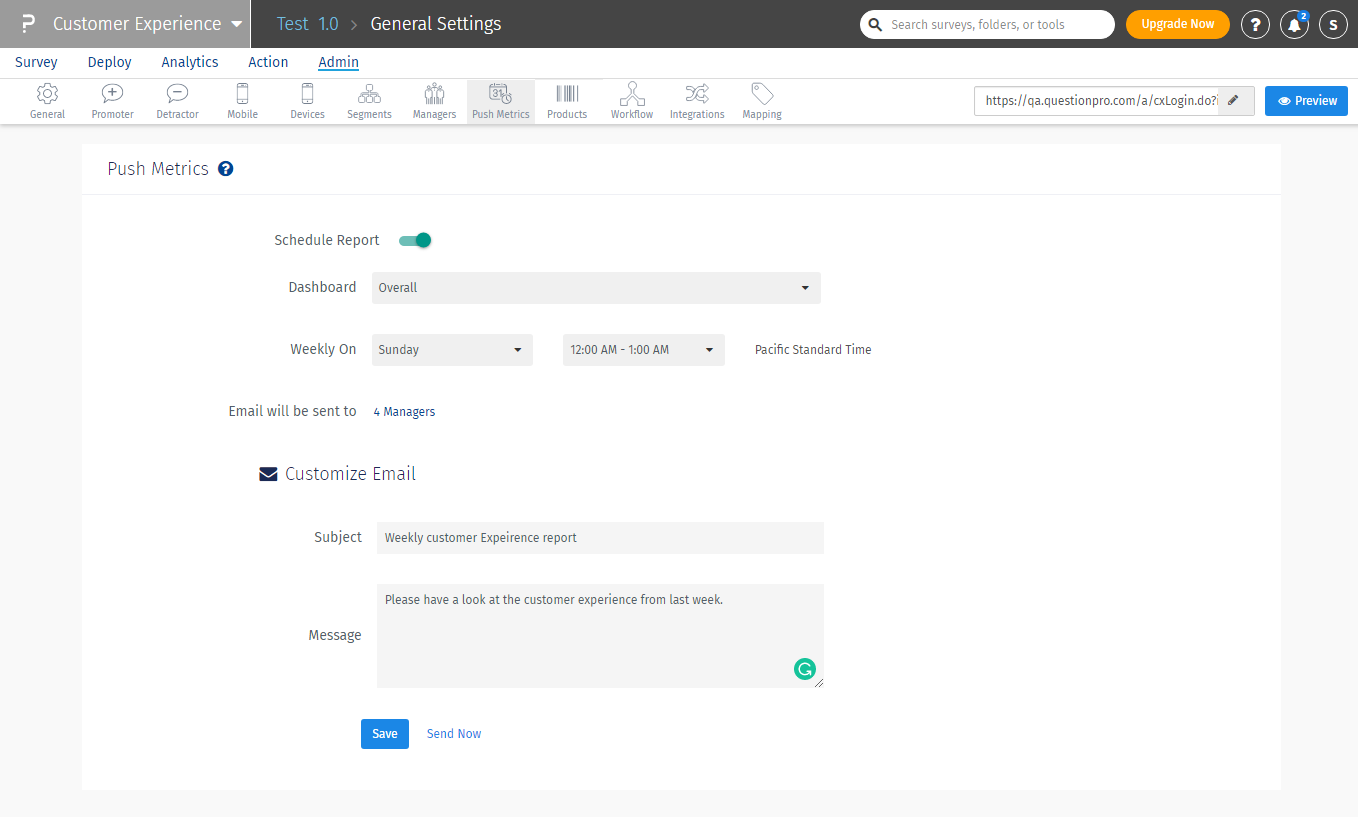 To learn more about how you can use push metrics to improve your customers' experience, check out our Push Metrics help document.