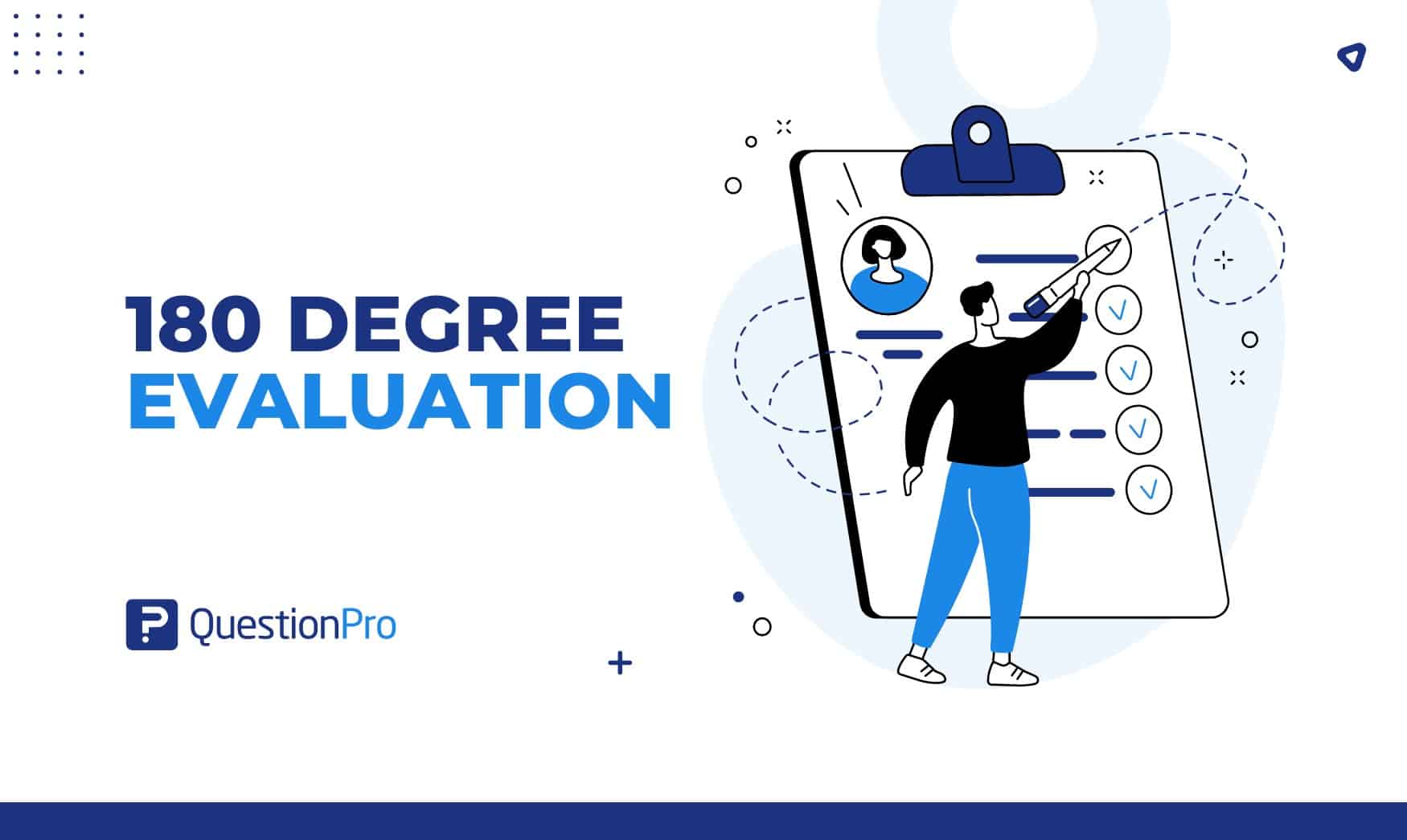 Analyzing and reviewing employee performance is an indispensable process for every organization. This can be approached through different methods, such as a 180 degree evaluation.
This system provides a more comprehensive approach to the review process that serves to improve communication, morale, and yes, measure job performance.
What is a 180 Degree Evaluation?
A 180-degree evaluation involves an employee being assessed by their manager, team members, and occasionally, clients. However, this process does not include subordinates.
It is important that the evaluators have had the opportunity to work with the person under review in order to form an opinion about their professional skills. This way, it is possible to ensure that the collected information is based on experience and has value.
Generally, in the 180-degree evaluation, the employee completes a self-assessment survey, ranking themselves and providing feedback on their perception of their job performance before the review meeting with their manager.
Main Uses Of A 180 Degree Evaluation
These are just 2 of the main uses of a 180 degree feedback:
a) Development feedback: Ideal for leaders seeking individual growth and looking for specific areas to improve their leadership skills.
b) Performance evaluations: Use 180-degree surveys to complement performance evaluations, offering a comprehensive assessment of a leader's impact on their team.
Importance of Conducting a 180 Degree Evaluation
For many companies, a 180-degree evaluation can be the most productive and constructive form of performance evaluation, as it offers a wealth of benefits for both the organization and employees alike.
A traditional performance evaluation that only considers feedback from the manager closes the dialogue between the employee and their supervisor, and this lack of open communication can seriously affect the goal of conducting performance evaluations.
On the other hand, the openness and clarity that it offers improve the chances of having an effective performance review.
Advantages of the 180 Degree Evaluation
Among the main advantages of conducting a 180-degree evaluation are the following:
With this evaluation, it is possible to identify elements that favor employee performance and work culture.
The evaluation is a continuous process that helps develop training activities for employees' professional development.
Organizations can position themselves in the industry and benefit in terms of competition and recruitment of new employees.
The use of this evaluation tool shows that the company is interested in improving employee performance and promoting professional growth.
Organizations use it to improve communication immediately.
The evaluation meeting is an opportunity to provide feedback and increase employee motivation.
When done properly, it provides the opportunity to set new goals and clarify employee responsibilities.
Through this process, organizations can identify weaknesses in employees and internal processes and then develop training programs.
It also allows you to review educational or training needs.
How to Conduct a 180 Degree Evaluation
Here, we have a guide that will help you conduct an employee evaluation using one of the most popular types of performance evaluations: the 180-degree evaluation.
Consult the company's organizational chart
The first step to conducting a 180-degree evaluation is to visualize the organizational chart of the company.
This is a visual representation of the working relationships that exist among the people that make up the organization, which will help you stay on track when evaluating the entire internal structure of the business.
Establish roles and responsibilities
The next step involves categorizing each of the existing roles and establishing their duties, responsibilities, and basic objectives. With this information, it is possible to establish which employee skills to evaluate, and it will also help you define new goals when the time comes.
Prepare the feedback process
The difficulty levels of a 180-degree evaluation largely depend on the size of the organization, as larger organizations require more time and resources to invest. Many companies use employee performance evaluation software to conduct performance reviews. This software also allows the process to be automated, making it much faster and more efficient.
These tools handle sending the corresponding evaluation forms, receiving the information, visualizing it on your dashboard, and filtering it. This means that the Human Resources department only needs to perform a data analysis based on established performance metrics.
Establish a development plan
The evaluation process does not end when we obtain the results. Essentially, this information should be used to define a personal development plan that improves detected weaknesses and leverages strengths. The goal is to optimize performance and achieve better short-term results.
We recommend having an evaluation schedule and comparing results over time. The process is generally repeated at six-month intervals to verify improvements, and setbacks, and to track whether objectives are being met.
Difference between a 180-degree evaluation and a 360-degree evaluation
In previous articles, we have talked about different employee evaluation surveys that help you effectively analyze and rate your workforce's performance. One of them is the 360-degree evaluation, which is very common but has characteristics and methods that differentiate it from the 180-degree evaluation.
Although both 180 and 360 degree surveys provide valuable information, the choice of the most appropriate one depends on the organization's objectives and the scope of the evaluation. Here's a quick comparison of the differences between a 180-degree evaluation and a 360-degree evaluation to help you decide:
Scope: 180-degree surveys focus on immediate team members, while 360-degree surveys encompass a wider range of stakeholders.
Speed: 180-degree surveys are faster to administer, while 360-degree surveys require more time due to the larger number of evaluators and follow-up.
Depth of information: 360-degree surveys provide a more comprehensive evaluation, offering information from various perspectives. A 180-degree evaluation allows the employee to compare their perception of their strengths and weaknesses with that of their manager.
Anonymity: The 360-degree evaluation is conducted anonymously, meaning the evaluated person does not know who mentioned specific comments. In contrast, with a 180-degree evaluation, employees can know who said what, which is good for clarifying priorities and expectations.
Result reports: Result reports in a 180-degree evaluation are much quicker and easier to prepare, as they involve the employee, the manager, and their colleagues. On the other hand, 360-degree evaluation involves other departments in the organization, resulting in a large amount of data to analyze.
In summary, both 180 and 360-degree surveys play a fundamental role in assessing leadership effectiveness. While 180-degree surveys provide specific and effective feedback from direct subordinates, 360-degree surveys offer a holistic assessment of diverse stakeholders.
Organizations should carefully consider their objectives and resources to choose the feedback approach that best aligns with their leadership development goals.
Conclusion
The 180 degree evaluation promotes an environment of growth and continuous improvement, facilitating informed decision-making and the development of effective strategies for long-term organizational success.
Professional development and goal-setting are facilitated through effective performance evaluation. In turn, employees who feel heard and considered tend to work harder, more motivated, and more dedicated.
At QuestionPro, we offer robust feedback survey solutions that allow organizations to make data-driven decisions and cultivate exceptional leadership. Whether you opt for the focused insights of 180-degree feedback or the comprehensive assessment of 360-degree feedback, our platform ensures smooth leadership evaluations.
Test your employees' performance with the help of QuestionPro Workforce, our employee survey platform that enables an effective process. Contact us, request a demonstration, and get all your questions answered!