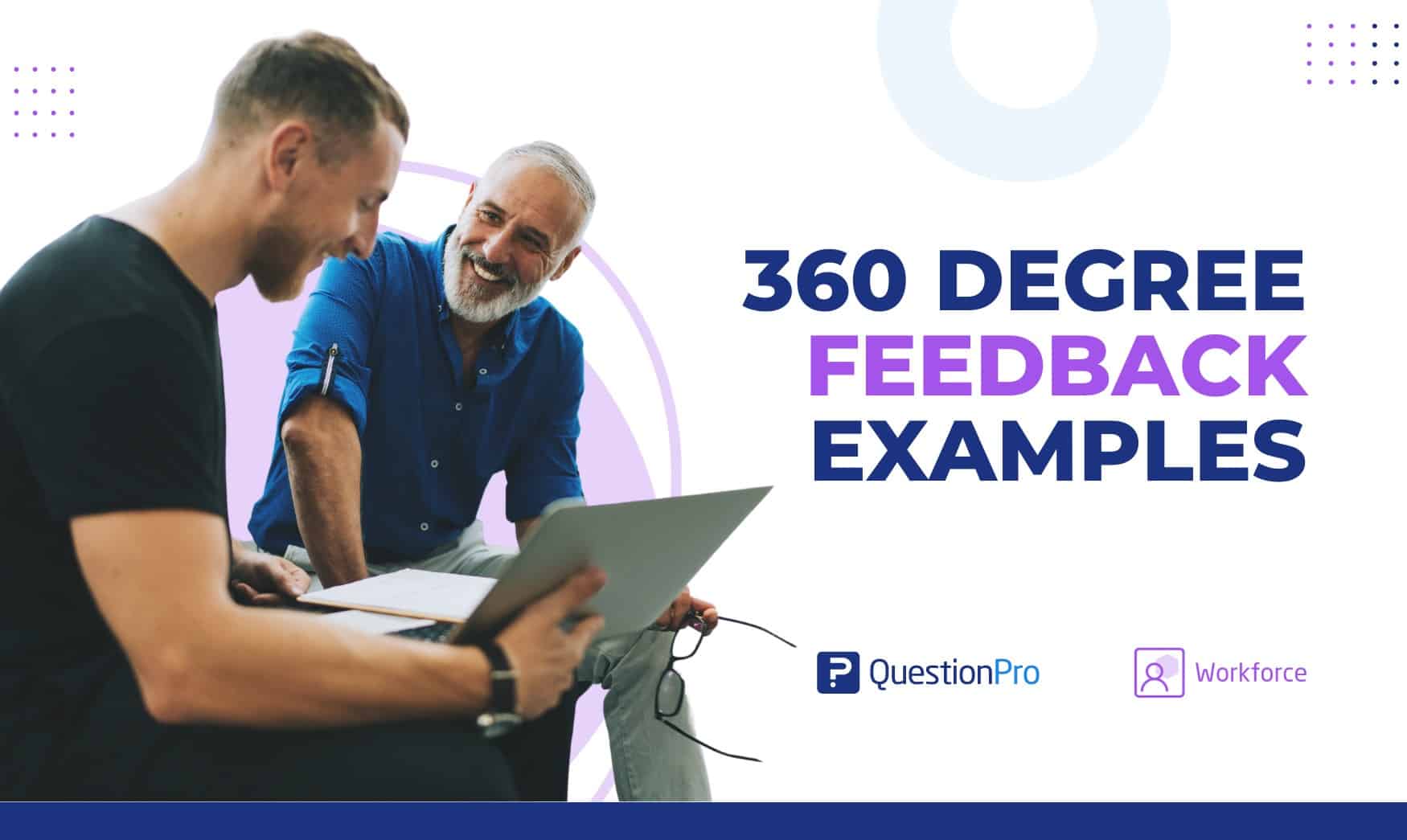 Feedback plays a pivotal role in shaping individuals into effective leaders and team players in the dynamic landscape of professional development. Among the diverse feedback methods available, 360-degree feedback stands out as a comprehensive approach that gathers insights from various angles, leading to a well-rounded view of an individual's performance.
In this blog post, we'll explore some 360-degree feedback examples, providing you with a collection of insightful facts, dos and don'ts and a glimpse into some top-performing organizations leveraging this approach for success.
These are some good 360 Degree Feedback Examples
Discovering effective 360-degree feedback examples is akin to unlocking a treasure trove of insights into professional growth. Let's delve into diverse scenarios where this approach sheds light on leadership styles, skill evaluation, and customer interactions, paving the way for comprehensive improvement.
1. Leadership Style Assessment:
One of the most common examples of 360-degree feedback revolves around assessing leadership styles. In this scenario, colleagues, subordinates, and supervisors provide feedback on a leader's communication, decision-making, and conflict-resolution skills. This helps leaders identify their strengths and areas for improvement to enhance their effectiveness in guiding their teams.
2. Skill and Competency Evaluation:
360-degree feedback is also employed to evaluate specific skills and competencies crucial to an individual's role. For instance, a project manager's ability to delegate tasks, prioritize, and collaborate can be assessed by those who work closely with them. This granular feedback aids in tailoring training and development plans to bridge skill gaps effectively.
3. Customer Interaction Assessment:
In customer-centric industries, evaluating customer interactions is paramount. A customer service representative's communication, problem-solving, and empathy skills can be assessed by analyzing feedback from customers, colleagues, and supervisors. This approach offers insights into enhancing customer satisfaction and relationship-building.
What We Can Learn from 360 Degree Feedback Examples
Embarking on a journey of exploration through 360-degree feedback examples unveils valuable lessons in fostering self-awareness and cultivating a holistic understanding of performance. This comprehensive approach illuminates the path to tailored development plans and personal growth.
1. Holistic Perspective
360-degree feedback is a powerful tool to gain a holistic view of an individual's performance. The convergence of perspectives from various sources provides a balanced assessment, ensuring no aspect goes unnoticed. This broadens the understanding of strengths and areas needing development.
2. Enhanced Self-Awareness
The diverse feedback gathered through this method fosters self-awareness among individuals. It sheds light on their blind spots, allowing them to better understand how their actions and behaviors impact others, leading to personal growth and increased emotional intelligence.
3. Customized Development Plans
360-degree feedback allows for the creation of personalized development plans. By pinpointing specific areas for improvement, individuals can design targeted training programs, coaching sessions, and skill-building activities to enhance their overall performance.
360 degree Feedback Examples: Dos and Don'ts
Unveiling the dos and don'ts of harnessing the power of 360-degree feedback examples reveals a roadmap to effective implementation, ensuring constructive insights and impactful growth strategies. These guiding principles pave the way for a successful feedback journey.
Dos:
Clearly Define Objectives: Clearly communicate the purpose and goals of the feedback process to participants.
Ensure Anonymity: Anonymity encourages honest feedback. Reassure participants that their responses won't be traced back to them.
Provide Training: Offer training to participants on how to provide constructive feedback effectively.
Set Actionable Goals: Feedback without action is futile. Help individuals set actionable goals for improvement based on feedback received.
Don'ts:
Don't Overwhelm: Limit the number of feedback providers to prevent overwhelming participants with excessive input.
Avoid Vague Questions: Frame questions in a specific and concise manner to yield valuable insights.
Steer Clear of Bias: Encourage unbiased feedback by discouraging personal prejudices and opinions from influencing responses.
Don't Neglect Follow-Up: Ensure follow-up discussions and progress tracking after the feedback process.
Top 5 Best 360 Degree Feedback Examples
Delving into the realm of exemplary 360-degree feedback implementations unveils strategies employed by industry giants to enhance their organizational dynamics. From tech titans to innovative corporations, these top 5 examples underscore the diverse potential of feedback-driven growth.
1. Google's "Googlegeist" Survey
Google's annual employee feedback survey, known as "Googlegeist," gathers input from employees on various aspects of the workplace. This inclusive approach helps Google continuously refine its work environment based on direct employee input.
2. Amazon's Leadership Principles Assessment
Amazon's leadership principles play a pivotal role in its corporate culture. The company's 360-degree feedback system assesses how well leaders embody these principles in their daily actions, ensuring alignment with the organization's core values.
3. General Electric's Work-Out Process
GE's Work-Out process involves teams providing feedback on areas needing improvement, streamlining processes, and fostering innovation. This example showcases how 360-degree feedback can be used to drive organizational change and development.
4. Microsoft's "Manager Excellence Review"
Microsoft's 360-degree feedback system evaluates managers based on their leadership, collaboration, and performance. This approach aids in identifying high-performing managers and providing targeted development support.
5. Deloitte's "Greenhouse"
Deloitte's Greenhouse program employs 360-degree feedback to foster leadership growth. It combines traditional feedback methods with immersive simulations to enhance leadership skills and decision-making abilities.
Conclusion
In the realm of professional development, 360-degree feedback serves as a powerful compass, guiding individuals and organizations toward growth and success. The fusion of multiple perspectives provides a well-rounded view of performance, fostering self-awareness and tailored improvement plans. As organizations continue to harness the potential of 360-degree feedback, the journey toward individual and collective excellence is paved with insights and possibilities.