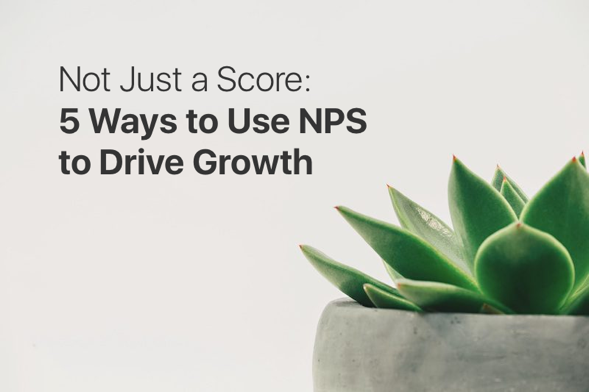 What's the best way to ensure business growth? Measuring the customer experience with Net Promoter Score (NPS) is key to growing your business – but it doesn't stop there. How you use NPS to measure and take action are paramount to your company's health. I will outline below 5 different ways you can use NPS to drive growth and customer loyalty.
NPS is not just a score. It has become the industry standard for measuring customer loyalty. Since its inception in 2004, the business landscape has changed drastically, especially with the onset of social media and other digital platforms. Before, only the NPS question "How likely are you to recommend your friends or colleagues to our company?" had the strongest correlation to revenue growth. Now, recommendations and word-of-mouth with NPS have become just as important in reach and power.
91% of marketing leaders believe that in two years they will be competing primarily on the basis of the customer experience (Gartner)
As the market shifts, it is imperative that you focus on the customer lifetime value and rethink the value we assign to those relationships. Customer acquisition is indeed an effective way to grow your business, but the value of retaining and prolonging your customer lifetime value is even more critical.
2% increase in customer retention has the same effect as decreasing costs by 10%.
NPS can be used in different ways to effectively drive growth. Net Promoter is not powerful by itself as a score, but the actions derived from the NPS are.
Here are five ways to use NPS to drive growth. You can use NPS to:
Manage your Customer Journey alongside NPS
Identify, segment, and create promoters
Improve operations through transactional measures
Evaluate across all business segments
Prioritize investments using NPS driver score analysis
Use NPS alongside Customer Journey
To manage your customer's experience at each touchpoint, you'll first need to map out the customer journey. (Read about customer journey mapping here.) NPS was designed to evaluate the entire customer journey, across all touchpoints and channels. Once you map out each interaction, you'll need to enable a feedback outlet at every touchpoint. The NPS data points will help you measure the entire customer experience and understand which interactions are the key moments of truth that define customer loyalty.
Identify your loyal customers aka your NPS Promoters
Figuring out who your loyal customers (NPS promoters) is critical in helping you take next actions after you measure and segment your promoters.
Why are Promoters more valuable? They:
Stay a customer longer and purchase more frequently
Are willing to help identify improvements to reduce operating costs and enhance experiences of others
Reduce acquisition costs through word-of-mouth
Measuring each interaction across the customer journey will surface areas that require improvement. The goal is to create more promoters by taking them through an improved customer journey; they will eventually help your company thrive through positive referrals.
Improve Operations through transactional NPS measures

Once you have identified the key interactions throughout your customer experience, you'll want to have transactional measures in place. You might be measuring the relationship NPS annually or even quarterly, but most importantly, you need to ingrain customer-centric behavior in your day-to-day operations. You do this by identifying the key moments of truth along the journey and setting up transactional measures that monitor your performance. If your company has frequent transaction exchanges, it is critical to request feedback from your customers on a continual basis to improve your daily operations.
Evaluate NPS across your business segments
NPS does not necessarily mean you should only measure your customer touchpoints. In order for an organization to succeed, you must have internal and external evaluations. An overall NPS score of 31 isn't useful to a business leader that does not understand the connection to a different line of business.
For example, you may have five business segments: Customer Support, Marketing, Sales, Product, and Call center. Each of these business units should have a unique set of alerts, reports, and role-specific dashboards. Your Call Centers probably want to know how one is performing against others through NPS. They most likely want to apply best practices to improve their performance. NPS will perform differently for the Marketing team. Marketing needs to know NPS by customer segment to activate and create more promoters through referral programs.
To create a more customer-centric organization, connect each of your business segments and offer them relevant insights and reporting. NPS can be used to drive action with role-specific insight, targeting all your business segments in a way that provides transparency and support to particular needs.
Prioritize investments using NPS driver score analysis
Let's assume that you have collected data on your customer journey. You have your Net Promoter scores collected for all your customers at every key touchpoint. Now, what? While many Voice of Customer programs are robust, many lack data-driven actionable insights. We created the QuestionPro CX Priority Matrix to calculate customer experience scores for all the customer touchpoints and it ranks them in priority by the lowest score with the highest impact. The QuestionPro CX Priority Matrix uses our NPS driver score analysis to help you prioritize the micro-drovers and invest in customer experience improvements that yield the greatest impact given your current resources.

Measuring your NPS is the first step in the right direction. Even if you're consistently measuring your NPS, you will have a solid idea of your company's health. Using NPS effectively can help you manage your customer journey, increase customer loyalty, become more customer-centric, and even decrease operational costs. And these are only just five ways you can use NPS to drive growth. No matter what you do with NPS, the bottom line is that you must take insights-based actions if you want to see your company grow.
Do you know other ways NPS can work for your business? Discover more about how to delight your customer at every touchpoint and turn them into brand advocates.