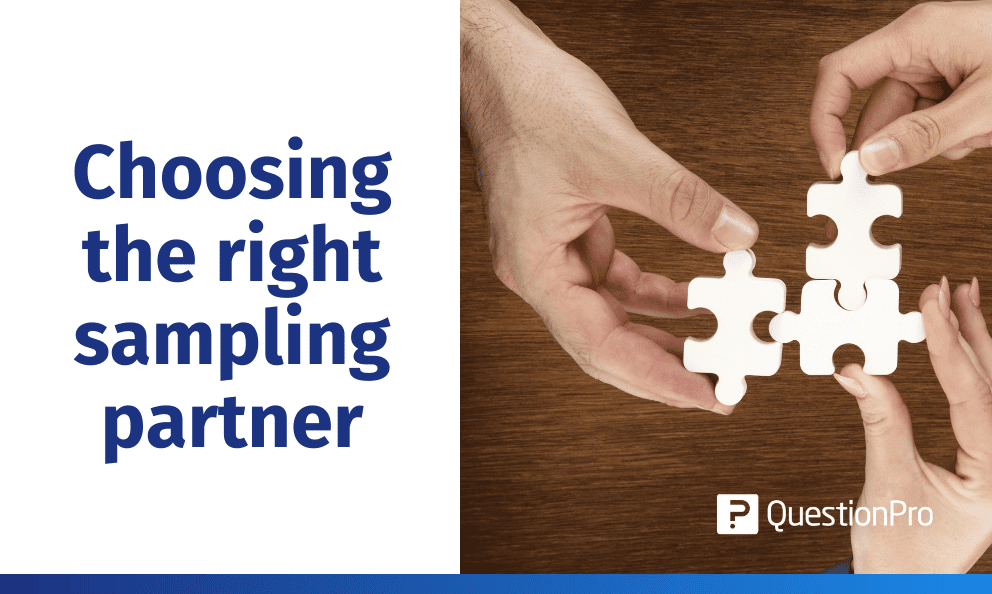 Why do you need a sample partner?
Sampling helps researchers make inferences about the entire population by studying a fraction of the target population. Getting opinions from the right set of people chosen from a specific group is the top priority of researchers, and often these responses either make or break projects. A sample partner comes in to make life much easier for researchers.
Problems around sampling
Sampling errors occur when there is a deviation of the selected group from the population's characteristics, qualities, traits, and behavior. This generally happens due to:
sampling size and sampling error

lack of sample representativeness

difficulty in estimating the sample size

lack of knowledge of the sampling process

lack of resources and internal cooperation, or

nonexistence of correct sampling frames for a large population
How can sampling partners make your research better?
Sampling errors are proven to be expensive and time-consuming. Organizations need accurate information from the right audience, and sampling partners have a lot of security for better data collection. 
Diversity and reach: Panel providers house millions of panelists globally. These panelists belong to various demographics, industries, and other dynamics, making it easy for researchers to reach the right people in time. Having a diverse panel gives you access to many respondents, ultimately reducing the time to reach people. Accurate sampling can be done without compromising on specific demographics or groups caused due to a lack of reach. 
They have a better panel: A 'better panel' comprises various factors. Firstly, providers keep their research panels alive by conducting regular recruitment. Unresponsive and 'bad' members are offloaded to maintain a high level of quality among the samples. Profiles are continuously updated because people's preferences keep changing. Members are double opt in, online, and mobile-ready to answer surveys, and finding B2B and B2C respondents become simple. Most panel owners use onboarding questionnaires to understand their panelist's lifestyles and preferences. 
Quality assurances: Quality always runs high within sample providers, and they take steps at different stages to control and maintain the quality of their panel. Members must be authentic and unique, and most sampling partners ensure members are double opt in. Sample partners employ a multipart technical approach using digital fingerprinting and tracking techniques to ensure authenticity and defeat fraud. 'Unhealthy' respondents are offloaded to ensure that quality is not compromised. 
High costs: Not having your list of respondents is fine because, as a researcher, how can you be assured respondents are genuine? Two factors affect your sampling cost when you conduct sampling on your own. The first is spending time and person-hours to reach out to a specific audience with a considerably lower response rate. The other is having to extend or re-do your data collection due to a lack of responses or unusable ones. Sampling partners provide you answers for as low as $1 per respondent – and you can be assured about the quality of the response.
Engaged panels: Panel engagement does not often get the credit it deserves, but engaged panels often provide the highest quality data. Sampling partners have tools and techniques to keep the panels always engaged, so response gathering is never a problem. Higher engagement directly translates to quicker responses, and data can be collected within no time. Incentives, either monetary or points, are awarded to active panel members to keep attrition low and engagement levels high.
What are the factors researchers must consider while choosing the right sample partner?
Accurate respondent opinions drive strategic decisions, and accurate insights collection is critical for flawless decisions. There are four factors that you MUST consider while choosing a panel partner.
Understand panel composition:

Have an understanding of the size and diversity of the panel. Partnering with a provider that houses panelists from various countries is always better than partnering with one with limited reach. 

Data quality assurances:

Data quality is paramount for saving time, costs, and efforts. Understand the recruitment and verifying processes set in place for fraud detection and prevention, duplication, tracking systems, and respondent verification.

Speed and accuracy:

The marketplace is exceptionally versatile, and fast response collection leads to quick decision-making. Ensure that your partner provides you with a quick sample and mechanisms in place to ensure high data quality with such speed.

Support:

You never know when you need urgent help on samples, and having a representative or a team to reach out to will be a boon. Ask your partner if they provide support 24×7 so your research never stops and there's always someone to guide you.
What red flags must you keep an eye out for while dealing with sampling partners?
There are quite a few, but here's what you need to keep a keen eye out for.
DIY only solutions only:

Don't be left on your own with DIY solutions. Researchers may tend to spend a lot of time and effort in understanding the answer. Sometimes, information collection can get delayed, making insights useless and stalling decision-making. DIY solutions do not provide the assistance or expertise that sampling partners can help you overcome.

Non-disclosed security protocols:

A sampling partner must have nothing to hide. Data quality is directly proportional to panel security, and panels with weak security will encounter fraudsters, speeders, and bots. A sample partner with high-level security protocols will always flaunt them, and it's good practice to know the protocols set in place to ensure data integrity. 

High attrition panels:

High-attrition panels are red flags. The reasons for attrition may be many, and panels with a high attrition rate may not help you solve your most significant challenges. 
Research trends impacting sampling the most
We can essentially break down these trends into the following:
Empathy with respondents:

More and more stress is being put on the end-user experience. This means keeping the number of questions few and direct. Researchers make sure to mind the length of the survey.

Respondent experience-enhancing technology:

It simply means technology built to keep surveys simple for respondents. Improved design and AI-assisted conversational surveys help respondents gain a richer experience.

Programmatic sampling:

Programmatic sampling is relatively 'new' and is here to stay. It helps automate the sampling process by replacing it with manual efforts – significantly reducing time, effort, and costs.

The attentiveness of respondents:

Grabbing respondents' attention boosts complete survey rates and helps capture more accurate responses. Surveys have gotten far less 'boring' and more interactive, leading to added reliability of survey responses.
What makes QuestionPro Audience a sample partner you must have?
Our sample comes with a ten-year market research veteran managing the projects. Attention to fraud-fighting, both algorithmic and rooted in behavioral psychology, is unmatched. Our respondents are more engaged and more representative than others. We also have a proprietary offering – Instant Answers powered by Slack integration where users can post questions via Slack and receive responses within minutes in Slack. Use our quick sample to reach out to the general US population at just $1 per complete. There's a lot we have to offer. Please write to us at sales@questionpro.com to know more.