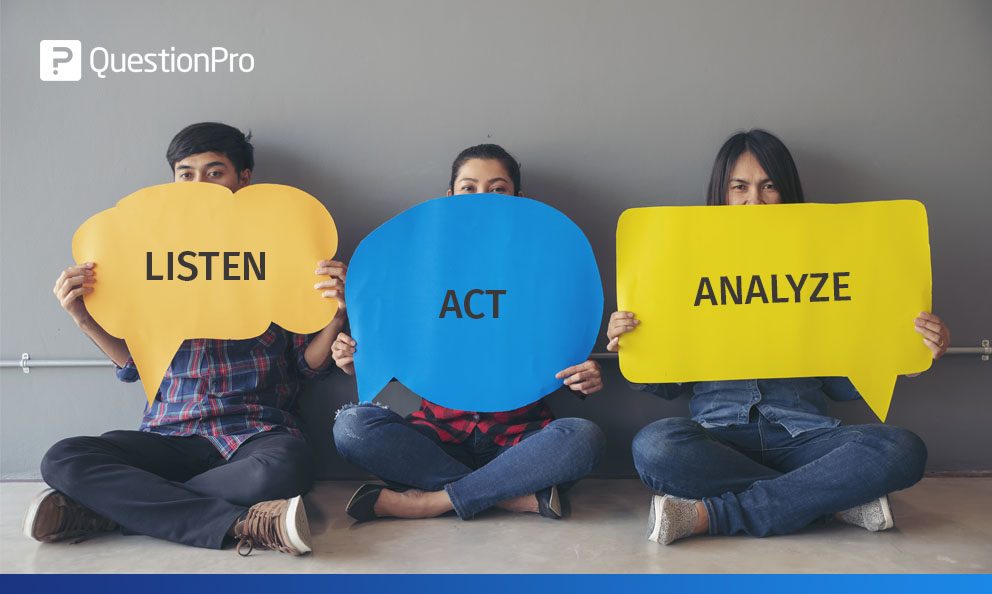 As the name suggests the 'voice of customer' means listening to your customers. It includes the process of gathering and understanding the feedback provided by the customers for improving the product and enhancing the overall customer experience. Well! There is nothing new in it as businesses have been listening to their customers for decades. 
VoC Campaign provides valuable insights 
For any growing business listening to customers opinions and understanding their expectations has been a fundamental strategy. However, the voice of the customer transformed the point of view from collecting aggregate data to the individual customer data. It is used to bridge the gap by responding to the customers with detailed proof showcasing how their feedback and suggestions have been implemented in developing or updating the products or services. 
Remember, an ideal voice of customer survey will offer a business-wide structure for collecting, analyzing, and acting on the feedback. The good thing is, the voice of customer spans the entire organization, involving every department and every team to work in unison for addressing customer issues or for fulfilling customer expectations. 
If you are interested to capture the voice of the customer here are three simple steps to get started
Step 1: Listen
This is the first step to listening to your customer's voice. An online feedback survey with a specially designed questionnaire targetted to gather unbiased and high-quality feedback from your customers will determine the success of your VoC program. Out of all three, this is the most important step. Apart from creating a questionnaire you also have to focus on finding the right people to ask the right questions at the right time. 
Finding the right people: One of the common mistakes committed while gathering customer feedback is to send the survey randomly to all the possible contacts you have at hand. Avoid this, instead, spend some time to understand and sort the customer personas whom you think are perfect to listen. Defining and finding perfect customer personas help you understand who is using your product and what level of interaction they have with your brand. It is futile to ask a person for feedback who has rarely used your product and waste of time to ask a vendor his opinion about your product. Asking the right question
Asking the right questions: Once you have an ideal persona ready to whom you will be asking questions for gathering feedback, it becomes simple to frame questions and select questions types that make sense. A rule of thumb for gathering voice of customer data is to ask only those questions which you intend to resolve by taking immediate initiative. There are two kinds of feedback you can collect depending on the question type. NPS and CSAT questions are entitled to gather direct feedback and the way clients engage with your product generates indirect feedback.
The right time to ask questions: Timing of conducting surveys has a huge impact on the type of responses you receive. Make sure to design the survey and align them along with the different steps of the customer lifecycle. Showing interest in the product, purchasing the product and after using the product are important milestones in the customer lifecycle which should not be missed for collecting their sentiments.
Now, you have defined personas, created questions and worked on time intervals to send out the surveys. Before taking you to the next step, you must avoid sending too many surveys which might create survey fatigue. Reaching the right people with the right set of questions at the right time is the most essential part of your voice of customer methodology. 
Step 2: Act
In this step, we will be focusing on offering value to the customer. Remove all the barriers preventing you to act on the feedback. Additionally, your process to act on the feedback must not be a glitchy and lengthy which goes on for years. When it comes to acting to the voice of the customer it has to be instantaneous and implemented from the bottom and not from the top. Remember to act on the survey inputs as soon as possible to reflect how much you care and value customers opinions, and suggestions.
Acting on feedback received: According to best practices to run a voice of customer program, it is a closed-loop of communication expecting you to work on their inputs as soon as possible for addressing and resolving their queries. Irrelevant to positive or negative feedback you need to act fast by thanking the customers and working hard to satisfy the unsatisfied customers. Remember, an unanswered positive voice is as awful as negative feedback. People reacting positively are promoters of your brand your prompt action motivates them to promote your brand and your inaction makes them passive or detractors.
Bridge the gaps at scale with appropriate resources: Nobody is perfect, we earn perfection over time. Similarly, analyzing customer feedback and going gaga over the unhappy customer is not the right policy to undertake. You need to involve other team members and resources to your efforts dedicated to addressing the issues in customer feedback. With experience, create a rule book and keep on adding strategies, approaches, and techniques that can be utilized by the team members to ensure overall customer satisfaction.
Create a process that treats feedback as an asset: If you think your customer's voice is your strength to achieve success, you need to involve every resource in your organization right from sales to marketing and from development to testing to consider VoC as a top priority. Although, it is not possible for all organizations to practice this, implementing the strategy is beneficial for the future. Everyone in the organization needs to understand customer feedback and must be ready to act. Once you start treating feedback data as an invaluable asset your VoC process will start running smoothly.
Step 3: Analyze
Having completed two steps, you will be left with tones of valuable feedback data to work with. The analysis is the process of breaking down or the data to derive insights that help organizations to understand the strong points and weaknesses. Depending on the insights you can then make insightful decisions and strategies to tackle issues and queries bothering your customers. This step is further divided into three factors. 
Business analytics: A typical analytic platform will contain all the analytic metrics needed for further data drilling. Using the different analytic metrics you can track and benchmark the insights you feel are important. Share the insights with internal teams and empower them with significant findings to create a plan for further development and growth. Monitoring NPS score over the quarters will give you a brief idea of how well you are doing in responding to the voice of the customer.
Outreach Analytics: Use it to analyze your customer outreach efforts. Use it intelligently to understand and optimize your efforts as per the industry standards. One of the best voice of customer metrics is to focus on outreach is to analyze the number of people who did not respond to the survey. Understand the cause behind it and rectify the mistakes to increase the opening rate and reduce churn rate of your voice of customer surveys.
Program insights: Program analytics is the product of both business and outreach analytics. You can use the insights to identify weak spots in the program. Remember, text-based responses are extremely difficult to analyze but a credible voice of customer software will help you analyze sentiments of the respondents to understand the positive, negative and neutral mindset of the respondents. Getting an overall view of customer experience helps you align your strategies to make your voice of customer campaign a success.
Conclusion: 
A precise survey questionnaire is the best customer engagement model offering the power to listen to the voice of the customer and analyze it to generate powerful insights. Don't just wait here, but take powerful actions and strategic decisions to deliver effective change in the business model providing a competitive advantage to your brand.