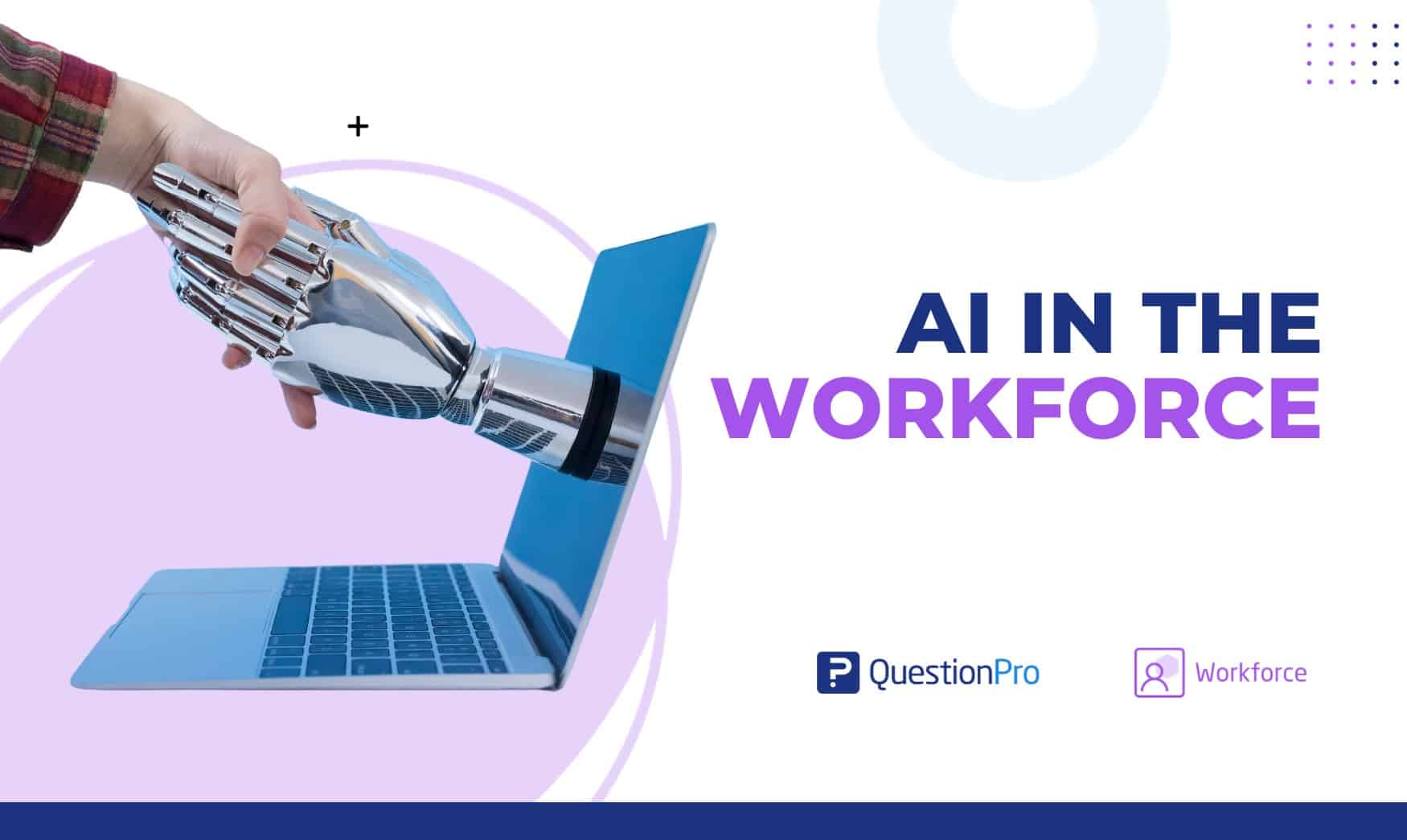 Artificial Intelligence (AI) has been a buzzword for several years now, and its impact on various industries is undeniable. AI in the workforce is no longer a futuristic concept but a tangible force that's transforming how we work.
This article delves into the multifaceted role of AI in the workforce, exploring its current applications, future implications, and how it can be harnessed for comprehensive evaluations like the 360-degree feedback.
The Role of AI in the Workforce
Over time, the use of AI in the workforce has been gaining ground as it has become an important tool to automate tasks and improve the efficiency of workers. Some of the use cases that are beginning to gain popularity in various industries include:
| | | | |
| --- | --- | --- | --- |
| Automated Customer Support | Recruitment and HR | Retail(Inventory management) | Autonomous Vehicles |
| Predictive Maintenance | Healthcare | Content Generation | Quality Control |
| Data Analysis and Insights | Financial Services (Fraud detection) | Language Translation | Energy Management |
AI plays a pivotal role in the modern workforce, catalyzing productivity, efficiency, and innovation. Its role can be summarized in two key aspects:
Automation: One of AI's primary functions is automation. It takes on repetitive and time-consuming tasks, freeing up human workers to focus on more creative and strategic responsibilities. This not only enhances productivity but also reduces the risk of errors.
Decision Support: AI analyzes vast datasets and provides data-driven insights, aiding in better decision-making. This support ranges from forecasting trends to optimizing resource allocation. By augmenting human intelligence with AI-driven insights, organizations can make informed choices.
Examples of AI in the Workforce
AI's influence in the workforce is already visible across various sectors; some of the most important are:
Healthcare: Assists in diagnosing diseases, managing patient records, and even conducting surgeries with precision.
Finance: AI-driven algorithms analyze financial data for investment decisions, detect fraudulent activities, and optimize trading strategies.
Customer Service: Chatbots handle routine customer queries, offering quick and efficient support.
Manufacturing: AI-powered robots and automation systems enhance efficiency and safety in manufacturing processes.
Uses of AI in the Workforce
AI's applications in the workforce are incredibly diverse and continually evolving, heralding a future where humans and technology work in harmonious tandem. Among its remarkable uses, AI has revolutionized recruitment, making the process more efficient and insightful.
By scanning resumes, assessing candidate suitability, and even conducting initial interviews, AI saves precious time and excels in identifying top talent. In this way, AI takes the drudgery out of recruitment, enabling organizations to focus on what truly matters – finding the best individuals to drive their missions forward.
AI has ventured into the realm of employee training, ushering in an era of personalized learning experiences. Through AI-powered chatbots and virtual trainers, employees now benefit from training that adapts to their unique learning styles. Gone are the days of one-size-fits-all approaches.
It can provide instant feedback, allowing individuals to grasp concepts swiftly and effectively. It empowers employees to take charge of their development, fostering a culture of continuous learning and growth.
As we navigate this evolving landscape where AI and humans collaborate, it's essential to recognize the vast potential for mutual enhancement. AI doesn't replace us; it augments our capabilities. By embracing these innovations, we pave the way for a brighter, more efficient future of work where every individual can thrive and contribute their unique talents to the collective success.
How Will AI Affect the Workforce
The impact of AI on the workforce is a topic of both excitement and apprehension. While AI can boost productivity and reduce operational costs, there might be concerns about job displacement. However, experts believe that AI will reshape rather than replace the workforce.
It has the potential to redefine job roles, making some tasks obsolete while creating new opportunities. For example, data analysts may spend less time on data collection and more on interpreting AI-generated insights.
To thrive in an AI-augmented workforce, employees will need to adapt and acquire new skills. This includes skills related to data analysis, problem-solving, and human-AI collaboration.
How AI Can Be Used for a 360 Degree Evaluation
AI can revolutionize the traditional 360-degree feedback process by:
Data Analysis: AI algorithms analyze feedback from various sources, identifying patterns and areas for improvement. This saves time and provides more comprehensive insights.
Personalized Feedback: AI tailors feedback based on an individual's strengths and weaknesses, fostering professional growth.
By leveraging AI-powered analytics, organizations can collect and process feedback from various sources, including peers, managers, and self-assessments, to create a holistic view of an employee's strengths and areas for improvement. AI algorithms can identify patterns and trends in this feedback, helping organizations pinpoint critical development areas.
Additionally, AI can provide personalized feedback to employees, offering tailored recommendations for growth and development based on their unique strengths and weaknesses. This level of customization ensures that employees receive guidance that is directly relevant to their professional goals, ultimately enhancing their performance and job satisfaction.
AI streamlines the 360-degree evaluation process by automating data collection and report generation tasks. This saves time and reduces the error margin, ensuring that evaluations are accurate and consistent.
It can also facilitate real-time feedback, enabling organizations to provide immediate insights to employees and fostering a culture of continuous improvement.
AI's integration into 360-degree evaluations empowers organizations to make more informed decisions about talent development, succession planning, and overall workforce optimization, ultimately driving business success.
Conclusion
The world of work is evolving, and one of the most promising catalysts of this transformation is Artificial Intelligence (AI). Its impact on various industries is undeniable, and AI is reshaping how we operate within the workforce.
While we might hear concerns about AI replacing jobs, the reality is more exciting: AI is set to redefine job roles, unlocking new possibilities and highlighting the importance of human-AI collaboration.
One particularly promising area where AI can contribute positively is in the domain of 360-degree feedback evaluations. AI has the potential to enhance this process significantly. It can provide in-depth insights into employee performance, their development needs, and how they can excel in their roles.
At QuestionPro, we understand the power of feedback and its role in driving progress. We believe in the potential AI holds for your workforce. That's why we invite you to explore our suite of workforce tools designed to help you make informed decisions, foster talent development, and optimize your workforce effectively.
Join us on this exciting journey towards a smarter, more efficient workforce strategy. Start your 360 feedback process with QuestionPro today, and together, let's elevate your business to new heights of success.