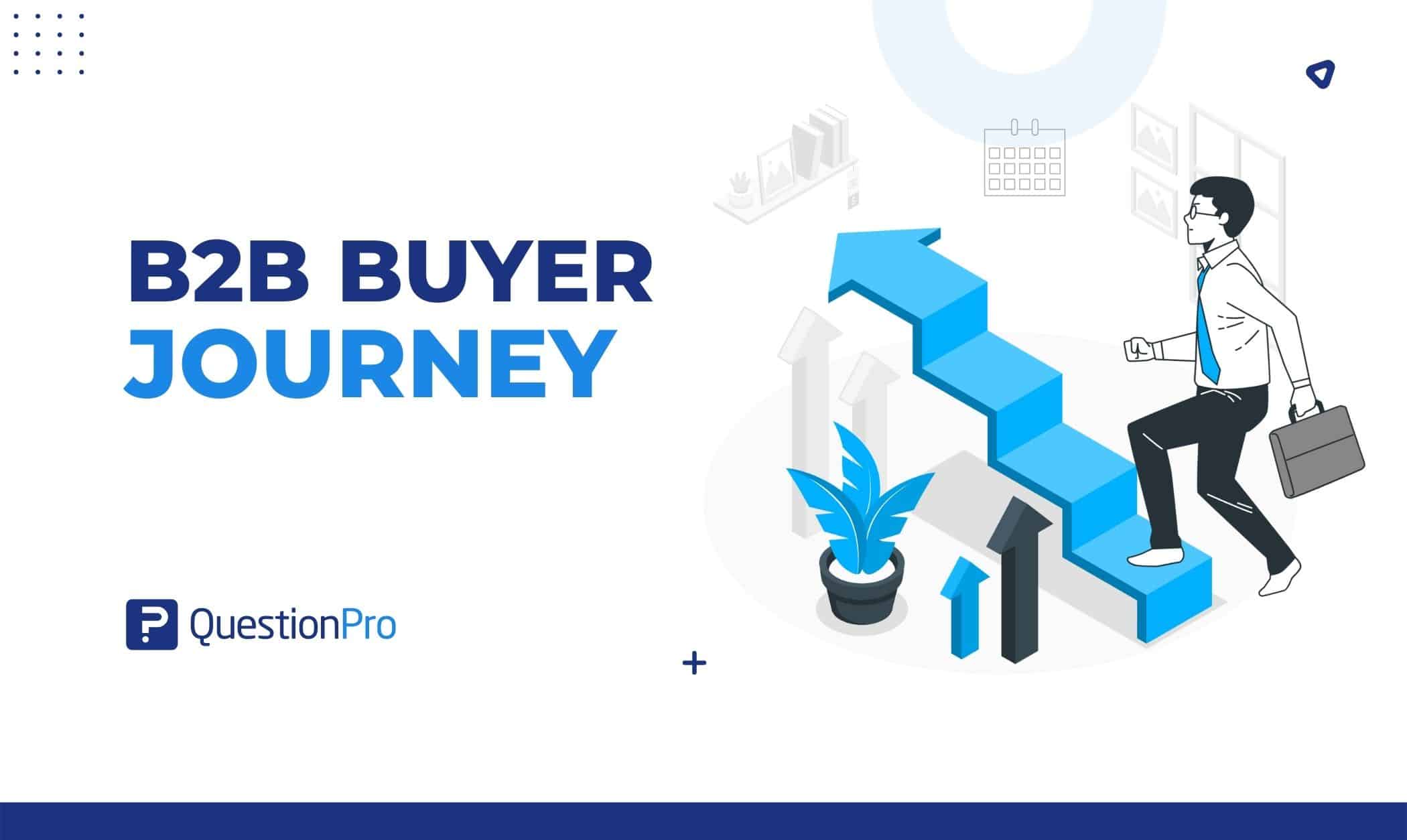 Analysis and mapping of the b2b buyer journey are not new. It is a common marketing tactic. But despite its many benefits, it has not been widely used in the B2B professional services space. That's a lost chance to do something great.
It's a tool that lets you find holes in your marketing, sales, and service processes. And you'll see where your online and offline strategies may fail.
Buyer journey mapping encourages you to look at the whole lifecycle of a buyer, figuring out every point of contact between your company and your buyers.
LEARN ABOUT: Customer Lifecycle
Let's look at the B2B buyer journey, its stages, and the mapping process so you can see how your buyers go from looking for information to signing on the dotted line and adjusting your process accordingly.
What is a B2B Buyer Journey?
The b2b buyer journey describes how a buyer decides what to buy. In other words, buyers don't just wake up and decide to buy. They go through a process to learn about, think about, and evaluate a new product or service before deciding to buy it.
Sales teams can better interact with buyers and place their product or service by understanding the buyer's journey, the pains and challenges they face, and the influencing factors that influence their thinking.
Learn how to build your own Customer Journey Map
3 Stages of b2b Buyer Journey
The buyer journey can be broken down into three stages that show how they move toward a purchase:
The customer awareness stage,

The consideration stage, and

The decision stage.

Stage 1: Awareness
At this stage, the buyer is just starting to learn about your company, products, and services. It is done with the help of your sales and customer success teams by your marketing team.
This stage shows that you understand the prospect or client's real business needs and buyer pain points and that you can show how your business can help meet these needs. Here, marketing teams will make content and use digital channels like websites and social media to reach out to potential customers.
At this stage, you need to show how you can help them solve their problems in a way that builds confidence in the quality and competitiveness of your offering.
Case studies, expert guides, effective in-person engagement, and comparative content can help your sales team nurture once potential customers know about your solutions.
The decision stage is the final stage of the b2b buyer journey. At this point, your potential customers will decide which of your products or services they are most interested in. They might reach out to sales, but sales teams might need help from marketing with product demos, customer testimonials, and product reviews to move marketing leads into sales lead generation.
How to map b2b buyer journey?
Now that you have a better idea of the b2b buyer journey and its stages, we will learn some steps for mapping it.
Step 01: Set your objective
Setting your objective is the first step of your b2b buyer journey mapping. First, you need to set a clear goal in mind. What is the map's purpose? What do you hope to get out of making one? Make your goal clear and single so it's easy to see if your map is getting off track as you make it.
Step 02: Do customer research
Next, put together your questionnaire to send to loyal customers to get feedback. You can also reach out to your ideal customers to discover their pain points and what is stopping them from buying.
What you ask will depend on your business and what you have to offer, but some general questions you can add are:
How did you find our brand?

Like or dislike our website?

What problem were you trying to tackle with our product/service?

How helpful is our customer service?

How can we make shopping from us more enjoyable?
If you are looking for survey software to know your customer's feedback, QuestionPro is right there for you. It is a survey software with versatile features that help you do surveys according to your business needs. You can use your survey to determine how your customers feel about each step of the buyer journey and what they would like to see improved.
Step 03: List out all your touchpoints
Customer touchpoints are all the places, like your website and social media, where your customers interact with your brand.
Make a list of how they interact with you so you know what to place on the buyer journey map. Some of them:
Your website

Landing pages

Contact forms

Third-party review sites

Social media platforms
You can adapt SuiteCX by QuestionPro to list all your touchpoints. It allows you to attach information to each touchpoint.
Step 04: List the actions customers do
Now that you have your touchpoints. Make a list of the specific things buyers do at each one. It will show you if your buyers are expected to take too many steps at a certain touchpoint.
For example, on your website, they may have to click on a tab for a service page, scroll down, fill out a contact form, hit submit, etc. The b2b buyer journey will go more smoothly as you simplify each step.
Step 05: List the problems and pain points
At each step of the buyer's journey, write down any problems or pain points that are stopping the buyer from moving on.
At the beginning of the journey, the common problem is that people don't know or trust your brand yet. When it's close to the point of sale, the price or delivery time might be a bigger problem.
By pointing out the worst parts of the journey, you can fix them as much as possible and give your marketing plan a clear direction.
SuiteCX by QuestionPro is one of the best options for finding problems and pain points. It is a data collector that lets you keep track of moments of truth, pain points, barriers, and emotional states. They can store and show measures, other performance data, and ethnographic information.
Step 06: Find out what resources you need
Once you have a map of the touchpoints and problems, it will be easy to see where you need new systems and technology to improve your current system.
Take stock of the resources you already have and find out what you will need to improve the buyer journey.
SuiteCX by QuestionPro is one of the best b2b buyer journey resources. It offers many features that will help you keep track of your buyer journey more smartly.
Let's check out their features which are given below:
SuiteCX by QuestionPro lets you develop an outside-in, end-to-end map of all customer touchpoints.

You can use the tool in workshops to record work in real time.

You can create new versions of maps for different customer groups with SuiteCX.

It allows the inclusion of visuals in other documents.

It allows you to track and measure the impact of changes over time.
SuiteCX goes above and beyond to make great b2b buyer Journey Maps. The maps are full of customer data from surveys, interaction metrics, big data analytics, segmentation data, clickstream data, and even operational data to see how the actual experiences are doing over time.
It adds a new level of power, usefulness, and value to the buyer's journey.
Step 07: Take the buyer journey yourself
Once you have your map with the new and improved processes, go on the buyer journey to see if it works.
Some parts of your website are still hard to use, or your frequently asked questions (FAQ) need to be updated.
Before you start your real-time analysis, it's easy to find any big gaps in the buyer journey by giving your journey map a test run.
Step 08: Analyze results
Once your buyer journey is as efficient as it can be, monitor your Google analytics to analyze your progress. Keeping track of the following will help you do this:
website visitors

Bouncing rate

Button clicks

Contact form submissions

Social media engagement
In the end, when you've nailed your buyer journey, you should see an increase in engagement and customer retention.
But if you still see many people leaving or not getting involved, look at the journey again and see where you need to improve.
Even if you get good results, regularly analyzing and making changes to the buyer journey map will help you make the buying experience as good as possible.
LEARN ABOUT: Consumer Decision Journey
Conclusion
A b2b buyer journey map and stages are an important part of any business. To help a customer overcome problems and make a buying decision, you need to know their pain points and how they feel about them.
Once you've optimized the buyer journey, you can be more confident in your marketing and outreach efforts.
Here's where QuestionPro can help.SuiteCX by QuestionPro lets users record and see many emotional, functional, and data-driven information about buyers. It enables you to make the base map with words, icons, and pictures.
There are more than 20 different mapping visualizations to find the right one for your b2b surveys. So contact us right now and let us know if you need help creating your buyer journey simply with SuiteCX by QuestionPro.