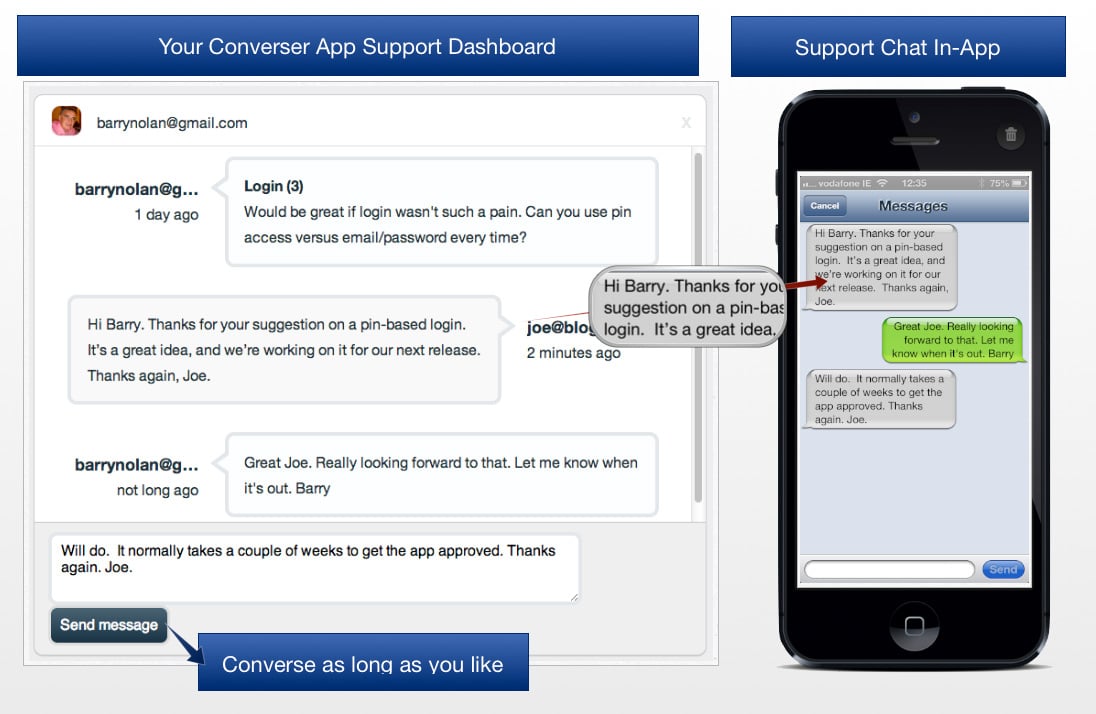 I thought I'd take a break from the usual "features" articles I've been writing to share an interesting article I ran across in my reader by Cynthia Spitalny that chronicled her experience of doing a survey via instant message chat.  This article was published over a year ago, but I think that the message and opportunity are still fresh.
In her article she outlines what the company did and her experience of it.  Here is a short summary:
They asked me to take a survey via instant message chat.

While I usually reserve instant messaging for friends and co-workers, I was intrigued by the idea of instant message chat as a means to glean insights.  Sometimes, using different communication channels will helps engage a broader audience due to preferences for how people like to communicate.

They sent me an email with the headline asking me for help in answering their survey.

Most emails that want me to take a survey have headlines that are in your face, such as "Take Our Survey!" or "Tell Us What You Think!" In this case the email headline asked me to chat with their customer service representative to take their survey.  Chatting with someone from a company that I often order from sounded interesting to me, rather than over zealous and forceful.

My chat with the company was personal.

The person chatting with me asked me my name and address, which was used as important information to customize and personalize the conversation. Not only did I appreciate this from a customer perspective but it also helped the company in realizing regional differences in customers and store differences.
Culling social media chatter isn't a new idea, neither is actually having a conversation with a customer.  And yet, this super easy and obvious way to gather feedback isn't used nearly as often as you might think.
It's cheap, it's easy — YIKES — how do you control it?!
Let's be clear here.  I'm not saying this is a magic bullet for gathering feedback, but it's a wonderful addition to your customer feedback strategy.  These days, it's not hard to have a chat feature installed on your site — AND if you have the kind of business where your customers are tethered to a computer, it doesn't take much to engage them in a conversation via Google Chat/Hangout, Skype, AIM or any other chat platform.  In fact, it's surprisingly inexpensive to have your very own chat platform on your site.  (On DIYMarketers I use OLark for FREE).
For those of you who are frequent readers, you know that I advocate a multi-pronged feedback strategy; in-depth-interviews, quantitative transactional surveys and social media analysis.  (I'm sure you have many more in your toolbox) — the bottom line is that all of this data ultimately comes together to create a complete picture of your customer and what matters to them.
It takes a process
Now that I've given you this idea, you may be tempted to just get your customer service folks to get into these uncontrolled conversations with customers – if they are already doing that — that's fine.  But if you currently don't have a process for gathering this kind of information, take some time to pull together some objectives and discussion points.  You will need to do some training.
Here is a short primer on how to get started:
OBJECTIVE – objective – objective:  Don't forget to set an objective?  Did I say set an objective?  Seriously.  I've made this mistake too often.  It seems or feels like we are all clear on the information we want to collect and somehow, when the project is done someone ways "What was the objective?" Choose a specific area that you want to chat with your customers about.  Maybe you're looking at making the web site easier to navigate or perhaps you're looking for ways to improve the customer support experience.  Pick something and develop your conversations around that.
Grab low hanging fruit:  An obvious place to start is engaging in a chat conversation with customers with whom you are already chatting.  It's common to receive a customer satisfaction survey AFTER your chat is completed, but how about asking your customer if they had a few minutes to chat about your topic– this could be even more powerful if the customer's chat question had something to do with the topic.
Invite via email and schedule a chat appointment:  Another option is to send some customers an email invitation which gives them the opportunity to schedule a chat with either the customer service rep or the researcher conducting the chat.  Use the strategies that Cynthia talked about above.
Make feedback chats an on-going feedback source:  The idea of doing chats to get customer feedback isn't something you do once or even monthly.  This needs to be an ongoing part of your process.  For example, you can set a goal to do one customer chat per person per day.
Train your staff:  Normally, I'm all for having this kind of work done by a third party.  But this is one of these times where you have the opportunity to really engage customer service into making an impact on the customer experience.  Rather than dumping data on customer service, engage them in the process of getting to know and understand what matters to customers.  This requires a little bit of training.  Maybe not everyone is cut out to do this kind of thing – maybe you can ask for volunteers.  Then train those folks on proper feedback gathering techniques.  I've actually participated in something like this a few times and it's really had a positive impact on the customer service team because the feedback isn't coming from management in the form of a report — but from a friend and team member.
What are some creative ways that you've collected feedback?  Share your strategies with us — let's talk about it!