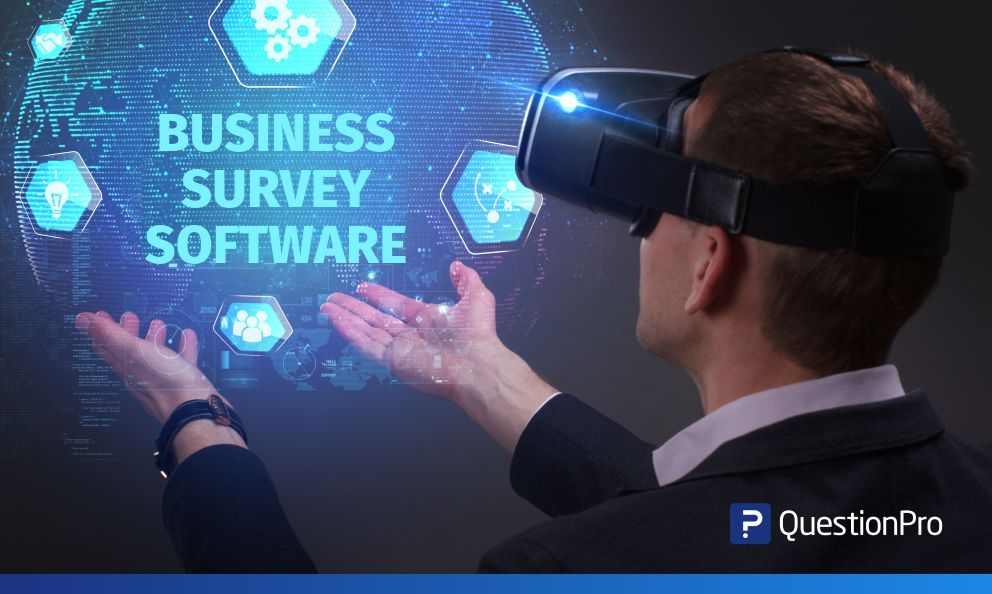 Business survey software: for smarter business insights
The business landscape is becoming hyper-competitive day-by-day. Businesses are facing challenges in not only attracting new customers but in retaining them too. Irrelevant to type, companies need to work smarter and harder, even than before to create a loyal customer base who won't drift to the competition.
Apart from excellent customer experience, valuable customer insights and suggestions are essential to get repeat customers and referrals. Nevertheless, the current methods to collect customer insights are not that efficient, and also the data generated is not of high quality to derive quantifiable insights. Additionally, the business survey software available as freemium tools often lack the dynamic capabilities necessary to meet individual needs and businesses. 
To get inside your customer's mind, you need a professional business survey software that leapfrogs the common hurdles of creating, distributing, and analyzing surveys. 
Challenges in collecting actionable insights
They say customer satisfaction surveys get into the minds of your customers. Nevertheless, it isn't easy unless you have an excellent survey software and a brilliant survey questionnaire. Undoubtedly, customer surveys are the most prudent, cost-effective, and attainable approach to communicate with your customers. However, an average business survey software comes with many drawbacks and limitations. These limitations and disadvantages act as roadblocks preventing businesses from obtaining meaningful insights. 
"One-size-fits-all" approach: The method utilized to distribute survey matters a lot when it comes to running a successful data collection campaign. You do have an option to distribute your business survey via SMS, QR Code, email, or embed it on the website. However, you should not forget that each customer will have his/her own set of challenges to take the survey. 
For example, millennials being more digitally connected are not interested in responding to the email surveys. In addition to that, generation X is not involved in SMS Surveys but will take the email survey. In addition to that, not many business survey software offers enough scope to beta test the survey before distributing it, which also is one of the challenges in data collection.
Failure to turn valuable insights into action plans: To ensure you are using customer insight to bring value to the business, you need to know the "Why" behind collecting customer insights. 
Surveys created with hollow questionnaires will collect nothing but the poor quality of data having no actionable insights. Limited scope to choose question types and apply dynamic survey logic also limits businesses in concerting collected insights into an actionable plan. 
Failure to integrate survey software with existing business systems: Digitization has provided business with ample opportunities to use versatile online tools creating various customer touchpoints. Not many online survey software offers the flexibility to connect with existing CRMs and third-party tools.
Failure to integrate survey tool with other business systems create silos in automating the transition between interaction, survey, response, and action. Additionally, without proper integration, it becomes impossible to initiate communication between survey data and the business database, which has high-quality data related to consumer behavior and their lifecycle. 
Inability to provide real-time analysis: Even if you collect good quality consumer insights, the data won't make any sense if your survey software is incapable of delivering real-time reporting. Businesses get transparency in issues and customer challenges if they are allowed to analyze the data in real-time. In addition to that, business managers can detect trends early and act immediately to resolve customer complaints about providing better customer experience.
Overcome challenges with intuitive business survey software 
Broader choice in survey distribution: It is necessary to gauge your options if you want to overcome the one-size-fits-all approach. Try and create business surveys using business survey software and test the survey and the software on different parameters. A good survey software will provide you different options like email, SMS, QR code, website embed, and popup options to distribute your survey.
Based on the analysis,  businesses can decide whether to segregate the distribution channels according to the preference of the respondents, or they are fine without segregation. Not only it allows enough scope to experiment with the distribution theory but it also allows businesses to decrease the churn rate and enhance the convenience of taking online surveys. 
Use different question types and dynamic logic: Go for a survey tool offering an intuitive interface for creating surveys. Apart from the drag-and-drop interface, make sure it also provides versatile question types such as NPS, MAxDiff, Sinelg select, Multi-select, rating, scoring, rank order, constant sum, ad much more.
Furthermore, an intuitive survey platform also needs to offer a comprehensive question logic which can decide the respondent's journey in the survey. Question logic helps in asking the right questions to the right people leading to precise and quality data collection.
Integrate survey software for richer insights:
to the right people leading to precise and quality data collection. 
Integrate survey software for more precious insights: 
A survey platform offering enough flexibility to integrate not only with the existing in-house systems like CRM's or online databases but also with the third-party tools used by a business helps a great deal in overcoming barriers caused due to lack of integration. With third-party integration, businesses can initiate transfer and interaction of the customer metadata between that of third party tools and the survey software. 
It helps in enriching the survey reports and enables businesses to analyze the survey results based on products, services, customer types, departments, and similar categories. In a way, integration brings about two communication of the collected consumer insights, which is very much essential for managing precise, quality, and actionable consumer insights. 
Instant reports for instantaneous actions: Suppose you have the customer insight data, but you fail to analyze it in real-time to derive actionable insights. It's like shooting in the wrong ally or diminishing the value of your collective efforts of collecting quality data. An intuitive survey software provides a wholesome analytics dashboard that can be used to derive insights in real-time.
Apart from all the points mentioned above, make sure that the business survey software you choose is available through the mobile app as well. Besides, the mobile survey app must be capable of offline and online data collection, allowing you to analyze the results anytime and from any location. The ability to customize the analytic dashboard is a big win. Versatility in presenting and downloading data in multiple formats is another metric you should not miss in a business survey software.
Now get started and create a business survey and start understanding what survey method works and what survey is useful in gathering honest consumer feedback.