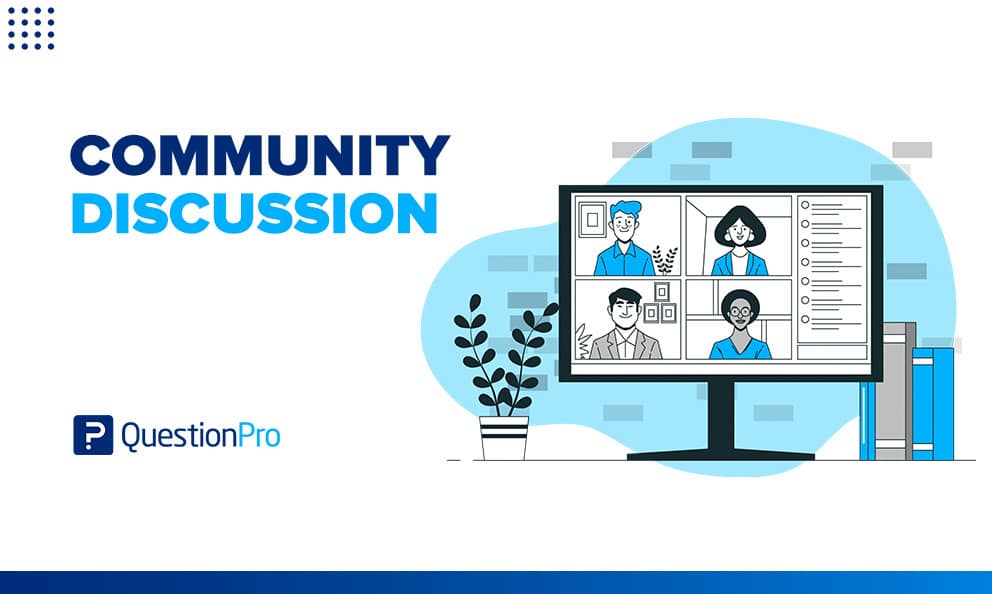 A community discussion is designed to connect companies and their customers, enabling the creation of valuable conversations that allow users to provide information about specific products, services, or topics.
What is a community discussion?
A community discussion is an online conversation between users and the specific spaces they share to exchange ideas and words to participate, interact, share knowledge and communicate about a common topic. Brands can use this space to collect valuable information while building a relationship with their consumers and improving customer experience.
It also represents an opportunity to identify customer satisfaction to participate in case studies or testimonials afterward, which will inevitably lead to an increase of word-of-mouth for the community and engagement.
Creating new customers is usually more expensive than keeping existing ones; that's why it's important to place efforts to create customer loyalty. Communities by QuestionPro can help you do just that!
Recent data has shown that branded community forums helped businesses with results such as:
66% of respondents improve customer retention
68% get new leads
55% increase in sales
Our software allows you to interact with your customers in dynamic ways that empower data collection through surveys or polls. Let's take, for example, the video discussions tool in communities allowing brands to rely on focus groups to collect deeper research insights – mostly from top promoters and customers.
Conducting video discussions and online focus groups allows for conducting online qualitative research without constraints from external factors.
Learn more about building customer loyalty with our CX experts:
Surveys of communities showed that 90% of respondents had suggestions to improve the products, allowing you to collect accurate data without asking for said feedback specifically. Communities are an excellent way to get feature requests, get updates, support prioritizing developments, and receive feedback on ideas from our customers.
Community Discussion Forum Software
QuestionPro Online Community Software enables you to engage your customer community intelligently. We support over 50+ question types, from simple and complex surveys to logic and branching, to mention a few. Connect with your passionate customers and get valuable feedback from them. Reward your local customers with interactive points, gamification badges, cash, and donations.
Feature 1. All-in-one unified dashboard that offers quick community insights.
Feature 2. Social media integration: users can share their status using Facebook, Twitter, and LinkedIn.
Feature 3. Mobile integration
Feature 4. Multilingual capabilities allow you to reach more than 50+ languages
Conclusion
After learning about the benefits of community discussions, what if you invested in a tool that helped you cost-effectively meet your business objectives? Our feature-rich toolset is at your disposal to help you create engaged communities, collect real-time customer insights, and positively impact your business.
Don't miss out on QuestionPro's Online Communities Software